We have been made aware that families being served by Fox & Weeks are being contacted by individuals requesting payment over the phone. Fox & Weeks will not contact a family requesting payment over the phone. Please contact the Savannah Police Department immediately if you are contacted and asked to make payment over the phone. Please contact Fox & Weeks if you have any questions.
Celebrating the life of
Thomas Robert McWhorter
September 24, 1935 - October 07, 2023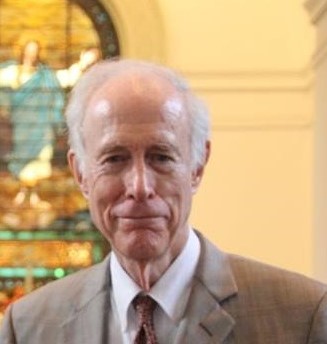 Thomas Robert McWhorter, 88, of Savannah, Georgia died peacefully on Saturday, October 7, 2023. He was born in St. Joseph, Missouri. He grew up in Virginia, son of James Alexander McWhorter and Myra Perkins McWhorter, graduating from Virginia's Massanutten Military Academy. There, he was on the rifle team, garnering many sharpshooter awards.
In 1957, Tom earned his Bachelor of Civil Engineering from the Georgia Institute of Technology and went on to complete his Master of Science in Sanitary Engineering from GT, where he was inducted into Chi Epsilon, a National Civil Engineering Honor Society. He continued his graduate studies at Rutgers University, completing all but his PhD dissertation there. A fellow GT engineer brought him back to Atlanta to work for the engineering firm of Wiedeman and Singleton. Early in his career, he completed many municipal water and waste-water projects. One of his first projects during his partnership with Hussey Gay Bell was the original design of the President Street wastewater treatment plant for the City of Savannah. In 1977, as his interests turned to industrial projects, he formed his own consulting firm, McWhorter and Associates, Inc. Tom became an expert in brewery operations and wastewater treatment, working for breweries in Canada, Venezuela, Australia, and Dominican Republic. In the late 1980's, he was asked to design a cleaning facility for rail tank cars for Union Tank Car Company in Valdosta, GA. Darlene Vincent joined his firm in 1988 and they went on to design cleaning racks and wastewater treatment facilities throughout the United States. He was a member of the American Society of Civil Engineers, Water Environment Federation, and American Water Works Association.
Tom's incredible mind and desire to solve problems led him to design and build a robot that could strip the rubber lining from the interiors of rail tank cars, which reduced the volume of wastewater generated, sped up turnaround, and limited personnel entry. The first installation of his robot, still in operation, was in 1996 and his most recent robot will be installed this month. Stripping a rail tank car went from a two-man full week operation inside the car to a single shift with no personnel entry. Tom spent years perfecting and creating new applications for his design. While working as a consulting engineer, he was integral in managing and updating his family's commercial property in Annandale, Virginia.
Tom met his wife, Linda, in Atlanta where they were married in 1970. Two years later, his career took them to Savannah, where they raised their three children. They enjoyed traveling abroad with family and friends, including to China and India, attending social and cultural activities at Telfair Museums and Savannah Music Festival, and supporting other organizations in Savannah. Tom also loved days on his boat, waterskiing, windsurfing, fly fishing, ski trips with his family, classical music (especially the symphonies of Mahler), the art works of Turner, and a fine glass of Single Malt Scotch. Tom was a longtime member of The Chatham Club and Savannah Yacht Club. He is survived by his wife, Linda, of 53 years, daughter Whitney McWhorter (Michael Stern), son Brandon Alexander McWhorter (Marta), daughter Aynsley McWhorter Corbett (David), and four grandchildren, Ella Katherine McWhorter, Siler Elizabeth Corbett, Jackson Alexander McWhorter, and Katherine Linden Corbett.
A funeral service will be held at 4:00 pm Wednesday, October 18, 2023 at Christ Church Episcopal with Michael S. White, Rector, officiating. In lieu of flowers, the family requests memorials be made to Telfair Museums, P.O. Box 10081, Savannah, GA 31412 or Christ Church Episcopal, 28 Bull Street, Savannah, GA 31401.
GUEST BOOK
I will never forget that Tom was my co-driver while we were together visiting the chateaux of The Loire Valley in France. Such great memories. I pray for you, Linda and all the family. RIP Tom
- Damien HUE, MOULT, FRANCE
Sending our love and deepest sympathy to you and your family. What a guy!
- Jake & Sylvia Severance, Savannah, GA
Sending our love and deepest sympathy to you and your family. What a guy!
- Jake & Sylvia Severance, Savannah, GA
I have worked a number of projects with Tom over the past 20 plus years. He will be missed for sure! My condolences to the family.
- Ted Kupscznk, Houston, Tx
I was introduced to Tom about 7-8 years ago through Ted Kupscznk (my work colleague). Tom helped me and NLB in developing a railcar cleaning robot for a special project. Tom was a true gentleman as well as a very intelligent entrepreneur. He will be well missed by an industry that Tom served well. My deepest sympathies to Tom's family and close friends. Drew Waltenbaugh
- Drew Waltenbaugh, Wixom, MI
Sincere condolences to you, Linda, and your family
- Sally Cornelison, Syracuse, NY
My sympathies, Linda, to you and your family.
- Mimi Cay, Savannah, GA
Services under the direction of:
Fox & Weeks Funeral Directors, Hodgson Chapel
912-352-7200
Memorial Service

4:00pm on Wed, October 18, 2023

Christ Church Episcopal on Johnson Square
28 Bull Street (map)


Savannah GA 31401

912-236-2500