We have been made aware that families being served by Fox & Weeks are being contacted by individuals requesting payment over the phone. Fox & Weeks will not contact a family requesting payment over the phone. Please contact the Savannah Police Department immediately if you are contacted and asked to make payment over the phone. Please contact Fox & Weeks if you have any questions.
Five Generations of Local Ownership and Service

One of the oldest and largest funeral homes in the state of Georgia, Fox & Weeks Funeral Directors began in 1882 when John H. Fox opened an undertaking establishment at 106 West Liberty Street, in what is now the Downtown Historic District. In 1898 John H. Fox and his partner, brother-in-law James S. Weeks, moved their business to 112 West Liberty Street. They remained at that location for the next fifty-six years. The firm, having outgrown the facilities on Liberty Street, moved in 1953 to the Kayton-Grainger-Huger House at 700 Drayton Street. This beautiful brick and terra cotta structure, facing Forsyth Park, was built between 1887 and 1888 by the Lewis Kayton family. It was from the Huger estate that J. Elmo Weeks and his two sons, S. Elmo Weeks and Will D. Weeks, son and grandsons of the founder, purchased the property in 1953.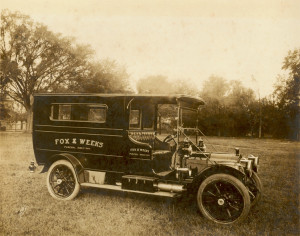 In 1984 plans were begun to open a second location on the Southside of Savannah to accommodate the many people who had begun to migrate to that side of town. Fox & Weeks Funeral Directors, Hodgson Chapel, located at 7200 Hodgson Memorial Drive opened in 1986.
In 1987 the Weeks family made the decision to sell their business to The Sentinel Group, a national funeral service acquisition company. That same year S. Elmo Weeks and Will D. Weeks, Sr., the two brothers who had guided Fox & Weeks for the past forty years and brought it to the place of prominence and respect it holds within the industry today, retired. Elmo's twin sons, Jim and Steve Weeks remained to manage the Savannah operations. In 1991, the Sentinel Group sold Fox & Weeks to Service Corporation International. Jim and Steve Weeks held various management positions with SCI and in February 1998, they opened Fox & Weeks Funeral Directors, Islands Chapel on Whitemarsh Island. In 2004 Jim and Steve decided to purchase their family's business back from Service Corporation International. Since that time, Steve's son, Scott Weeks and Jim's son, Matt Weeks have joined the family business as the fifth generation of the weeks family to serve the people of Savannah. Their grandfather, S. Elmo Week, Sr., is still active in the business.