We have been made aware that families being served by Fox & Weeks are being contacted by individuals requesting payment over the phone. Fox & Weeks will not contact a family requesting payment over the phone. Please contact the Savannah Police Department immediately if you are contacted and asked to make payment over the phone. Please contact Fox & Weeks if you have any questions.
Celebrating the life of
John (Chat) Chatham Howard, Jr.
August 02, 1942 - October 04, 2023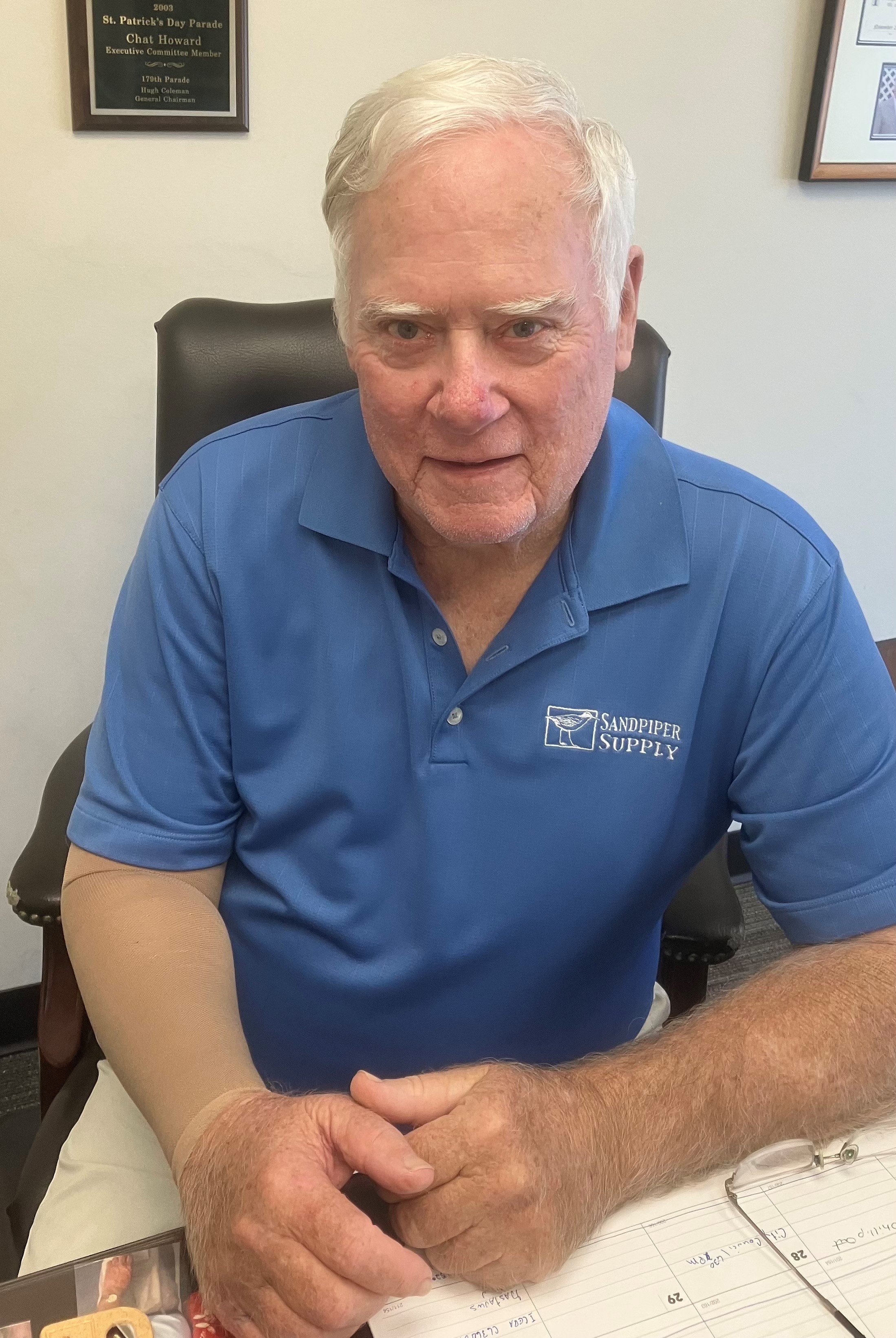 John Chatham Howard, Jr. "Chat" passed peacefully at his home, surrounded by his loved ones. A native Savannahian, Chat grew up in the Parkside and Ardsley Park areas and graduated from Savannah High School in 1960. He then signed up to serve his country in the US Coast Guard Reserves.

Chat started his career in plumbing supplies with PlumRite before founding Sandpiper Supply in 1977. He and his wife, Carol, ran the company and eventually welcomed their children, Chat III and Christy into the business. In his spare time, Chat was very active in the Irish Community in Savannah, from hosting Irish Olympic athletes to serving on the Parade Committee for 40 years. He was a Past Secretary and a Past Adjutant and was the recipient of the first Harry Deal Award for his service to the Parade Committee. He could be seen every St. Patrick's Day working before sunrise at the Cathedral to the very end of the parade at "his" corner at Abercorn & Harris Street. He was a Past President of the Irish Heritage Society and a proud member of the Friendly Sons of St. Patrick.

He loved his family, his church, his city and his Irish heritage. He was an active member of the Cathedral Basilica of St John the Baptist where for many years he served as head usher for the 11:30 mass. Chat was a receipent of the Bishop Gartland Award from the Savannah Diocese for his gracious service to his parish and the diocese. His favorite second "career" was spending time with his grandchildren. Ireland always held a special place in his heart and he visited as often as he could, often playing the Jameson Golf Tournament while there.
He was preceded by his parents, John Chatham Howard and Vivian Allen Howard. Chat is survived by his loving and patient wife of 54 years, Carol; his children Christy Ellis (Marty) and Chat Howard III (Tricia); and four grandchildren Elizabeth (Andrue) Cooper, Andrew Howard, Caroline Howard and Haley Ellis; his sister, Linda Pounds and her son, Earen (Catherine).
As a past president of the BC Athletic Association the family suggest that you consider making a donation in Chat's memory to Benedictine Military School, 6502 Seawright Drive, Savannah, GA 31406 or St. Vincent's Academy, 207 East Liberty Street, Savannah, GA 31401.
Visitation will be held from 5:00 p.m. until 6:30 p.m. on Sunday, October 8, 2023 at Fox & Weeks Funeral Directors, Hodgson Chapel. A Rosary Service will follow at 6:30 p.m.
Mass of Christian Burial will be celebrated at 10:00 a.m. on Monday, October 9, 2023 at Cathedral Basicila of St. John the Baptist. A private burial will be held in Bonaventure Cemetery.
GUEST BOOK

A candle has been lit!
- julian sipple, Tybee Island, ga
So sorry to see that Chat has passed away, what a great guy. Served in the Coast Guard with him and many great St. Patrick's Day Parades. Shared many good times at BC our sons were in the same class. Carolyn and my prayers to Carol and family, he will be missed by many.
- Bob White, Greensboro , Ga
Chat has slipped away from us, and I will miss him terribly. I met Chat when we were both 10 and did all the things that kids and young adults do, playing sports, navigating the waterways around Chatham County, and having fun. We shared an apartment in downtown Savannah. Heck, we married roommates. Chat was such a good family man, business owner, church member, and a tireless worker for the parade committee. He was a wonderful husband, father, grandfather, and brother. This was truly a GOOD man who will be missed by so many. My deepest love and sympathy to the family.
- Julian Sipple, Tybee Island, Ga
Great guy! Will be sad not to see him in front of the Cathedral on St. Patrick's Day. My condolences to his entire family.
- Sean Finnegan, Savannah , GA
Our community has lost a true Irish gentleman. He is the epitome of what it means to be A member of a community through his service, his example, his attitude and just by being him. We will miss his wisdom and his leadership in this community and particularly with the adjutant staff. Deepest prayers and condolences to the Howard family.
- Mike Roush Jr , Savannah , Ga
I'm so sorry for your loss. You are in my thoughts and prayers and will continue to be.
- Carol Anne Hazelman, Savannah , Ga
NY deepest condolences going out to Carol, Chat and family. My heart is breaking for you all. May God give you the strength to get through the days to come. I've known y'all a very long time and was truly blessed to call Chat a friend. My love to you all.
- Donna Johnson, Savannah, Ga
Sorry to hear this I have known him since I started doing plumbing 30+ years
- Richard Collins, Clyo, GA
Chat, the imprint you and your family have left on our lives and on Savannah as a whole is significant and lasting. The void your departure has created will be keenly felt, but the memories of your deeds and commitment to us will forever remain in our hearts.
- Tersh Blissett & Family, Metter, Ga
Eternal rest grant unto him O Lord, and let perpetual light shine upon him. May his soul, and the souls of all the faithful departed, through the mercy of God, rest in peace. With love, prayers and deepest sympathy.
- Jane Patricia Harte , Savannah , Georgia
Rest in peace Chat. Such a kind and thoughtful person. Prayers for your family at this difficult time.
- Romanda Talley, Poolet, GA
Chat was our neighbor for over 20 years. Sally & I will miss his smile.
- Mark & Sally Corrigan, Savannah, GA
I will surely miss my great neighbor and friend. He brought a wealth of knowledge to our conversations and seemed to know just about everyone who was born here. He so loved his family and was especially proud of his children and their accomplishments. Joked that Chat III took over the store and ran him off. Then in the next breath would state how happy it made him that he was taking the reigns and both kids were updating the business, "more time with the grandkids". I'll look for you on the tractor when I get there ole friend. Keep it cut till I get there.
- Zane Brock, Savannah, GA
Our deepest condolences to the entire Howard Family! Our, love thoughts and prayers are with all of you during this most difficult time! We know he is enjoying the love of our lord in paradise so until you meet again, may God hold you in his arms and keep you in his grace!
- MaryAnn Rudzinskas, Savannah, GA
We are so sorry to hear of Chat's passing. We will certainly keep the Howard Family and the Sandpiper plumbing family in our prayers. From your neighbors on Bull St TV Center and the Dubberly family.
- Dubberly's at TV Center, Savannah, Ga
Chat was a great person and friend. He was a friend of my older brother and took me under his wing when I was just a kid, it was like having another big brother. Chat will be greatly missed, but remembered for his community service and a great sense of humor. My heart and love goes out to the Howard family in this time of reflection.
- Rick Lynes, Savannah, Georgia
Sorry to learn of Chat's passing. He was one of my childhood friends...all with the group from Isle of Hope and later the 48th street crowd. A great friend and true gentleman. We miss him.
- Charles S. and Carol Park, Yorktown, VA

A candle has been lit!
We and all of the Your Plumber family send our deepest condolences. Chat and the Howard family remains in our thoughts and prayers.
- Thomas and Twila Poston, Savannah, Ga
Prayers, condolences and continued thoughts for the Howard family!
- The Farmers - Kevin, Sarah & Emma, Guyton, Ga
The Irish Community of Savannah has lost a gentleman proud of his Irish heritage and Roman Catholic Faith. May he now rest in peace. Glenda and I offer condolences to the Howard Family. Dr. Frank Rossiter
- Frank P. Rossiter,Jr., MD, Savannah, GA

A candle has been lit!
- Vincent Powers , Savannah , Georgia
My sympathy to the family. Chat was a friend for many years and very respectful business acquaintance. May his family be comforted and wonderful memories sustain them through this sorrowful time.
- Anna Canady, Savannah, GA
Our prayers are with the entire Howard family Chad was a true gentleman and friend to all he never met a stranger and was willing to give you the shirt off his back if you needed it my association with chat goes back over 50 years he was a dear friend and a loyal member of the Adjutant staff and a excellent Adjutant to follow while holding the title. Chat was a true man of God and a true example of a Christian. Until we meet again our prayers are with you Tim and Gail.
- Tim Ansley, Savannah, Georgia
My friend you will be greatly missed. May the road rise to meet you. May the wind be always at your back. May the sun shine warm upon your face. The rain fall soft upon your fields. And, until we meet again. May God Hold you in the palm of his hand.
- Dennis J Chandler, Savannah, GA
To a dear friend may you rest in peace. I have been raised in plumbing from a small kid and you have been part of my life in part that came to be. May blessings to the family yours truly Billy Grimes
- William H Grimes Jr, GA - Guyton, GA
To Carol & all of the family of Chat, I send my heartfelt sympathy & condolences for his loss. Such a wonderful, kind man! His caring spirit will be greatly missed, and always remembered. May God shower you with loving comfort now, & in the time ahead.
- Carolyn Sheehan , Tybee Island, GA
I'm so sorry to here about Chat he was a good boss I worked for him in 77 and 78 he will be missed I will be praying for the family I do know what it feels like to lose someone close my mother passed away on the ninth miss Carol my prayers are with you
- Robert C Brown, Savannah, GA
Services under the direction of:
Fox & Weeks Funeral Directors, Hodgson Chapel
912-352-7200
Visitation

5:00 p.m. until 6:30 p.m. on Sun, October 08, 2023

Fox & Weeks Funeral Directors, Hodgson Chapel
7200 Hodgson Memorial Drive (map)


Savannah GA 31406

912-352-7200
Mass of Christian Burial

10:00 a.m. on Mon, October 09, 2023

Cathedral Basilica of St. John the Baptist
222 East Harris Street (map)


SAVANNAH GA 31401

912-233-4709
A private burial will be held