We have been made aware that families being served by Fox & Weeks are being contacted by individuals requesting payment over the phone. Fox & Weeks will not contact a family requesting payment over the phone. Please contact the Savannah Police Department immediately if you are contacted and asked to make payment over the phone. Please contact Fox & Weeks if you have any questions.
Celebrating the life of
Dale Clements Critz
September 21, 1932 - September 29, 2023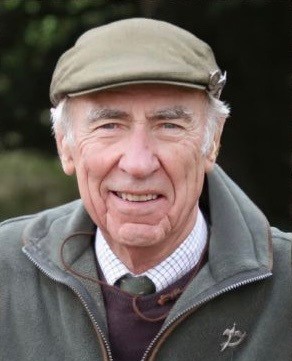 Dale Clements Critz, 91, passed away peacefully on September 29th, 2023. He was born September 21, 1932, in Little Rock, Arkansas to Horace Dale Critz and Georgia May Clements Critz. He moved with his parents to Savannah, GA in 1939 when his father established Critz Buick Co. He was educated at Charles Ellis Elementary School in Savannah and the Asheville School in Asheville, NC. He graduated from Duke University in 1955 and afterwards was commissioned an ensign in the US Navy, serving on destroyer escorts in the Atlantic until July 1957. Dale met his wife, Lila, while attending Duke and they were married in Tallahassee, FL on March 9, 1957. They moved back to Savannah in August of that year to join the family automobile business.
Dale had a successful 47-year business career adding franchises to the original Critz Buick Co. He also acquired and divested dealerships in South Carolina, Louisiana, and Florida. He served as President of the Georgia Automobile Dealers Association and was later instrumental in the establishment of the Georgia Auto Dealers Workers' Comp Fund, serving as the chair of the Investment Committee for 25 years. He was a founding member in the 1960's of a "20 group" that still meets regularly, that his son and grandson participate in today. Dale was honored by Time Magazine as the Quality Automobile Dealer of the Year in 1998. He also served as President of the CLV Life Insurance Co that he co-founded with J.C. Lewis, Jr and Dan M. Vaden. Dale was a long time Executive Committee member and Chair of the Board at SunTrust Bank, Savannah (now Truist). He also served on the board of directors and the investment committee of Savannah Foods and Industries until their acquisition by Imperial Holley in 1997.
Dale was a true servant leader and gave time, talent, and treasure to so many charitable and civic organizations in Savannah. He was a member of the Rotary Club of Savannah for over 60 years. He was a 25-year member of the United Way's Alexis de Tocqueville Society, serving as the chair three times. The United Way of the Coastal Empire recently named their board room in his honor. The dedication begins "In the spirit of Dale Critz, Sr, may this room serve as a symbol of enduring dedication to the betterment of lives and a reminder of the profound impact that one compassionate individual can make in the lives of many." Dale served as President of the Historic Savannah Foundation, chair of its Davenport House Committee and served on its Investment Committee. For his service he was awarded the Davenport Trophy, Historic Savannah's highest award. The Telfair Museums and especially the Owens Thomas House were special to Dale. He helped establish the endowment committee and served on it for 30 years. He was a board member and Treasurer and was voted an honorary board member along with Lila in 2018.
Dale served as an endowment committee member of the Georgia Historical Society and received their John Macpherson Berrien Award for lifetime achievement in 2023. He also served on the endowment committee of the Savannah Community Foundation and the George Washington Foundation. Senior Citizens, Inc. recently honored Dale and Lila with a "life well-lived" award. He established the Critz Family Foundation in 1995 with it's mission statement "to make Savannah a better place to live and work by supporting organizations that improve the quality of life and education of people in our region, instill good values in our youth, preserve Savannah's historic buildings and promote the arts in our area, as well as protecting the natural order and beauty of our coastal environment." He was truly one of Savannah's great champions and like a good cheerleader he engaged others to join him and in doing so they accomplished more together and invariably had fun in the process.
Dale was a devout Christian. He served as treasurer of the Episcopal diocese and was a 43 year member of the Wednesday Morning Bible Study and the Christian Business Men's Committee.
Dale valued leisure as much as work, pursuing billfish all over the world for many years then giving it up to focus on bird hunting in England, Spain, South America and here at home in the low country. He valued his partnership in Cheeha-Combahee Plantation, where he took the role of Quail Committee Chair with his inimitable zeal and determination. He loved nothing more than hosting guests on the quail wagon at Cheeha Combahee.
He was a member of numerous social clubs and societies and served as President of The Oglethorpe Club, The Cotillion Club and The Century Club.
Dale was immensely proud of his family and leaves behind his wife of 66 years, Lila Cay Williams Critz; his son Dale Clements Critz Jr and wife, Debra Wagner Critz; his daughter Lila Cay Critz; his four grandchildren: Taylor Cavanaugh Howard (Joseph Henry), Dale Clements Critz III, Laura Cay Critz, John Burton Critz; and his great-grandchild, Katherine Riley Howard.
The funeral service will be held graveside at Bonaventure Cemetery at 11:00am Thursday, October 5, 2023 with Michael S. White, Rector Christ Church Episcopal officiating. All are invited to a reception immediately following at The Oglethorpe Club. In lieu of flowers, memorials may be sent to the Telfair Museums 207 W. York St., Savannah, GA 31401, The United Way of the Coastal Empire 428 Bull St, Savannah, GA 31401, or Christ Church Episcopal 28 Bull St. Savannah, Ga. 31401.
GUEST BOOK
Mr. Critz was a force of nature. I am honored to have known him. I offer my condolences to the entire Critz family. May his memory be a blessing.
- Griffin Thomas, Boston, MA
Dale, was a true servant leader.
- James (Tom) T Roberts, Savannah, GA
Dearest Lila, Dale, Cay and the extended Critz family. My thoughts are with you during this incredible sad time, as it is never easy to loose a loved one, especially such an incredible person, larger than life, like Dale. He will be missed by so many ( including me) as a great friend, patron of Savannah and determined boss to many, but in the first place , he will be missed by all of you, his loving family. With all my sympathy… Cornelia
- Cornelia Stumpf, Phoenix, AZ
Mr. Critical sold to me the first new car I ever bought. A true Southern gentleman. My deepest sympathies and condolences to his family.
- Terri Patillo, Savannah, GA
Mr. Critz. My apologies for the misspelling.
- Terri Patillo, Savannah, GA

A candle has been lit!
May memories of a life well lived carry the family thru this sad time and lift their spirits when reflecting on shared lives. So sorry for your loss.
- Paulette Osborne Quinn, Savannah, Ga
The Critz were former neighbors on Jones. Always a delight to see them walking their dogs and a quick chat. They did a lot of good for Savannah....Mr.Critz will be missed.
- Karl L. Martin, Savannah, Ga

A candle has been lit!
- Don & Terry Tipton , Jacksonville , FL
So thankful for Dale's life and influence on mine and my family! I know we will meet again someday and have plenty of time to laugh and discuss all the things we loved to talk about! Until then we share the sorrow of his loss and miss his smile and laughter together.
- Scott Haugen, Oregon City, Oregon

A candle has been lit!
I feel privileged to have known Dale, a man of immense charm who brought h joy to every gathering. Savannah is a poorer place with him.
- Rosaleen Regan Roxburgh, Savannah, GA
Mere words are insufficient to describe what Dale Critz accomplished in his lifetime - his gifts were shared with so many. Thank you Jesus for His life dedicated to you and the legacy you were able to leave behind. Well done good and faithful servant.
- Art and Lallie Wagner, BLUFFTON, SC
Dale Critz sold my Father a used car from the dealership on Montgomery Street when I was 16. It was one of those 50/50 Father/Son deals. Dale financed my 1/2 through the dealership. He was "that kind of guy". I ultimately returned to Savannah as a legitimate customer. I'm still trying to return the favor. He will be sorely missed, and I feel sorry for those who never had the opportunity to meet him, and most especially for his wonderful family. Bud Mingledorff
- Bud Mingledorff, Bluffton, SC
Dearest Critz Family, we are so sad to hear the news of Mr. Critz's passing. We will always be thankful for everything that he did for us when we first moved to Savannah. He took us in as if we were family and I will never forget that. As you know, Craig worked for Pat Ryan & Associates (Assurant today) and I worked at the dealership for a while when we first came to town. Our thoughts and prayers are with you all. He will never be forgotten.
- Craig & Melinda Yates, Land O Lakes, Florida
To an old friend and mentor-RIP
- Hank Hankinson , St Helena Is, SC

A candle has been lit!
Danny and I send our deepest condolences. Mr. Critz was an extraordinary Gentleman. Lisa and Danny Kaminsky
- Lisa and Danny Kaminsky, Savannah, GA
Dale made a huge difference in our lives. There will be hole that won't be filled except in our memories.
- Lulie Williams, Eagle River, AK
So sorry to learn of the death of this man who served his family, community and country with honor.
- Sharon Hinson, Savannah, GA
I was fortunate to meet Dale and Lila as a teenager. They welcomed me immediately and eventually made me feel like a member of their family. What a man, what a gift to so many. He taught me many lessons through example ; grace, generosity, hospitality, gratitude , grit , spirituality. Most of all he taught me the importance, indeed the necessity, of being a gentleman in every moment not just when convenient but when most difficult because that's when it matters most. His lessons shaped me then and guide me now. I am forever grateful and honored to have been witness and beneficiary of a life so well lived. I celebrate you today and every day. Thank you , God Bless.
- Seth Waugh, North palm beach, Florida
Mr Critz was the quintessential entrepreneur and the finest gentleman I had ever met. He took the seeds he was given and built an extraordinary legacy, one that his children and grandchildren continue. Whenever I met Dale and Lila, I was inspired to be more like them. I'm sorry to be so late responding, as I just found out; I am sad about your loss but grateful to have had the opportunity to spend quality time with him. He made everyone he touched better. What a life!
- James Walker, Vero Beach, FL
Sharon and I extend our deepest sympathy to all of you. We have so many fond memories of Mr Critz. You are in our prayers.
- chuck and sharon coursey, pooler, ga
FIREND OF THE PAPY FAMILY A TRUE SOUTHERN GENTLE MAN AN SPORTSMAN WITH A LOVE FOR FISHING HUNTING IN THE BAHAMAS KEYS AN THE LOW COUNTRY HE WILL BE MISSED GOD BLESS AN FAIR WINDS
- FRANK M PAPY, 108 FOX ISLAND DR OAKTIE, SC - South Carolina
I met Mr. Critz two years ago when I was cleaning a lot in Bonaventure and he was walking his 3 dogs. We began to chat as I was reminding him to be on the alert for raccoons because they were all around. He introduced himself and my eyes opened wide. I told him that I was the son of one his classmates from 75 years ago. That piqued his interest instantly. I told him I heard stories from my mother that they both answered the teacher's questions together many times not knowing if the teacher called on Gail or Dale. I invariably would hear these stories from my mother as we drove by the Critz's dealerships on Stephenson Avenue. Mr. Critz was a frequent visitor in Bonaventure. Three months ago he and his wife were in attendance at the Bonaventure Historical Society's meeting in the cemetery's Jewish chapel where David Garfunkel spoke on the history of the chapel and Jewish burial customs in Savannah. A few months before that I saw him walking back to his parked car when he walked over to me and we began reminiscing about Martin Karp, the accountant, who had passed away a few years earlier who was lot I was working on at the time. Across the street from Martin is Isadore Movsovitz, aka Musky. It was great hearing Mr. Critz's stories and laughter about these two men. In the two years plus of our friendship, I never saw Dale Critz without that inimitable smile on his face and positive words flowing from his mouth. Savannah could use a few more individuals in the mold of Dale Critz. For that matter so could humanity. On behalf of my mother, Gail Rosen, I offer our sincerest sympathies on this remarkable full life.
- Harvey Rosenzweig, Sav'h, GA
Sr. was a true gentleman and will be sorely missed. Rest in peace, Dale.
- Jerry Malik, Hardeeville, SC
Dale was the most kind and generous host when he came with Lila to Scotland to shoot, grouse partridge and pheasant . We had lots of fun together over many years and we will miss his company, his enthusiasm and love of life and field sports! Lila Dale Jn and Cay are in our thoughts and prayers John and Angela Batty RIP
- John Batty, EDINBURGH , SCOTLAND
I learned today of Dale's passing. Dale and Lila were so good to me when I was living and working in Savannah. I'm sending great love to the Critz Family, and strong remembrance of Dale. Lila, I miss you!
- Mary A Elfner, Richmond, VA

A candle has been lit!
We are deeply saddened to hear of your loss. It's in moments like these that words fall short. Mr. Critz was such a wonderful man. He touched so many hearts including mine. He was a wonderful business man I am so glad I had the opportunity to work with him and learn from him. He was very wonderful with my family and I. I wouldn't be the person I am today without him. When I came from Germany, he gave me a chance to achieve my dreams and learn from the best. No words can express how much pain you are feeling. Always Thinking of you and the family
- Dietmar Strohmetz, Autobahn Service Center, Savannah, GA
So sorry for your loss. A good and faithful friend, a wonderful Dealer, a superior family man. I will always be grateful for the kindness and hospitality he shared with myself and my family.
- Larry Kenneth Hice, Rochester, mi
Mr. Critz was a kind, gentle, and encouraging soul. I am so grateful to have had the opportunity to trap and shoot alongside him at the gun club. He is a friend and a godly example to his family, friends, and community. May his legacy be an example for us all.
- The Rahal Family, Savannah, Georgia

A candle has been lit!
My prayer for you Lila is for comfort and peace knowing Dale is with our Lord. Joy
- Joy Daniels Schwartz, Savannah, GA
Dear Mr. Critz Senior, thank you every much for giving me the chance to life in Savannah and work in your company. Coming in 1996 as a young German technician, beeing the first time in my live out of Europe, I learned for life, found many friends and felt real hospitality also in your home. Oysterroast, shooting pigeons and the great games of buisness, I will never forget in beautiful Savannah, GA. The Critz Family my condolences. May Mr. Critz Senior get a nice place up in heaven.
- Peter, Munich, Deutschland
Dale was a dear sweet wonderful person. My heart goes out to his loved ones as you mourn his loss. I will miss him. Blessings to you all.
- Molly Hackett, Savannah , GA
The world has lost a cherished man in Dale Critz. He will be sorely missed and thought of often. Faye Kirschner and Christine Addy
- Faye R Kirschner and Christine Addy , Savannah, GA
Dale and Lila are such a nice couple I met when we visited the chateaux of the Loire Valley in France. I am very sad for Lila and his family. I pray for Dale, Lila and all Dale's family. RIP Dale
- Damien HUE, MOULT, FRANCE
Services under the direction of:
Fox & Weeks Funeral Directors, Hodgson Chapel
912-352-7200
Graveside Service

11:00 a.m. on Thu, October 05, 2023

Bonaventure Cemetery
330 Bonaventure Road (map)


Savannah GA 31404

912-651-6843