We have been made aware that families being served by Fox & Weeks are being contacted by individuals requesting payment over the phone. Fox & Weeks will not contact a family requesting payment over the phone. Please contact the Savannah Police Department immediately if you are contacted and asked to make payment over the phone. Please contact Fox & Weeks if you have any questions.
Celebrating the life of
Michael Marchand
September 10, 1958 - September 26, 2023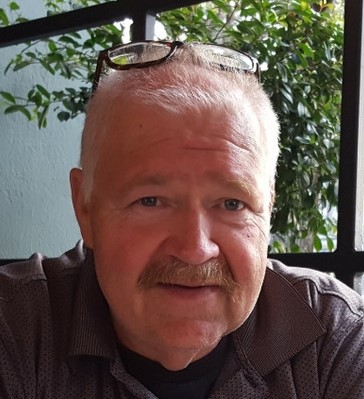 Michael Arthur Marchand, age 65 of Savannah GA passed away in the early morning hours of September 26, 2023 with his loving family by his side. Michael was born in Fall River, MA on September 10, 1958, and grew up in Somerset, MA. He attended Somerset High School then graduated from Providence Country Day School.
Michael went on to study culinary arts and graduated from Johnson and Wales University in Rhode Island in 1985. His 35-year career and love of the food service business began at an early age when he started peeling potatoes at his family's popular local restaurant, The Somerset Lodge. The Lodge was Somerset's premier gathering place where so many precious memories were made. After graduating, he returned to the Lodge as Executive Chef and eventually took over ownership with his wife, Pattie after the passing of his father, Arthur "Chick" Marchand.
Michael married the love of his life, Pattie Wilkins in July of 1998. After they sold the Somerset Lodge, he took on a few other local chef positions. In 2008, they made the drastic decision to explore new restaurant opportunities in Savannah, GA where he worked as executive chef for several prestigious restaurants. They even opened their own place called "Michael's Cafe"!
Michael loved bringing people together & making them happy through his amazing cooking, his easy smile and witty charm. He devoted his life to bringing joy to others. Besides cooking, he was an avid golfer and football fan. Although he was born and raised in MA his loyalties were divided between the Patriots and the Green Bay Packers!
Michael's fighting spirit was never more present as it was the last few years. Despite battling multiple, challenging illnesses, he showed tremendous courage and was always quick with a smile and eager to be with friends and family.
Michael is survived by his wife, Patricia (Wilkins), his sons, Jason and Brett; his two sisters, Kathy Biastoff (Jeffery), and Cindy Bergeron (Michael); as well as many nieces and nephews. He is pre-deceased by his parents, Arthur "Chick" Marchand, his mother, Mae (Fallon), his brothers Mark and Robert and his step-son, Jimmy Costa.
In lieu of flowers, please consider a memorial donation to the American Kidney Foundation in honor of Michael. A Go-Fund me page has also been established for the family to assist with their overwhelming medical debt.
American Kidney Fund: https://www.kidneyfund.org
GoFundMe Link: https://gofund.me/2bcaa6c0
GUEST BOOK
very sorry to hear of his passing. My prayers are with Patti and the family.
- Heather Seal, savannah, ga
We are extremely saddened to hear of Michael's passing. Our deepest condolences to the entire family.
- James & DawnMarie Antone, Castle Rock, CO
Pattie I am so sorry for your loss. Michael was such an amazing person. So glad I met you all at the Trace. Hugs and prayers ❤️
- Marty Barrington, Savannah , GA
Very sorry to hear this. Played golf with him on numerous occasions. RIP Truck!
- Steve Oconnell, AZ - Phoenix, AZ
Pattie, I am so sorry for your loss. Michael was such a kind and great person.
- Thien Dang, Woodstock , GA
So sorry for your loss Patti. We are all thinking of you ❤️. Will keep you in our prayers. wish i was there ti give you a hug.
- Belmore Family , Somerset, Ma
Our heart aches for your overwhelming loss of such a precious soul. May Michael rest in peace. Love, Auntie Jean and Ed.
- Jean Souza, Westport , MA
Patti you and your family are in our thoughts and prayers.
- Lisa Lee-Moore, Tybee Island, GA
So sorry to hear of Mike passing praying for your family Patti God Bless.
- Paul Fitta , Somerset , Ma
Pattie, I am so sorry for your loss. My deepest condolences to the entire family.
- John Medeiros, N. Dighton, Ma.
Dear Patti, Sending thoughts and prayers for the loss of your beloved Michael. I always enjoyed our talks and will miss his friendship. Best always, Chris
- Chris Katon, Bluffton, SC
My heart breaks for his family. Michael you will be missed
- Dawn LaPointe , Savannah , ga
We Love you Uncle Mike! You will be missed so very much! We love you Auntie Pattie, Brett & Jason! With sadness there is a hope for peace.
- Sheffield Family, Abbeville, SC
I want to start by stating that I am so sorry for your loss. I will never forget the days. The days of the wonderful food at Michael's Cafe (especially the Coney Island hotdogs and you have to have the celery salt) to the days of hanging out at the restaurant with Brett while my mom was working. Michael has done his peace here on earth, now he can carry his joyful personality to the next stop. My thoughts and prayers go to Patti and family during this difficult time. All these memories will be forever cherished.
- Jordan McGowan, Savannah, Ga
Services under the direction of:
Fox & Weeks Funeral Directors, Hodgson Chapel
912-352-7200