We have been made aware that families being served by Fox & Weeks are being contacted by individuals requesting payment over the phone. Fox & Weeks will not contact a family requesting payment over the phone. Please contact the Savannah Police Department immediately if you are contacted and asked to make payment over the phone. Please contact Fox & Weeks if you have any questions.
Celebrating the life of
Donna Allen Goggins
February 18, 1958 - September 22, 2023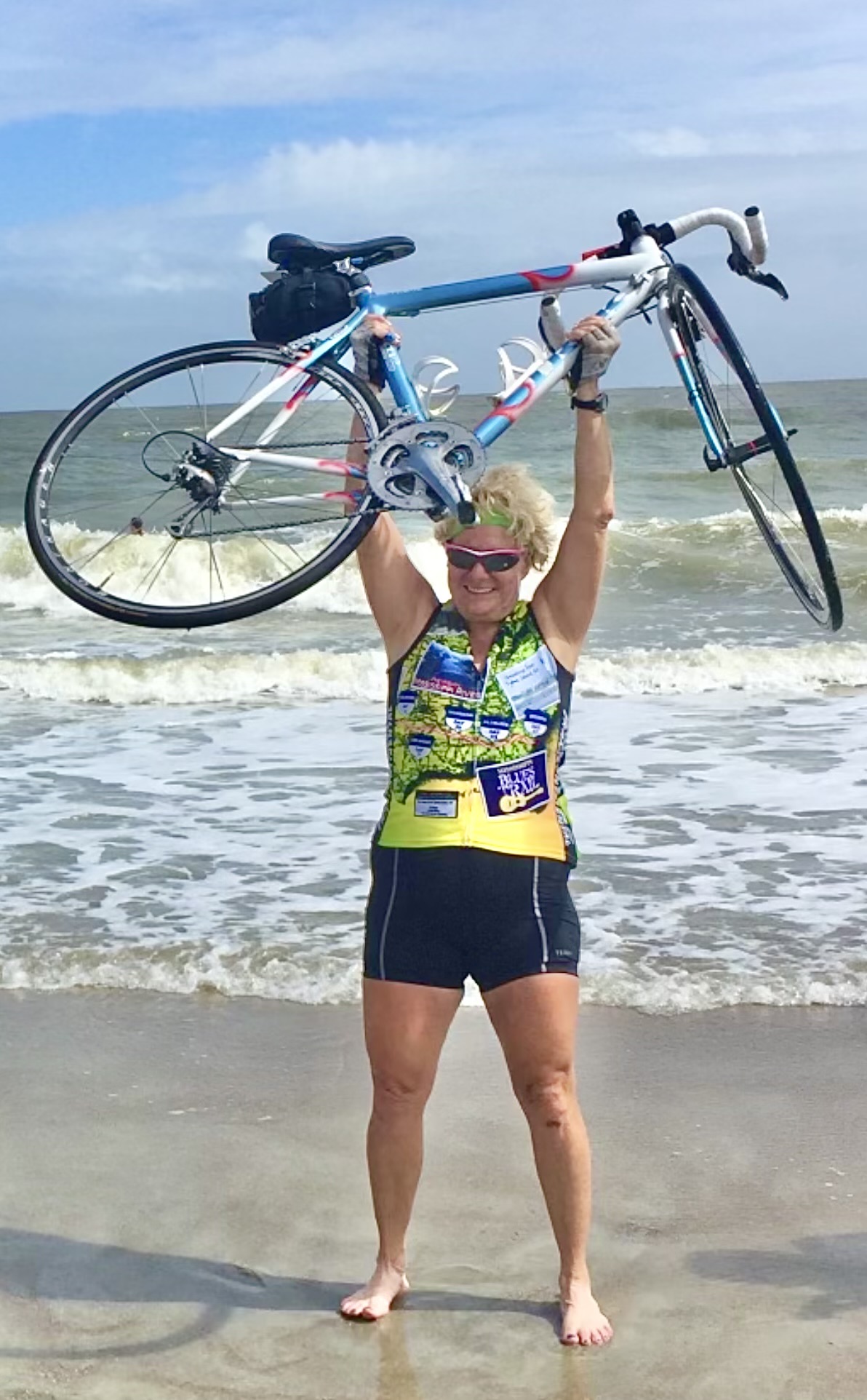 On the morning of September 22, 2023 our beloved Donna Allen Goggins passed into eternity after a lifetime of making this world a better, happier place. Her exuberance and love of life were contagious, and you smiled just being around her.
Donna was born February 18, 1958, in Great Bend, Kansas. She was born a preemie, and her bassinet was the top drawer of the chest of drawers in her parents' bedroom. She was an energetic child, always playing games and pulling pranks with her brother David and sister Patsy. She was forever bringing home stray animals. She filled her family home with laughter and song. In high school she was a gregarious cheerleader and tumbler and was even crowned prom queen in her senior year.
She loved to learn, and she loved to teach. She attended McPherson Community College, Baylor University for her Masters in Education, and Texas Woman's University for her PhD in Public Health. To say that she loved her field and believed in its importance is an understatement.
Donna became an avid cyclist. She was always on her bike. She was on the Baylor cycling team and even made it to the Olympic trials in 1983. She would record class lectures and listen to the tapes on her daily rides, which were often greater than 100 miles.
Beginning in 1981 she participated in the annual Bike Across Kansas and was an active participant and volunteer for over 30 years. Donna loved being active and would often say that "Everybody should move, no matter how fast they go".
Donna had many other talents beyond cycling. She could play piano and harmonica by ear and often carried a harmonica wherever she went, ready to add music to the occasion. For a season of her life, she enjoyed being part of a competitive sailing team. She taught aerobics at local YMCAs and to local firefighters. She was an amazing cook and delighted in preparing meals for and with other people. She loved music and concerts and would dance with joy. She often combined these loves - cooking and dancing - and believed that the kitchen was the best dance floor.
She was a people person. She could make friends with just about anybody, and she lived by the philosophy of "person-first," that everybody is a person beyond their abilities, strengths, preferences, or color. She lived this philosophy every day and made friends with ease.
Donna was a force of joy, an active participant. She believed in health and that happiness was a part of sound health. This passion took her to conferences around the world - to Germany, Croatia, South Africa, Mexico, Bahamas, Jamaica, and France - where she spoke about the power of positivity.
As a professor and teacher, she touched the lives of hundreds of students throughout her career. She would seek out the best in every student and had a way of teaching that was encouraging and gentle. She cared about the person first always and would encourage students beyond the walls of a classroom. At one point, she took in a struggling student who had nowhere to go, and she supported the student and her children through college. She was called a guardian angel by many and was always thankful to serve.
Donna was an incredible mother of three children: Cade, Casey, and Cale (CCC). Her kids were the treasures of her life. She wrote lullabies and melodies for all three kids and loved to sing to them while she rocked them. They grew up with her pointing out sights on the road, like birds on a wire, "Oh look, they're having a meeting", or construction cranes, "Look at all the sleeping dinosaurs!"
She had a love of nature and the rise and fall of the sun. On mild evenings she would drive the kids to a nearby lake to watch the sunset. If they asked, "Where are we going?" she would reply, "We're going to see the greatest show on earth". She loved her kids. She was happy to let dinner go cold if CCC invited her outside to jump on the trampoline. Her educational spirit would often bring her to her kids' schools to lead aerobics classes, talk to the students about cycling, or teach about wellness. She was able to bring each of her children overseas for an international conference more than once. As they grew into their own passions, she never missed a musical performance or skateboard event and was the first to brag on their behalf. She had the most colorful, creative perspective on life, and she planted that creativity, imagination, whimsy, and joy into their childhood.
As the three kids grew and left home, Donna found that it was time for her to move to the ocean. She had fallen in love with Tybee Island, first at a conference in Savannah, and later because it was the finish line for the 2900-mile, 27-day Pacific-Atlantic-Cycling-Tour, which she completed four times. She had always loved the ocean and the sunrise over it and decided to move to Tybee in 2017. She immediately became involved in the community, loving a local card group and becoming a volunteer firefighter.
Actively looking for more ways to make a difference, she attended a meeting of the Tybee MLK Human Rights Organization, where, through God's grace, she met her future husband, Ben Goggins. In the fall of 2018 Ben wrote about Donna for his Savannah Morning News "Looking for Pearls" column. That's when they fell in love. They were married in Savannah on December 31, 2018.
Their home was filled with Donna's laughter and song, and they were always ready to share it with out-of-town family and friends. In June 2019 Ben got to experience firsthand another part of Donna's world at Bike Across Kansas. Her exuberance for life and joy to be part of the BAK community were infectious. Donna loved the ride and the riders.
In late 2021 Donna was diagnosed with cancer, which she fought valiantly, fearlessly, and ever positively, up until the very end. She was always laughing and finding ways to enjoy life, even throughout her final season.
She passed away with her husband, her three children, and her golden retriever Moses by her side. She was trying to remember the ending to her momma's favorite joke. Her daughter Casey sang to her "Sometimes," a lullaby that Donna had written for Casey.
Donna's spirit was like a magic wand that made sparks come to life in everyone she touched. She enjoyed life and the beauty of God's creation. She loved to run before dawn on the beach of Tybee and take pictures of the sunrise that is new every morning. She loved people wherever she met them, as her students, as her children's playmates, as her cycling sisters, or as neighbors and coworkers. She radiated joy and took every day as a blessing.
You smiled whenever you were in her presence, and for a long time afterward. Her voice was gentle and kind. Words of insight and encouragement were pretty much all she spoke. She did small things with great love. Her home and her heart were always welcoming.
Donna would always say, "You should have at least one serendipitous moment a day." She believed that serendipity could come in many forms – in a sunrise, a sleepy cat, a bike ride, the laugh of a child, the passing of a butterfly. In every laugh, we will hear her laugh, and in every blue sky, we will see her shining eyes.
She is survived by her husband Ben, her daughter Casey and her husband Logan, her son Cade and his girlfriend Keigon, her son Cale and his girlfriend Emily, her brother David, and her sister Patsy. The family will have a celebration of life in the near future.
GUEST BOOK

A candle has been lit!
- Jan Holland Ethridge , Alpharetta , Ga
I am so sorry for your loss. Donna was a woman of God, family and all around joy. She loved being with people and in turn, they loved her. She left a legacy of loving memories.
- Kim Kronschnabel, Omaha, Nebraska
Donna was a joy to all of us who knew her. Her bright smile and positive attitude inspired me, my family, and all of our friends. She will be missed.
- Pat Leiby, Tybee Island, GA
Ben, I'm so sorry to read of your unfathomable loss. While I did not know Donna, she clearly was a person whom I regret not knowing. I'm sure she enriched your life and the lives of all those had the privilege knowing her. Rest well knowing that she is in a better place having earned being there for all she gave to world. My sincere regrets.
- Jim Glass, Tybee Island, Georgia
Ben-we are so sorry for your great loss. Though we weren't around Donna (and Moses!) very often, we looked forward to seeing her when we were at Tybee. Your time together was obviously far too short, but there was so much joy and love in it. Pam and Alan Duncan 13 Cedarwood Drive, Tybee
- Pam and Alan Duncan, Greensboro, NC
Ben, we are so saddened to know the light of your life is away from you and this world. Praying you are comforted by knowing she is watching the BEST sunrises and sunsets, laughing and singing, running and dancing on the streets of gold with her Jesus. She will be sorely missed by all who knew and loved her. Our hearts and prayers are with you. Connie & John
- Connie & John Ross, Savannah, GA
I am sorry for your loss Ben. Your time together was too short though she filled all the days with love. Peace to you and the family.
- Penny Watkins Rowland, Savannah, GA
Dear Family, I never got a chance to meet this lovely woman of courage and adventure, but how I wish I had! Thank you for sharing such beautiful and noteworthy moments of her illustrious life with us! You were absolutely correct in the length of her story, as anything short of this would have been a disservice. When a vibrant soul as she leaves, it leaves a void that may never be filled, but please know that her wonderful, indelible presence will continue with you every day; when you notice the birds on a line or Moses give you a look - that she would have noticed. May her wonder and inquisitiveness carry your heart, and may her spirit and the depth of her love always remain with you and those you love.
- Mary Bright, Rincon, Ga
so very sorry to hear about donn 's passing. condolences to ben and the entire family.
- ralph and jovita cowart, savannah, ga
Ben, I have been out of town and only now catching up on my paper backlog. Donna sounds like the best, and we all hope we have the best in our lives. Loved how an article you wrote on Donna helped to bring you two together. Thinking of you and family. Andria
- Andria Segedy, Savannah, Ga
Ben, I learned today of the loss of your wife and other than saying I'm sorry, I have no words. I am sending you love, peace and light.
- Carol Cox, Savannah, GA
Ben, Cade, Casey and Cale: We send our belated, but deepest, condolences on Donna's passing. She was truly one in a million and, as you have captured so beautifully, brightened countless lives, including ours, during her time on this earth with her joie de vivre. We will treasure the memories we have of her sparkling blue eyes, infectious laugh and always sunny spirit. May God comfort you with the peace that passes all understanding and sustain you until you are all reunited with Donna in heaven.
- Karen & Bill O'Brien , Tybee Island, GA
Services under the direction of:
Fox & Weeks Funeral Directors, Hodgson Chapel
912-352-7200