We have been made aware that families being served by Fox & Weeks are being contacted by individuals requesting payment over the phone. Fox & Weeks will not contact a family requesting payment over the phone. Please contact the Savannah Police Department immediately if you are contacted and asked to make payment over the phone. Please contact Fox & Weeks if you have any questions.
Celebrating the life of
James Patrick Shay
January 24, 1944 - September 27, 2023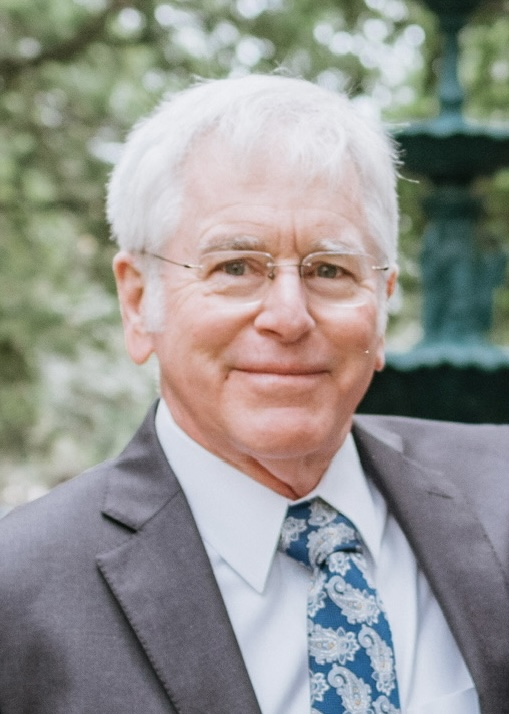 James Patrick Shay, "Rick," 79, passed away peacefully Wednesday, September 27, 2023 in the arms of his loving wife.
Rick was born January 24, 1944, in Newark, OH to the late James F. Shay and Lorraine M. Shay. Early in life, he moved with his parents and siblings to Louisiana where he attended Country Day School, Alcée Fortier High School, and Louisiana State University. Following graduation, Rick served as a First Lieutenant in the United States Air Force after which, he pursued a career in the U.S. Department of Veteran's Affairs in New Orleans. Rick worked at the VA for over 26 years, concluding his career as a Senior Management Analyst in the Director's Office.
Rick's education and passion for service guided his vocational pursuits throughout his life. He loved helping others and was a true practitioner of service and Christian ideals. He was a communicant of St. James Catholic Church and The Cathedral Basilica of St. John the Baptist. He was an active community member, and volunteered his time at a myriad of events and with numerous organizations including little league baseball teams, the Holy Name of Jesus PTO, the St. James school board, Benedictine Military School, and Hospice Savannah (contributing over 1,000 volunteered hours).
Rick was a man characterized by his love for his family, empathetic demeanor, and limitless sense of humor. The man could dance. He was an avid supporter of LSU sports and the arts. He was a true model of patience, gratitude, and honor. He was genuine with others always.
Rick is survived by his wife, Elizabeth Aliotta Shay "Betty", three sons, Patrick R. Shay (Donna), Jonathan M. Shay (Tori), and Matthew J. Shay (Sally), sister, Paula S. Hose (John) and brother, Michael J. Shay (Diane). He is also survived by three grandchildren, River Shay, James Shay, and Jack Shay, as well as many loving nieces and nephews.
A visitation will be held from 5:00 p.m. until 6:15 p.m., and Rosary from 6:30 p.m. until 7 p.m. on Sunday, October 1, 2023, at Fox and Weeks Funeral Directors (7200 Hodgson Memorial Dr. Savannah, GA 31406). Mass of Christian Burial will be at 10:00 a.m., Monday, October 2, 2023, at The Cathedral Basilica of St. John the Baptist. Burial will immediately follow at the Catholic Cemetery. In lieu of flowers, the family suggests that you consider a donation in Rick's memory to Benedictine Military School, St. Vincent's Academy, or the Alzheimer's Association (41 Perimeter Center E #550, Atlanta, GA 30346).
GUEST BOOK
Betty and Johnathan , our hearts are so heavy with the loss of your leader. Rick was a great person and this world will miss him but heaven has surely gained a great angel. Thoughts and prayers to you with great memories of Rick.
- Sherri & Harry Connolly, Savannah, Ga
Betty and family, Our thoughts and prayers are with you all during this time.Rick will always be remembered as a gentleman. May eternal life grant until him O Lord. And let perpetual light shine upon him. May he rest in peace. All our love The Byerly Family
- Anne Marie B and James Byerly, Kansas City, MO
Betty and family, We are so very sorry to hear about Rick. He was a wonderful, gentle man and sure loved his family. You all were so good to him. Our deepest sympathies. Nancy and Doug
- Nancy and Doug Hanzel, Savannah , GA
Dearest Betty and Family, we are heartbroken over the loss of your beloved husband, father, father in law and grandfather. We will miss him for the rest of our days. Rick helped us be much better humans through his examples of kindness, sincerity, gentleness, humor and love for all. He was one of our communities treasures! We love you all and will keep you close to our hearts with prayers and warm thoughts. Tony and Beth Buttimer
- Beth and Tony Buttimer, Savannah, GA
Betty and Family You and you family are in my prayers. May God Heal your Broken heart with the loss of your Forever love! As you move through the coming days know that I will always be a shoulder for you to cry on and just a call away if you need to talk. Love you my friend.
- Pat Williams, SAVANNAH, GA
Sending our heartfelt condolences to Betty and their children. May God give you comfort and peace.
- Kurt and Ali Rodenberg , The Villages, FL
Sending our deepest sympathy & many prayers.
- Mccarthy/Torres, Marshall, Virginia
Betty and family, We are so sorry for your loss! You are in our hearts and prayers.
- Peter, Tracy, Riley, and Corbin Oxnard, Boulder, CO
Betty, I am so sorry for your loss! I know your pain is rough and I will pray for your family and your recovery from this loss
- Deborah Hattrich, Savannah, GA
Betty, we are heart broken over your loss. Please know you and your family are in our prayers.
- Donald and LeAnne Consos, Savannah, Ga
My dear friend, Betty - I am so sorry for your loss, and please know that you and all of your family are in my thoughts and prayers. He was a very special man and you were a perfect wife. With love and sympathy, Amy..
- Coursey/Shepherd, Savannah, Georgia
Betty and family, I am so happy to have known Rick, and to be able to call him my friend. Rick and I enjoyed many hours of laughs and good times at our favorite meeting place, Hope Arbor. I will miss his great sense of humor, his ever present smile. Rest in peace good buddy, I'll see you on the flip side. Betty, I pray for your peace and comfort!
- Bucky Johnson, Savannah , Ga
Your family is in our prayers. Rick was a wonderful man and was truly loved..
- Ursula and Craig Wright, Richmond Hill, GA
Betty and family We are sorry for your loss, Our thoughts and prayers are with you, Johnny and Florence
- Groover, Savannah , Ga
Services under the direction of:
Fox & Weeks Funeral Directors, Hodgson Chapel
912-352-7200