We have been made aware that families being served by Fox & Weeks are being contacted by individuals requesting payment over the phone. Fox & Weeks will not contact a family requesting payment over the phone. Please contact the Savannah Police Department immediately if you are contacted and asked to make payment over the phone. Please contact Fox & Weeks if you have any questions.
Celebrating the life of
Etta M Klein
March 17, 1928 - September 23, 2023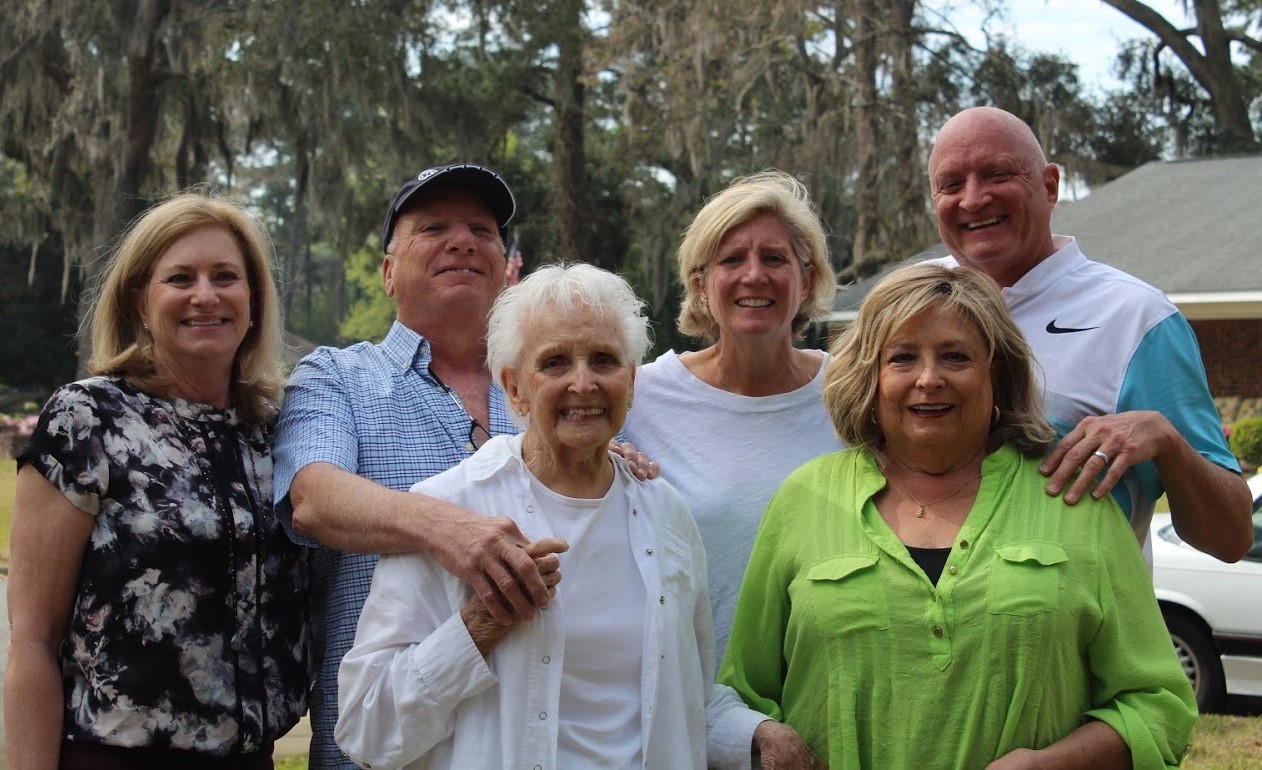 Etta Merle Klein (Mickey), (95) passed away Saturday, September 23rd, peacefully in her home. She was a lifetime member of the First Presbyterian Church of Albany, GA. She lived the final 15 years of her life on Isle of Hope, in Savannah, GA. Mickey was born on March 17, 1928, in Chicora, MS. She moved with her mom, brother and sister to Mobile, AL. After graduating high school, Mickey met her future husband, JT Klein, a gunner on the Naval cruiser USS Springfield, who was stationed in Mobile. After WW2 ended, they moved to Albany, GA. They were married for 40 years and together they had 5 children. Mickey was a stay at home mom until all the children were in school. She then worked at the Marine Corp Logistics Base in Albany, GA until her retirement.
Mickey enjoyed time with her family, her pets, daily walks, bird-watching, offshore fishing trips and was a voracious reader. She had a particular passion for reading works related to Russian history. She had a quick wit and a sharp tongue. Every morning started with her Bible, her devotional guide "Our Daily Bread" and handwritten notes on her studies.
Survivors include her 5 children: Penny Bolin (Jimmy), Cobb, GA, Judy "Slim" Bridges (Rik), Huntsville, AL, Steve Klein, Daleville, AL, Nick Klein, Savannah, GA, Bobbi Mock (Dale), Savannah, GA; 8 grandchildren: Jason Bolin (Lauren), Jarrett Bolin (Whitney), Blake Bridges (Becca), Dan Bridges (Emily), Ben Bridges (Christina), Brian Klein (Susie), Whitney DeWitte, Lucy Mock; 10 great grandchildren: Tanner DeWitte, Macey DeWitte, Samantha DeWitte, Aden Bolin, Azlan Bolin, Sophia Bolin, June Bridges, Benjamin Bridges, Lanier Bridges, Blair Bridges.
The service is at 4.00 PM, on Wednesday, September 27th, at Good Shepherd Savannah, hosted in the sanctuary of Isle of Hope Baptist Church, 22 Rose Avenue. There will be visitation after the service.
A special thanks goes out to Hospice of Savannah and her wonderful caregivers, Caroline King, Janae Williams, Rose Corbett, and Liz Davis.Those desiring may send memorials to: Hospice Savannah, 1352 Eisenhower Drive, Savannah, GA, 31406 or The Humane Society, 7215 Sallie Mood Dr., Savannah, GA 31406.
GUEST BOOK
Mrs Klein was a special lady. She was always quick to laugh and joke and we feel blessed to have had her as a neighbor. The stellar care her children gave her in her last few years spoke of the wonderful loving mother she was to her children. She has left an indelible mark in our hearts.
- Lori and Bob Hecker, Savannah, GA

A candle has been lit!
- Cheryl Clay, Tybee Island, Ga
Miss Mickey was an absolute pleasure to have as our neighbor and part of our family. The joy on her face every time she played with Carter our grandson are memories we will always treasure. Rest in peace beautiful lady and prayers to all of her family.
- Karen and Chris Conner, Savannah, Georgia

A candle has been lit!
- Conners, Holmes, Robinson Families, Savannah, Georgia
Bobbi and family, I am so sorry to hear of the passing of your dear sweet mother. I'll always remember her being one of several fine ladies who bandaged up my dad when he would fall or tear his skin somehow. I think he appreciated the company just as much if not more than the bandages. Such a loving and caring soul. God bless.
- John and Marlene Hancock, Savannah, Georgia
Prayers for the Klein family . Sorry for your loss of Mrs Etta. Sincere condolences. Wayne Carter. Love ❤️ Ya'll.
- Vernon Wayne Carter, Newton, Ga.
Loved her so much. You will be sorely missed. Love and peace to family
- Angela B Hill, Ellisville, MS.
Bobbi, Dale and family, My prayers and thoughts are with you all during this sad time. Mickey was a special soul, loved by all!! What a blessing she was to her family. I can still see her coming to my exercise class at the Y…all smiles. She always made my day. "Rejoice with those who rejoice; mourn with those who mourn." Romans 12:15
- Dede Roberts, Savannah, Georgia
It was with much sadness that I learned of Mickey's passing. All of us who knew her well, though, will have wonderful memories of this special lady with a quick wit and warm smile that drew people to her. Always "young at heart," Mickey seemed happiest in the company of her children and grandchildren, and she always participated eagerly in activities with her friends and loved ones. Her presence will be greatly missed, but her legacy of love will live on.
- Glenda Bolin Dews, Albany , Georgia
Services under the direction of:
Fox & Weeks Funeral Directors, Hodgson Chapel
912-352-7200