We have been made aware that families being served by Fox & Weeks are being contacted by individuals requesting payment over the phone. Fox & Weeks will not contact a family requesting payment over the phone. Please contact the Savannah Police Department immediately if you are contacted and asked to make payment over the phone. Please contact Fox & Weeks if you have any questions.
Celebrating the life of
Doris Juanita Mucciolo Banyard
Passed away on August 27, 2023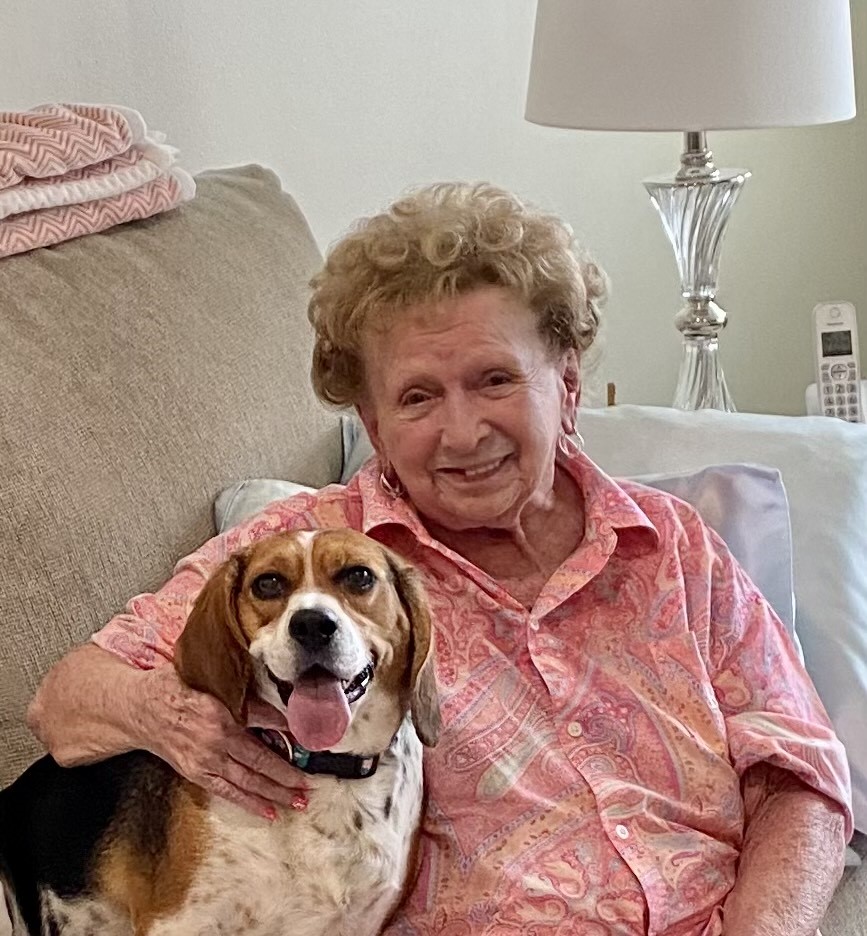 Doris Juanita Mucciolo Banyard – ESTERO, FL – Doris Juanita Mucciolo Banyard, born in New York City, New York, a friend to all that had the pleasure of her acquaintance, went home to be with her Lord and Savior Jesus Christ on Sunday August 27, 2023, in Estero, FL.
Devoted wife to Skip for more than 60 years, Doris spent her entire life in the service of her family and her community. With energy, words and a never-ending dedication, Doris filled her long life with accomplishments whose impacts resonated with anyone who had the great fortune of crossing her path.
As the first member of her family to attend high school, she proudly graduated from Cathedral High School, New York. She then would advance on to Hunter College and graduate with a degree in teaching. While she attended Hunter College, fate and divine intervention brought her together with Frederick Parker ("Skip") Banyard, the love of her life. Against her family's wishes Doris left the confines of her house and took a job waitressing for the summer, at The Lido Beach Club on Long Island NY. The very first night she arrived, she met a handsome life guard. Doris and Skip fell in love. Following graduation from Hunter in 1955, Doris married Skip on June 29, 1956, in New York City, making a home in the Bronx NY, she began work as an elementary school teacher in the New Rochelle School District. Doris continued to teach until starting a family with Skip in late 1957. The family moved to Scarsdale together with Doris' mother and aunt, Linda (Kitty) and Lillian (Lil), respectively, after the passing of Doris' father, Aniello.
Doris, Skip and family continued to live in Scarsdale until they moved the family to Pittsburgh PA. While in Pittsburgh, Doris worked as a Real Estate agent and also started a catering business.
After five years in Pittsburgh, Skip, Doris and family moved to Bethlehem, PA. It was in Bethlehem that Doris began to volunteer at St. Luke's Hospital and was responsible for organizing several successful fundraising efforts, eventually becoming President of the St Lukes Hospital Ladies Aid Auxiliary. With Doris's keen energy, words and never-ending dedication, she was able to raise much needed funds to assist St. Lukes Hospital. After Skip's retirement in 1994, Doris and Skip remained in Bethlehem before moving to Savannah, GA in 1999.
A lover of people, Doris enjoyed socializing more than anything, and made numerous friends in Savannah especially as a member of Deer Creek in The Landings. Once Skip became ill, she tirelessly tended to him until his death in 2016. Doris remained in Savannah until moving to Estero, FL in 2021 where she could be nearer to family.
Doris' dedication to her husband and family was exceptional; she loudly and consistently served her family her entire life. She and Skip opened their home to Doris' mother and aunt, not once, but twice, out of love and generosity; caring for them through their retirement years.
Doris' presence and dedication stayed with you and her memory will enrich all of us forever.
Doris was predeceased by her husband, the absolute love of her life, Frederick Parker (Skip) Banyard, her parents, Aniello and Linda (Kitty) Mucciolo, her devoted Aunt, Lillian (Lil) Bevilaqua and her beloved brother-in-law, Richard (Rick) O. Banyard (who was only eleven when they first met) he was the "baby brother she never had".
Doris is survived by: sister Linda M. Serbouti; sister-in-law Sharon C. Banyard; children Linda Jane Theresa Banyard Higginbotham, Leslie Frederick James Banyard (Nancy) and Jonathan Parker Michael Banyard (Kimberly); nephews Gregory Neil Smith, Richard Stanley Govan (Sue), and Charles Edward Banyard(Sindy); niece Kimberly Marie Banyard Knapp(Steve); grandchildren Julia Marie Higginbotham Engel, Claire Fox Higginbotham Speer, Leslie Frederick Vitus (Skip) Banyard, Kyle Fitzgerald Anthony Banyard, Jennifer Louise Banyard, and Frederick Parker Banyard II (Parker); Great Grandsons Allen Fox Engel, and Robin Allen Speer.
A Funeral Mass will be celebrated at St. James The Less Catholic Church located at 8412 Whitefield Avenue, Savannah, GA. The Mass will be at 11 am September 22,2023 with interment to follow at The Greenwich Cemetery.
In lieu of flowers, please send any Memorial donations to Doris's favorite charity, Tunnel to Towers, 2361 Hylan Blvd., Staten Island, NY 10306.
GUEST BOOK
I have such wonderful memories of the most fun-loving lady I know! We played bridge together, tried new lunch places together, had a girls' getaway trip and smiled throughout our adventures. Doris was an adoring wife, and a PROUD Mom and Grandmother. She is missed!
- Susan Schneider, Alpharetta, Georgia
To all the Banyard and Mucciolo Families, We are so very sorry for your loss! Doris was a kind and generous person that will be missed by so many family and friends who's lives she touched over the years. My husband and I will always remember the kindness and great hospitality Doris showed us when we visited the Banyard family in Bermuda one summer. Doris was a friend to many and accomplished many things in her life especially raising her family. Our thoughts and prayers are with all of you at this time. Sincerely, Patty and Ben Schiraldi and the Schiraldi and Jeftic Families
- Schiraldi, Guilford, Connecticut
Services under the direction of:
Fox & Weeks Funeral Directors, Hodgson Chapel
912-352-7200