We have been made aware that families being served by Fox & Weeks are being contacted by individuals requesting payment over the phone. Fox & Weeks will not contact a family requesting payment over the phone. Please contact the Savannah Police Department immediately if you are contacted and asked to make payment over the phone. Please contact Fox & Weeks if you have any questions.
Celebrating the life of
Robert "Bob" Carl Maner
October 07, 1965 - September 09, 2023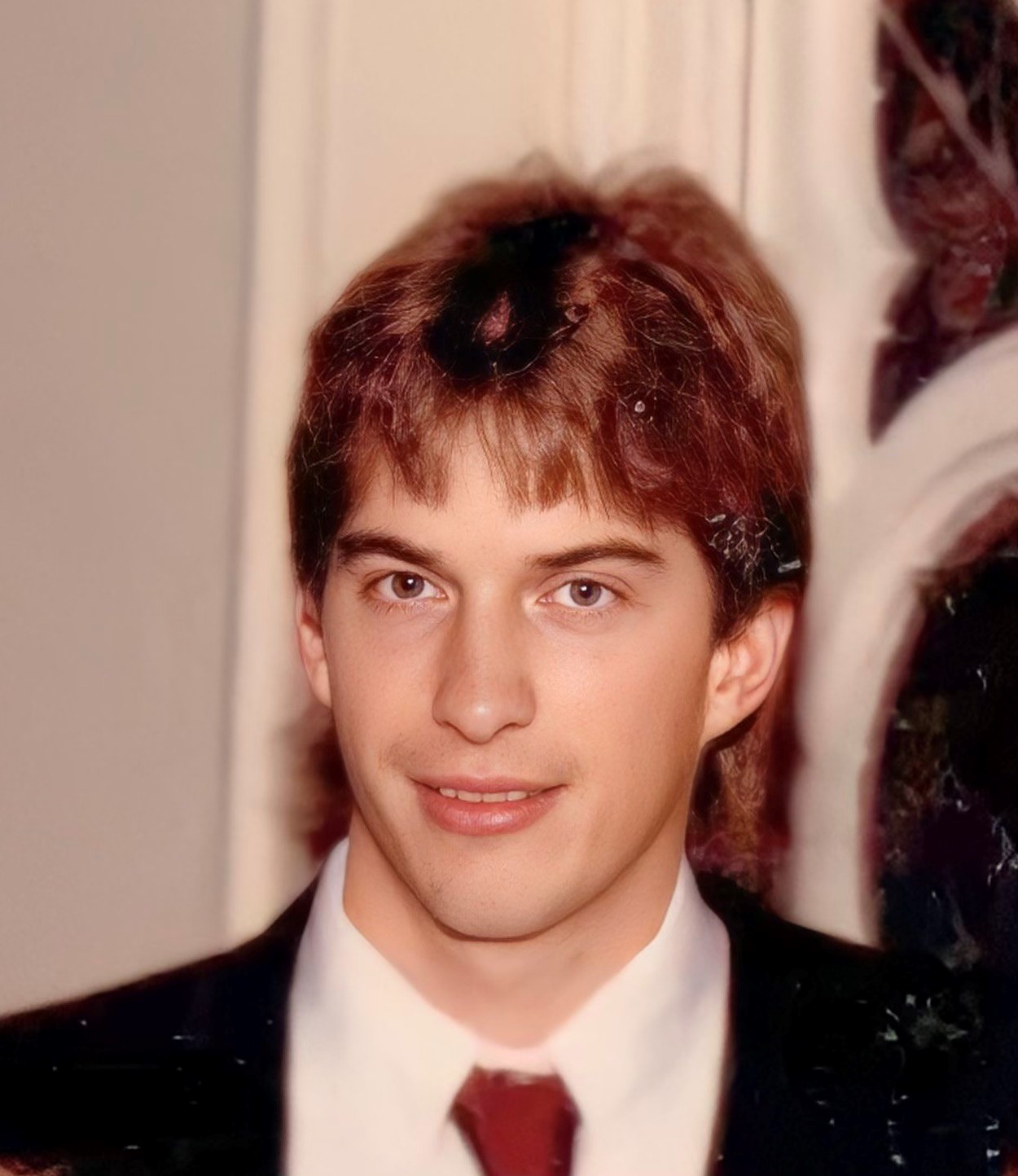 Robert "Bob" Carl Maner of Savannah passed away on September 11th, 2023, due to complications arising after a surgical procedure. Bob attended Savannah Country Day School and graduated from Savannah Christian Preparatory School. He then attended South University. For a number of years, he worked at Spanky's Southside and then at Driftaway Café. He was beloved by the patrons as well as his coworkers and will be remembered by everyone for his outgoing personality, his great sense of humor, his clever wit, and his love of music. He remembered every word, title and artist to hundreds of songs. He always had a smile for everyone he met. He will also be remembered for his generosity and kindness toward not only people but also animals.
He was born at St. Joseph Hospital in Savannah on October 7, 1965, to the late Dr. Frederick Debele Maner and Mrs. Joy Keisker Maner.
He is survived by his two sons, Stephen Sloan Maner (Lindsay) of Marietta, Georgia, his grandsons Theo and Eli, and his son Scott MacFarlane Maner of Huntsville, Alabama. He is also survived by five sisters and brothers, McBrier Maner Maloney (Michael) of Savannah, Frederick Debele "Dee" Maner, Jr. of Savannah, Jane Maner Finch of Charleston, SC, Edwin Conrad Maner (Dot) of Savannah and Carol Ann Maner of Richmond Hill. He is also survived by his stepmother, Louise Oliver Maner, his step-brothers, James Barnett Mercer (Ana) of Savannah, Joseph Oliver Mercer (Caroline) of Savannah, Robert Dearing McCay Mercer (Tiffany) of Atlanta, GA, and many nieces and nephews.
Visitation will be held Friday, September 29, 2023 from 5:00 p.m. until 7:00 p.m. at Fox & Weeks Funeral Directors, Hodgson Chapel.
A private Burial will be at Bonaventure Cemetery at a later date, followed by a Celebration of Life. In lieu of flowers, donations to The Humane Society of Greater Savannah would be appreciated.
GUEST BOOK
I'm so sorry for your loss.
- Albert Weis, Savananh, Ga
I'm so sorry for your loss. Bob was very hospitable throughout the years that I knew him and I will remember him always.
- Pamela Sheridan, Savannah, GA

A candle has been lit!
He will forever be my hero!
- Ann Maner, Richmond Hill, GA

A candle has been lit!
- Wendy, Savannah , Georgia

A candle has been lit!
I was blessed to get to know the Maner family in 1981 as a freshman at SCPS. My first trip to Drifton is still etched into my mind. Ms. Joy picked us up from school in her green station wagon filled with dogs, two fifteen year old boys full of relative innocence and wild eyes and what a weekend we had! Playing with the Dalmations, swimming in the pool and running through the woods. Who can forget the old blue Datsun (bushwhacker) truck:). Drifton was indeed a huge playground for us two and the Maner family, so many memories and good times spent there. From age 15 till our mid 50's we shared some great times and some low times, as is life. We have remained the best of friends to this day. Bob was as kind, generous and honest a friend you could ever have. We spent countless hours together over the years at each others homes and with each others families and even as our lives diverged we kept in touch. I will always remember Bob driving overnight from Savannah to Auburn the night my father passed away unexpectedly. He was there within hours for my family when we needed support. I will miss you my brother! Cross that river in style. My deepest condolences and love to the Maner family. God bless and keep you all.
- Kenneth Wickham, Duluth, GA

A candle has been lit!
Bob was my best friend. I didn't know him as long as most but we spent almost every day together for the past 4 years. He always had my back and would do anything for me or either of my two kids. He came over to bury my cat when I couldn't, he picked me up when I had a flat, came to my rescue when I ran out of gas, and always kept my car clean and waxed. We talked to each other about everything and nobody can replace the void he has left in my life. I will always love Bob. I know my family and I were so lucky to be loved by Bob. I will miss him every day for the rest of my life.
- Elizabeth Jones, Savannah, Ga

A candle has been lit!
- Elizabeth Jones, Savannah, Ga

A candle has been lit!
- Julie Tatum , Tybee Island, GA
I and all the Sheehans are very sorry for you loss. We send prayers.
- Kevin Sheehan, Savannah, GA
Dear Maner Family, I am very sorry to hear of the passing of Bob, especially coming at such a young age and so closely after Dr. Maner. It's been years since I have see any of you, but I mourn your recent losses with a heavy heart. From reading the obituary I regret that I didn't know Bob in later life. He was such a great guy with a remarkable sense of humor when he was small. Love and kind thoughts to you all.
- Daniel Zipperer, St. Louis, MO
Dee, Clay and I are so sorry for the loss of your brother.
- Clay and Pam Metts , Savannah , Ga
I am so saddened to hear about the passing of Bob. I remember him only as a little boy because we grew up next to the Maner's on 46th street. I have fond memories of all of you, Cynthia, Dee, Jane, Conrad, and Ann. Thinking of you and trusting for peace in your hearts and those in Bob's family
- Ginger Whalley McBride, Hendersonville , NC

A candle has been lit!
Rest in Peace Bob.
- Bonnie Helfrich, savannah, GA
Thank you for the kind words and memories shared about Bob. He was a wonderful, caring and funny brother whom my husband, my children and I adored. We will miss him terribly.
- McBrier Maner Maloney, Savannah , Georgia
So sorry to read about Bob's passing. Brad and I both have so many fond memories of our high school years with Bob.
- Beth (Lynah) and Brad Vickers, Savannah, Ga

A candle has been lit!
- Pamela Sheridan, Savannah, GA
So very sad to hear that Bob is gone. He will always be Boing boing to me. What a cute little ball of energy he was as a little boy! My heart goes out to you all.
- Marian Maner Castillo, Evans, Ga
Oh no !!! Not Bob! I graduated with Bob from high school and did not know Bob very well in the day. Over the last three years we got reacquainted and what a fun, kind, wonderful friend he turned out to be I'll greatly miss you Bob Manor. You gave joy to a lot of people over the years. My blessings and Sincere sympathy to the family.
- Michael Vaughn , Savannah , GA

A candle has been lit!
We were very saddened to hear such devastating news. Our deepest sympathy and prayers to the Maner family, Bob will be missed. Bob was a great neighbor who we enjoyed dearly. Bob loved the outdoors and we will miss seeing him outside doing something; rather it was waxing his car, taking his dogs for a ride around the block, blowing leaves away from the curbside, gardening or flying his drone; which occasionally got stuck in the tree! We can always count on him being outside. We will remember all the good times and enjoy our time knowing Bob and it won't be the same looking over and not seeing him.  Prayers for peace and comfort in the days ahead, Martin and Christine Steele and family 
- Martin and Christine Steele and family , Savannah, GA
My heart and prayers go out to Bobs Friends, family, children and his fur babies. Bob was a great guy and I'm very blessed to have known him and call him a friend. He did have a great sense of humor and always made me laugh. He will be greatly missed. RIP Bob!!!
- DeAnna Lang, SAVANNAH, GA
So Sad Right now realizing too much time without us speaking went by ...Too this day I see 280z's and even sent him a pic of one recently...Bob and his unique laugh. .Rest In Peace Ole Friend...I'm sorry for his family's and his friends Loss . Save me a seat Bob ✌️
- David Gaspin, Savannah, Ga
Services under the direction of:
Fox & Weeks Funeral Directors, Hodgson Chapel
912-352-7200
Visitation

5:00 to 7:00 p.m. on Fri, September 29, 2023

Fox & Weeks Funeral Directors, Hodgson Chapel
7200 Hodgson Memorial Drive (map)


Savannah GA 31406

912-352-7200
A Private Service Will Be Held