We have been made aware that families being served by Fox & Weeks are being contacted by individuals requesting payment over the phone. Fox & Weeks will not contact a family requesting payment over the phone. Please contact the Savannah Police Department immediately if you are contacted and asked to make payment over the phone. Please contact Fox & Weeks if you have any questions.
Celebrating the life of
Lynne F. Simpson
March 14, 1927 - September 11, 2023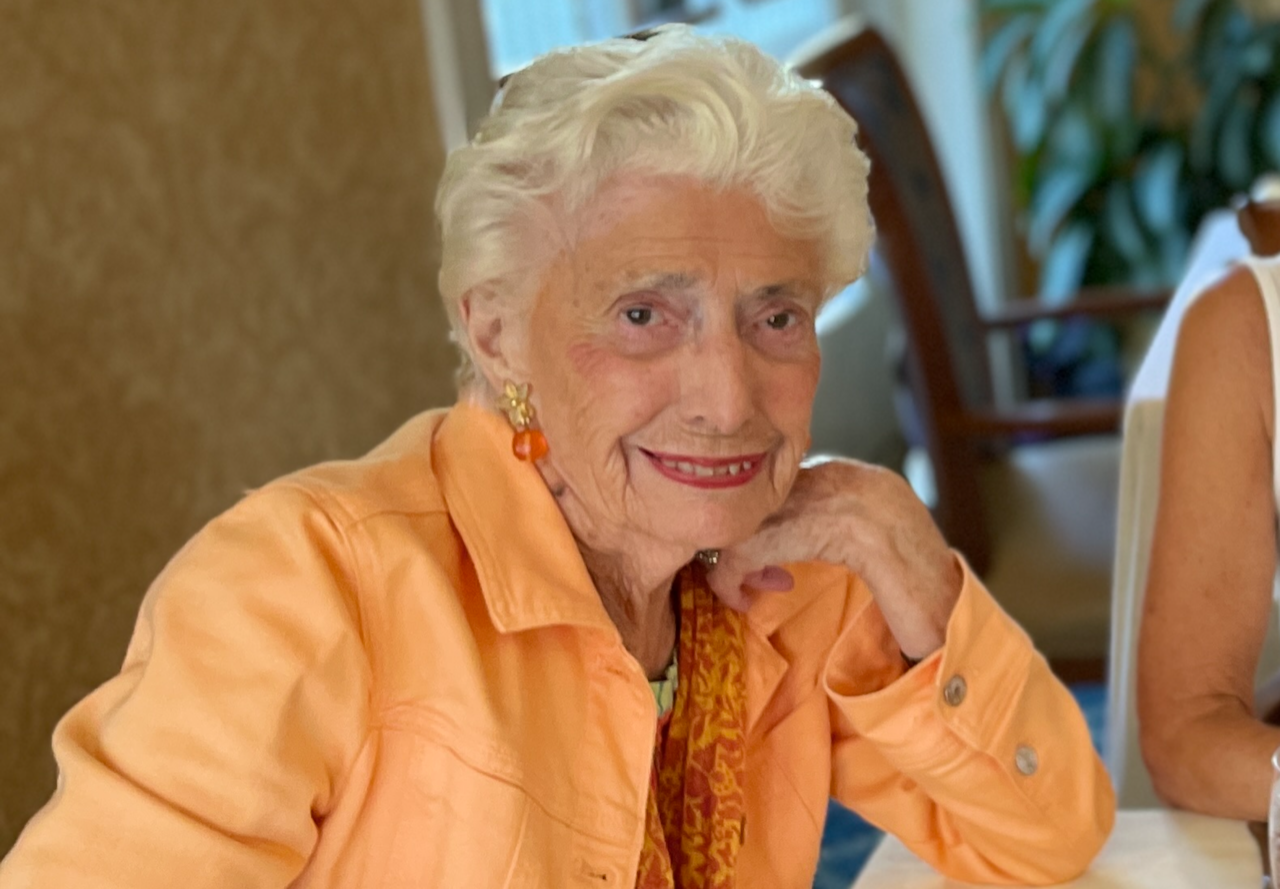 Lynne F. Simpson of Savannah, Georgia (formerly a 60-year resident of Haddonfield, N.J., and Ocean City, N.J.), passed away at the age of 96. She was the beloved daughter of Ethelyn Neal Ferris and Charles Ridgely Ferris. Lynne was preceded in death by her loving husbands, Paul Warren Simpson, John E. Berry, and John A. Vasey.
Lynne was a devoted mother to John Clay Vasey of Los Angeles, Calif., Dana V. Hennings (William) of Avon Lake, Ohio, and Scottsdale, Az., and Kimberly V. Tickner (Will) of Moorestown, N.J., and Cordillera, Colorado. She is survived by her five grandchildren: Ryan Berry Tickner (Jenna), Lucas Smith Tickner (Natasha), Amanda Hennings Mosher (Jeremy), Allison Hennings Swanson (Graham), and Travis William Hennings. Additionally, she is survived by thirteen great-grandchildren.
Lynne attended Syracuse University and graduated from the University of Pennsylvania, later pursuing postgraduate studies at Rowan University. She was a proud member of the Alpha Chi Omega sorority.
For 25 years, Lynne dedicated her career to teaching in Collingswood, N.J. After retiring in 1988, she settled in Savannah, Georgia. In New Jersey, Lynne was an active member of the Tavistock Country Club and the Ocean City Yacht Club, cherishing her summers in Ocean City. In Savannah, she embraced life as a member of the Landings Golf Club and various bridge groups. Additionally, Lynne volunteered at The Landings Library, showing her dedication to the community. In her later years, she enjoyed an active and energetic life at the Marshes in Savannah. Lynne was also a faithful member of the Skidaway Island Methodist Church.
A celebration of Lynne's life will be held with family later in her beloved Ocean City, N.J. Her memory will forever live on in the hearts of her family and friends.
GUEST BOOK

A candle has been lit!
sue and I wish to offer our sympathies and prayers for Lynne. We met her many times as she hung out with her close friend Jerrold Finch. We will always think of her as a lady with much class. We wish you all well.
- Bob and Sue (Finch) Pritchard, Bluffton, SC
Copy of my original full message is apparently lost. Rather than try to recreate it, let me reiterate simply say that my heart goes out to you Dana and Linny on the loss your Mother, my very best friend. Jerry
- Jerrold F Finch, 5 Oxford Way, Bluffton, SC
I was the Coordinator of Volunteers for The Village Library when Lynne joined in 2002, then worked diligently and pleasantly for the next 13 years. She was always a delight to work with and the patrons looked forward to visiting with her as she helped them choose their books. Such a lovely smile! She will be missed, but the memories of her friendship will keep her bright in our hearts.
- Sally H Arman, SAVANNAH, ga
Services under the direction of:
Fox & Weeks Funeral Directors, Hodgson Chapel
912-352-7200