We have been made aware that families being served by Fox & Weeks are being contacted by individuals requesting payment over the phone. Fox & Weeks will not contact a family requesting payment over the phone. Please contact the Savannah Police Department immediately if you are contacted and asked to make payment over the phone. Please contact Fox & Weeks if you have any questions.
Celebrating the life of
James (Jim) D. Buffalo
October 20, 1935 - September 08, 2023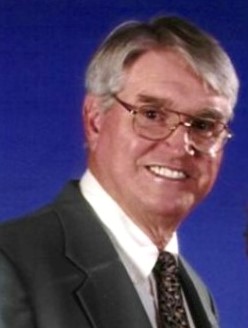 James (Jim) D. Buffalo, 87, passed away peacefully on Friday, September 8, 2023.
Jim was born in Knoxville, TN, on October 20, 1935 the son of the late Charles Edward Buffalo and Marjorie Laura Lauthner. He was a 1953 graduate of Karns High School in Knoxville. Jim was an outstanding basketball player and also excelled in many other sports winning many awards and trophies. Archery was another favorite hobby and he won the TN State Championship in his division in 1958. Jim also loved deer hunting with his bow and arrow.
In 1956, Jim married the love of his life and high school sweetheart, the former Barbara Jean Violet. In 1967, he and his family relocated to Savannah where he worked for Graybar Electric as the Zenith Representative until his retirement. He was a member of South Gardens Baptist Church. Jim was also a member and past president of the Southside Optimist Club where he strived to live by the Optimist Creed (he carried it in his wallet). Working in his yard and gardening were so enjoyable for him as evidenced by his well-maintained lawn and many beautiful flowers. Later on in life, Golf became Jim's true passion! He lived and breathed golf and was successful in attaining two "hole in ones" during his golfing days. Fortunately, Jim was able to play for many years.
After he became ill, Jim's truly devoted wife (almost 67 years next month on his birthday) was his main caregiver at their home up until a few days before he moved on to his heavenly home. Many thanks to the wonderful staff at Hospice Savannah, his many Doctors and nurses, and the J C Lewis Summit Cancer Care that provided excellent care.
In addition, to his loving and caring wife, Barbara, Jim leaves behind one daughter, Kimberly (Mark) Shaw; his grandson, Phillip (Brittany) of VA; and three great grandchildren, Trevor , Everett and Lincoln. Jim loved his family very much and was so very proud of them all.
Jim will be dearly missed by all that knew and loved him.
Visitation will be held on Friday, September 15, 2023 from 4:00 p.m until 6:00 p.m at Fox & Weeks Funeral Directors, Hodgson Chapel. A memorial service will follow beginning at 6:00 p.m.
Please consider a donation in Jim's memory to Hospice Savannah or J C Lewis Summit Cancer Care.
GUEST BOOK
Kim and family, I saw so much love in the pictures you shared over the years. May your father rest in peace and you feel the love and support from friends near and far.
- Jane Peebles Martin, Tampa, Florida
Jim was such a nice gentleman that I got acquainted with at Southbridge Golf Club about 15 years ago. I played quite a bit of rounds with Jim. He will be sorely missed and I will certainly whisper a prayer for his wife and also his family! God bless everyone!!
- Buddy Bushop, Dalton, Georgia
On behalf of my mother, (Judy), we send our deepest condolences. My father, (John Bright), shared many wonderful memories of his friend, Jim, with my brother and I growing up. We spent hours looking through the old Karns yearbooks. You are all in our thoughts and prayers.
- Judy (John) Bright & family, Knoxville , TN

A candle has been lit!
Kim & Barbara, I remember Jim as a kind, levelheaded Optimist Club member. Memory eternal. He will live on in y'all's hearts. ❤️
- Genie Brazzeal , Savannah, GA
Jim and my Dad, John Brazzeal were friends for many years through South Gardens and Optimist. I am sure John was waiting at the Pearly Gates for his friend Jim.
- betsy brazzeal, SAVANNAH, Georgia
So sorry Kim. He was such a sweet man.
- Fran Arnsdorff, Savannah, GA
We met Jim when he was a Ranger for Southbridge Golf Club. He was a joy to speak with and we often exchanged plants.
- Larry and Marilyn, Savannah, GA
My thoughts and prayers for peace and comfort in these trying days for Barbara, Kim and all the family. I have many memories of our high school days and the many good times we all shared. Especially watching Arnold play basketball with Jim, Johnny Bright, Bob Whittaker and Bob Dagley. Sadly Jim is the last of this group. I know that he will be greatly missed by all who knew him.
- Temple Mellinger, Glade Springs, virginia
I am so sorry to hear about Jim, praying for Barbara and Kimberly, I have good memories Of when I was a kid and we went to the holler to see all the cousins. Praying for all Susie Waddell wyrick
- Susie Waddell wyrick, Ten mile , Tenn
Says visitation is September 15, 1923
- A friend, Arkadia, KS
Im so sorry for the loss .
- Laney L Carter, Pooler, GA
Services under the direction of:
Fox & Weeks Funeral Directors, Hodgson Chapel
912-352-7200
Visitation

4:00 p.m. until 6:00 p.m. on Fri, September 15, 2023

Fox & Weeks Funeral Directors, Hodgson Chapel
7200 Hodgson Memorial Drive (map)


Savannah GA 31406

912-352-7200