We have been made aware that families being served by Fox & Weeks are being contacted by individuals requesting payment over the phone. Fox & Weeks will not contact a family requesting payment over the phone. Please contact the Savannah Police Department immediately if you are contacted and asked to make payment over the phone. Please contact Fox & Weeks if you have any questions.
Celebrating the life of
Allen J. Harrelson, Sr.
Passed away on September 09, 2023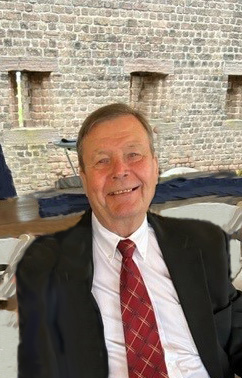 Allen J. Harrelson, 82, passed away on September 9, 2023 after a short illness. Allen was born in Savannah to Allen and Bonnie Harrelson and he remained in the community he loved. He attended Groves High School and upon graduation in 1959, he enlisted in the Air National Guard and was assigned to the 165th Air Lift Wing. He served his country faithfully for 33 years, retiring as a Master Sergeant in 1991. Additionally, he was a firefighter at Travis Field. Following his retirement from the service, he began a lawn care company working with his son, Brian, for many years.
Allen was a former member of Thunderbolt Baptist Church where he taught Sunday School and worked with the youth. He was a current member of First Baptist Church of the Islands, where he taught the Good Neighbor Sunday School class.
Allen was affectionately referred to as "Grandpa Dusty," a nickname given to him by his grandchildren because he was most often found in his workshop. He was an accomplished woodworker as there was nothing he couldn't build, including wonderful heirlooms for family members. Allen loved decorating the house for the holidays, often being compared to Clark Griswald. He enjoyed all family traditions, including Bible quizzes before gifts were opened.
He was preceded in death by two sons, Allen "Jay" Harrelson, Jr., and Christopher Harrelson. Surviving are his wife of 38 years, Judy (Power) Harrelson, two sons, Donald (Sandi) Lowe and Brian (Renae) Lowe, all of Savannah. Also surviving are his three grandchildren, Christopher Lowe of Missoula, MT, Sandee (Chris) Booth of Ft. Belvoir, VA, Trey (Amanda) Lowe of Charlotte, NC and four great-grandchildren, John Booth, Savannah Booth, Emerson Booth and Freya Booth. He is also survived by a brother, Powell Harrelson and two nephews, Powell Harrelson, Jr., and Patrick Harrelson.
Visitation will be held Thursday, September 14, 2023 at 2:00 pm at First Baptist Church of the Islands. A celebration of life will be held immediately following, at 3:00 pm.
In lieu of flowers, donations can be made to the Humane Society for Greater Savannah or First Baptist Church of the Islands.
GUEST BOOK
Allen was a good and caring friend for many of our decades. He was always one with a quick and witty comment. Such a kind and dear friend that we will miss and we will not be able to forget. Our sincere and deep sympathy goes out for dear Judy and her loving family. Jim and Mary
- Ashby, Savannah, Georgia
Judy and family, sorry to hear that Allen has passed away. Know that you are in Carolyn and my prayers. God Bless my cousins.
- Bob White, Greensboro , Ga
As a member of the First Baptist Church of the Island I meet and knew Allen Being in the same Sunday School class . He taught our class for a number of years showing that he was very knowledgeable of the Bible and how to get the message across. He will be missed but knowing that God has a place for him will bring comfort to all. God Bless
- Manning Faust, Savannah, Ga

A candle has been lit!
So sorry for your loss.
- Nancy Hiers, Savannah, Ga
Our sincere sympathy for Judy and your family. We were so sorry to hear this. We tested COVID pos so will not be able to attend the FBCI Memorial. You will be in our prayers.
- Joseph and Janet Lane, Savannah, GA
We were a part of Allen's family for a long time. His family lived next door to my husband's family for a large part of their growing up of their lives. Mr A.J. and Ms Bonnie were always a large part of our lives. Allen and Powell were a huge part of my husband's lives at the beginning of their childhood. We lived and laughed at all of the families jokes and pictures. We are upset about Allen's passing. We were with him and his family when his sons died. He will be missed by all of his Silk Hope family. Horace and Marie Lewis
- Horace and Marie Lewis, Savannah, Georgia
Most of my memories of Allen are when I was a little girl. He lived next door to my family and was close to Russell and Horace and all of the other Silk Hope crowd. I don't think I've seen Allen in the past 20 years but when I saw his picture I immediately I remembered his laugh. He and his family (Mr. AJ and Ms. Bonnie) meant so much to me. Loree and JB Lewis (my parents) loved him. I offer my sympathy to all of his family and friends.
- Sarah Lewis Harris and Judy Lewis Kersey, Savannah, Ga
Dear Judy & family, I was so sorry to learn of Allen´s passing. Like so many others,I loved and respected him very much. Only the Holy Spirit can comfort you at this time, and we are praying that He will. Much love, Kenny & Tere Isbell
- Kenny & Tere Isbell, Cordoba, Spain
May our former next-door neighbor rest in peace. Sorry for your loss.
- Burch & Marie Bryant, Savannah, GA
Judy, so sorry to hear about Allen. For years I always looked forward to seeing you both at Calico Days. Take care of yourself.
- Pam Hatchell, Thomasville, Georgia
Services under the direction of:
Fox & Weeks Funeral Directors, Hodgson Chapel
912-352-7200
Visitation

2:00 p.m. to 3:00 p.m. on Thu, September 14, 2023

First Baptist Church of the Islands
6613 Johnny Mercer Blvd. (map)


SAVANNAH GA 31410

912-897-2142
Memorial Service

3:00 p.m. on Thu, September 14, 2023

First Baptist Church of the Islands
6613 Johnny Mercer Blvd. (map)


SAVANNAH GA 31410

912-897-2142