We have been made aware that families being served by Fox & Weeks are being contacted by individuals requesting payment over the phone. Fox & Weeks will not contact a family requesting payment over the phone. Please contact the Savannah Police Department immediately if you are contacted and asked to make payment over the phone. Please contact Fox & Weeks if you have any questions.
Celebrating the life of
Robert Wallden
October 01, 1942 - September 10, 2023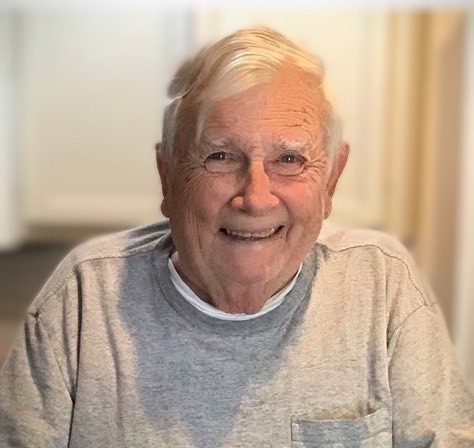 Robert August Wallden, 80, died peacefully at home on September 10th, surrounded by his loving family. Born to Frank and Margaret Wallden in Savannah on October 1, 1942, he attended Savannah High School and Armstrong State College. He owned Wallden Air Conditioning and Refrigeration. Baptized in the Lutheran faith, he attended Blessed Sacrament Catholic Church with his beloved wife Camille and family.
With his welcoming, easy-going nature, Robert had a way of making everyone feel comfortable. He certainly kept all of us laughing. His droll, affable manner remains impossible to describe but was something of a cross between Andy Griffith and Colombo. Children and animals recognized a kindred spirit and loved him on first meeting. Never one to be bound by convention, he embraced every opportunity to connect with others in friendly conversation. He accepted and appreciated each one of us exactly and completely as we are.
Some of his favorite things were thunderstorms, the ocean, camping, conversations that stretched into the wee hours of the morning, gardening, cooking, a good bargain, and hugs. He collected unusual treasures as readily as friends, and once acquired a pulpit and church pews. When asked what he planned to do with them, he replied with a twinkle in his eyes, "well, one day I may want to start my own church." He knew every back road along the Georgia and South Carolina coasts, and his favorite pastime was driving them with a dog at his side.
He is survived by his devoted wife of 46 years, Camille (née Koncul), his daughter Kelly, his son John (Morgan), and his sisters Margaret Suderow and Norma Barbee. His grandchildren August, Inez, Beatrice, Bosco, Martha, Owen and Ruth will miss their Papa Robert dearly. Sonny Stewart was a lifelong friend and partner in untold hijinks. Robert will be missed by many relatives in the Koncul and Suderow families.
He was preceded in death by his beloved son Matthew, his parents, and his brother Frank Wallden.
Robert and sister-in-law Diana Koncul always shared a special connection, and she selflessly devoted herself to him and his family as his health declined. She shared a lifetime of nursing expertise and was the family's tireless rock in their time of great need. Words cannot express the depths of gratitude for her commitment and many trips over the Talmadge bridge. Robert's nephew Stan Suderow helped with so many favors large and small. Special thanks to Lynda Morris and Jamila Harris, caregivers who brought much comfort at the end of his life. Remembrances made to Hospice Savannah are appreciated, as the family is deeply grateful for their support and guidance during Robert's final months.
Services will be held on Thursday, September 14, 2023. Visitation will be at Blessed Sacrament Catholic Church at 10:00 am and Mass of Christian Burial will begin at 11:00 am. Interment will immediately follow in Greenwich Cemetery with a reception afterwards at the Knights of Columbus, 3 W. Liberty St.
In his memory, say hello to a stranger, give your joyous and undivided attention to a child, pick a bouquet of flowers to give away. Where there are love and forgiveness, gentle humor and generosity, his spirit lives on.
GUEST BOOK
All comfort to you at this time.
- Karen Agee, Savannah, Georgia

A candle has been lit!
- Sheehan Family, Savannah , Ga

A candle has been lit!
- Vicki McCuen & Family, Savannah, GA

A candle has been lit!
I love this picture of Uncle Robert. That's exactly how I remember him. Such a sweet man that we will miss. Love to all of you. Aunt Camille, Kelly and John, you are all in our prayers.
- Nelson Family, Statesboro, GA
Gone, but not forgotten.
- Mary Ann Sunday, Savannah, GA
Camille, Kelly, John and family, So sorry to hear about Mr. Robert, we are keeping you all in our prayers. A lot of great memories with Matthew and Robert (Uncle Pete) on 52nd Street
- Daniel and Kendra Shanahan, savannah, GA
We truly miss Robert, but rejoice that he is at peace with his Savior!
- Margaret and Stanley Suderow, Savannah, GA
Camille and Robert's homestead on 52nd St was always a welcoming stop when we were in Savannah. We extend our love and prayers to Camille, Kelly and John and all the family. Robert was a big part of our gatherings and to know him was to love him. Catherine and Tommy Russoniello
- Catherine & Tommy Russoniello, Okatie, S C
With deepest sympathy. May he Rest in Peace.
- Jane Patricia Harte , Savannah, Georgia
Camille I am so sorry for your loss, hard to believe I went to your wedding, time has fly by. I still remember the song they play at the church. I will pray for you and your family . Take good care. God be with you.$$
- Isabel Stokes, Hilton Head, SC
What a perfect obituary for Uncle Robert! I have such fond memories of him cooking up a storm at the beach house and many other family events over the years. I will always remember his kind, gentle spirit, and his ability to remain unbelievably calm in whatever situation arose. We will all miss him so much! Aunt Camille, Kelly, and John, sending love and prayers your way.
- The Robinson Family , Savannah, GA
Deepest sympathy to Camille and family. Yes, your husband/dad loved to be in conversation with everyone and anyone. He always had a twinkle in his eye and a joke or witty saying to share. RIP
- Jeanne Olson, Savannah, GA
Our deepest sympathy to Camille and the Wallden family. We will miss Robert when we come to Savannah. He had the personality that filled the room and hugged you with the best of southern hospitality. May you find serenity in the days ahead. Always with our love, Marian and Lou
- Marian and Lou, Glenmont , NY
Camille, I'm sorry to hear about Robert's passing. I remember meeting him at the Koncul Compound at Tybee, and an image that I'll always have is him taking a nap with his baby daughter nestled on his chest, soundly and safely asleep, just a beautiful moment and so peaceful! I pray that our Good Lord will bring you and your family peace and comfort in your time of mourning.
- Brian Welch, Odessa, FL
May your fond memories of Robert bring comfort and joy during this difficult period. He was loved by all who had the pleasure of knowing him.
- Anita Kirkpatrick, Savannah, GA
My condolences and love to you all in your loss.
- David Price, Raleigh , North Carolina
Robert was so sweet and kind! So sorry for your loss. I pray he is at peace and reunited with Matthew. Many prayers to all of the Wallden family!
- Ange and Katie Tambon , Savannah, GA
Camille, Kelly, John and family, I am so sorry about Robert. He was a kind, witty, sweet, funny man. He would always greet me with the biggest smile and hello every time I came in your home. That's how I'll always remember him. You guys are in my prayers. Love to you all, Suzanne
- Suzanne Groover , New York , NY
Our deepest sympathy Camille, Kelly, John and family. May his memory be eternal.
- Tommy and Amanda Cannon, Savannah, GA
Camille, I am so sorry for the loss of your husband, Robert. It's a real blessing to be happily married for 46 years. You should be proud. Love, Janice Wallace Sauers
- Janice Wallace Sauers, Savannah, GA
Dear Camille, Please accept my sincere condolences on the passing of your husband. May he rest eternally in the living arms of the Lord.
- Brooks Youmans, Peachtree City, Ga.
Camille, Kelly, John and Family, Robert was loved and will truly be missed by so many. Wishing you all peace and comfort in your memories and hearts. Rest in Peace Robert. Love Eve and Glenn
- Glenn and Eve Stocks, Midway , Ga

A candle has been lit!
- Bob and PAULINE Johnstone , Oakatie , SC

A candle has been lit!
Camille and Family, We are so sorry for your loss. Robert was always so happy whenever we saw him. May your memories bring you comfort and peace. Catherine & Gary Cooper
- Catherine F Cooper, Savannah, GA
Camille, Kelly, and John, Robert has been a joyful presence in our world for many years. He will forever be missed but leaves us with a lifetime of beautiful memories. You are all in our prayers. Celeste, Stephen and Family
- Celeste and Stephen Koncul, Savannah, Georgia
Camille, I am so sorry to hear of the passing of Robert, many prayers and love be with you and the family during this time.
- Donna Crowder Grove, Beckley, Wv
Prayers for Camille and family. May he rest easy and Paradise.
- Julia A Dyer Strickland, Savannah, GA
Camille and family please except our deepest sympathy for your loss of Robert. All of you guys are in our prayers.
- Seleta and Andy, Waycross , Ga
Camille, so sorry for your loss. Keeping you and your family in my thoughts and prayers.
- Claire Moore Tackett, Pooler, Ga
Camille, so sorry to hear about Robert's passing. Thank you to Diane for your skill sure wish you were around here when Mike passed. Bless all of you!
- Lynn Perkins, West Des Moined, Ia
Praying for peace and comfort for the entire family. Jacqueline Sauls Royal
- Richard and Jacqueline Royal, Poulsbo, Washington
Services under the direction of:
Fox & Weeks Funeral Directors, Hodgson Chapel
912-352-7200
Visitation

10:00 a.m. until 11:00 a.m. on Thu, September 14, 2023

Blessed Sacrament Catholic Church
1003 East Victory Drive (map)


Savannah GA 31405

912-356-6980
Mass of Christian Burial

11:00 a.m. on Thu, September 14, 2023

Blessed Sacrament Catholic Church
1003 East Victory Drive (map)


Savannah GA 31405

912-356-6980