We have been made aware that families being served by Fox & Weeks are being contacted by individuals requesting payment over the phone. Fox & Weeks will not contact a family requesting payment over the phone. Please contact the Savannah Police Department immediately if you are contacted and asked to make payment over the phone. Please contact Fox & Weeks if you have any questions.
Celebrating the life of
Elizabeth (Liz) McGough
November 15, 1934 - August 20, 2023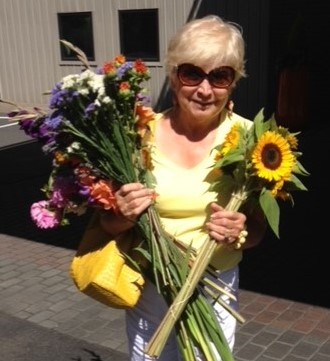 Elizabeth Ann (Liz) Hemmes McGough, 88, passed away peacefully at Spanish Oaks Retreat on August 20 and was reunited in heaven with her beloved husband Chuck.
Liz was born in Pittsburgh, PA, the daughter of Paul J. Hemmes and Mary Puhlik Hemmes. She graduated from Penn Hills High School in Pittsburgh and received a BS degree from the University of Pittsburgh.
In 1956 Liz married Chuck and they had five sons, Michael (Gloria) of Skidaway Island, GA; Steven (Peggy) of Houston, TX; Mark (Arleen) of Westlake Village, CA; Timothy of Merrimack, NH; and Gary, deceased.
In addition to raising her family Liz was an accomplished author of numerous articles and four books on wide-ranging topics including Body Language, Personal Finance and Travel in Europe. She was also an avid gardener who loved attending to her horticultural gems. She was a fantastic cook and superb hostess to friends and family visiting her little piece of paradise on Skidaway Island. She was an active parishioner at St. James Catholic Church in Savannah and an enthusiastic golfing member at The Landings Club on Skidaway Island.
In addition to her sons and their wives she leaves behind her brother John (Elaine) and seven grandchildren, Gregory (Anna), Emily, Brian, Sarah (Gus), Christine, Hannah and Kelley. She was predeceased by brothers Joe, Jim, Paul and Fred and sisters Mary Jane and Rose.
A loving mother and wife, Liz will always be in our hearts and forever missed. The family will be holding a private memorial service in the coming days. The family would like to thank her amazing caregivers and the wonderful people of Spanish Oaks for the loving and compassionate care they provided over the past few years.
In lieu of flowers the family suggests a donation in Liz's memory to the College of Saint Scholastica, 1200 Kenwood Avenue, Duluth, Minnesota. 55811.
GUEST BOOK

A candle has been lit!
Our deepest condolences to the family.
- Fontanet Rodriguez, Bayamon , Puerto Rico
My thoughts and prayers for the family in this difficult time. May she rest in peace.
- Margarita ( Maggie) Rodriguez, Naples, Florida

A candle has been lit!
Deepest sympathies to the family.
- elissa spisso, BASKING RIDGE, NJ

A candle has been lit!
A one of a kind lady whom I will miss terribly. She'd shared so many words of wisdom, recipes, fashion & gardening tips over the years that I will always hold in my heart. Sending comforting hugs to all she touched.
- Peggy McGough, Houston, TX
Deepest condolences to the many members of the extended McGough family. May years of memories bring you joy and peace.
- Linda Wold, Seattle , Washington
Mike, we are so sorry for your loss. Please convey our condolences to the rest of the family. My mother has so many fond memories of your mom (well, of both of your parents really). What a sweet, lovely person she was! She will be dearly missed.
- The Schavoirs, Old Lyme, CT
I'm deeply saddened to hear of Mrs. McGough's passing. She was truly a special lady, and her love for cooking and her amazing green thumb are gifts her youngest son, Tim, has undoubtedly inherited. He stands as a testament to her remarkable character and love. Mrs. McGough will always be in our hearts. My thoughts and prayers are with Tim during this difficult time.
- Julie Miles, Merrimack, NH

A candle has been lit!
Heartfelt condolences to our dearest brother-in-law, Mark, Arleen, Emily, Sarah, Hannah, and the entire McGough family. Liz, also known as Mimi, was a bright light who lit the room with her sparkling presence; positive demeanor, fabulous style, notable wit and refined grace. God blessed her with many talents that remain ever-present with all she inspired. We will cherish memorable times shared and keep your family close in heart and prayer. Heaven's gardens are more beautiful now with her there. May she rest peacefully.
- Carolyn and Percy Naranjo and family, Yardley, PA
It was a pleasure taking care of you, your someone I will never forget. The sweetest, so thankful to have met someone like you and also your family . To the family, you guys are in my prayers. May she Rest In Peace.
- Reggina Culpepper , Savannah , Ga
Services under the direction of:
Fox & Weeks Funeral Directors, Hodgson Chapel
912-352-7200