We have been made aware that families being served by Fox & Weeks are being contacted by individuals requesting payment over the phone. Fox & Weeks will not contact a family requesting payment over the phone. Please contact the Savannah Police Department immediately if you are contacted and asked to make payment over the phone. Please contact Fox & Weeks if you have any questions.
Celebrating the life of
Jim Lanier
Passed away on August 18, 2023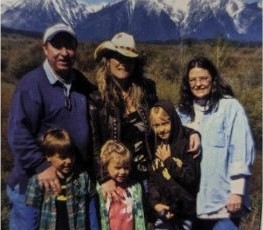 Jim Lanier, 77, passed away peacefully and surrounded by his family on Friday, August 18th, 2023. With his last breath on Earth came his first step in Heaven, and he is now with the Lord alongside the family and friends who were waiting there to greet him, of which there are many.
James Roy Lanier was born November 9, 1945, to the late Arlene Akins Lanier and James Richard Lanier.
A member of the Jenkins High School class of 1963, Jim then attended Belhaven College on a baseball scholarship, graduating in 1967. Belhaven not only brought him a new calling to serve the Lord, but also his best friend and the love of his life, Barbara Traylor. They married August 26, 1967, and started their journey together at Columbia Theological Seminary. After his graduation in 1970, Jim served as pastor of Hartwell Presbyterian Church until January of 1972, when he and Barbara were called to Savannah to teach at Savannah Christian Preparatory School. Jim poured not only his love for the Lord into his students, but also his love of baseball, serving as the school's first baseball coach.
While organizing student trips to Washington DC, Jim discovered the Lord's true calling for his life – serving others while showing them the world. He started Excursions Unlimited in 1979 and began a lifetime of exploration, adventure and friendship that he has shared with countless travelers all over the world. Jim's journeys took him from coast to coast, sea to sea and numerous points in between. He loved to host trips and enjoyed showing people a good time. Jim didn't have customers; he had fellow-travelers and friends. He remembered their names, knew their stories, and took an interest in their lives as anyone who attended one of his famous low country boils or annual traveler reunions can attest. For over 40 years Jim said, "When you're ready to go, let us know!", and the Excursions Unlimited legacy now continues as part of Kelly Tours, recently coming full circle in a merger with his cousin, Don Adams, who began his career with Jim many years ago.
Second only to his love for travel was Jim's love of sports. Listening to Atlanta Braves games on his grandfather's radio as a kid led to his being a life-long fan of the both the Braves and the game. Jim later became an avid fan of the Jacksonville Jaguars, enjoying many a Sunday afternoon in Jaguars stadium.
Jim's was a life well-traveled, and a life well-lived. He was a man of his word who cared for people; whose quiet generosity and kindness was appreciated by all who knew him. He was a man who celebrated family and believed in tradition, always making family events a priority. And Jim was fiercely loyal to his wife, daughter and grandchildren – loving, protecting, and providing for them above all else.
Jim is survived by his wife of 57 years, Barbara, his daughter, Mandi Lanier, and his grandchildren, Piper, Isabel and Forest Lanier. His is also survived by his twin sister, Janie Up De Graff (Mo), his sister, Rose Bryan (Paul), his brother, Keith Lanier (Beth), along with two Brothers-In-Law, Sam Traylor and Tommy Cheves, and 11 nieces and nephews (Christy, Rebecca, Nick, Debbie, Stacey, Stephen, Shannon, Jonathan, Josh, Kyle and Emily) all of whom he loved well.
Jim's life will be celebrated on Saturday, August 26, 2023, at Fox & Weeks, Hodgson Chapel. Visitation will begin at 11:00 a.m., with a funeral service commencing at 12:30 p.m. and burial to follow at Forest Lawn Memory Gardens. Those serving as pallbearers are Don Adams, Jim Barker, Carl Carter, Marion Cooper, Walter Lee, Wayne Lee, Donnie Phillips, David Quarterman, Randy Zittrouer, and Kenny Fraser.
Remembrances may be made to the Mayo Clinic of Jacksonville, Florida or the charity of your choice.
GUEST BOOK
My heart aches for you because I know how much Jim loved and cared for his family and how much you will miss him! The day he stopped breathing on this earth, he began living in newness of life! We will all have a sweet and grand reunion and what a day of rejoicing that will be❤️!
- Liz Quarterman, Springfield, GA
We love you guys and am sorry for your loss. He was a fine Christian man and he always wanted you to succeed. He had a huge impact in my life before and after I gave my life to Christ. All of SCPS is sadder today!
- Hal Taylor, Macon, Ga. 31204
Barbara, Wally and I were so saddened to hear of Jim's passing. Although it's been many years since we've seen one another, we will never forget your friendship and especially your kindness in playing the piano at our wedding. Please know you are in our prayers.
- Susan Pierce Woods, Cleveland, GA
I am so saddened by this news! Though I know Jim is with the Lord, we mourn his loss. His family was the most important thing to him and he worked to provide for you and celebrate you! We all remember his smile, laugh, jokes, and love for sports. Your family's contributions to SCPS is unparalleled. Thank you for sharing Jim with us all! He touched so many lives. We will miss him.
- Mary Ann Dudley, Savannah, GA
What a wonderful man, travel agent and special person he is. We are thankful to have known him. Prayers for all of his family and friends. Karen and Grover
- Zipperer, Karen and Grover , Savannah, Ga
Barbara, we're so sorry to hear of Jim's passing. We love you and your family and are grateful for the special times we shared together during our time at Savannah Christian. Our love and prayers go with all of you in the coming days. May God's Comfort and Peace give you strength for each day.
- Sherri and Jeff Goodman, Savannah, GA
Jim Lanier was a great teacher, a great coach, and an even finer man. He was one of the most beloved teachers at Savannah Christian back in the '70's, who had the remarkable ability to walk that fine line between his roles as Mr. Lanier, your teacher in the classroom, and Jim, one of your good buddies outside the classroom. He had a heart of pure gold and was so generous in his kindness to everyone. He was especially empathetic to new students and others who were shy, reticent, or otherwise didn't seem to fit in with the other students. He would bend over backwards to make them feel welcome and to help them fit in with the others. He also shared a lot of his personal life with his students in classes. I'll never forget his describing the overwhelming joy their baby daughter brought to his and Barbara's lives. It moved him to tears as he described how her tiny little hand would clasp to his when he held her, and it choked up the entire class, including the adolescent boys, like me, who were far too immature to appreciate the significance of a tender moment like that had it been described to us by anyone other than Mr. Lanier. I know I shall carry nothing but the fondest memories of Jim Lanier to my own grave. Peace, love, and blessings of comfort to Barbara, their children and grandchildren and his brother Keith.
- Charles "Zip" Zimmerman, Midville, GA
My deepest condolences to you, Barbara and your family. Jim Lanier was my dearest teacher and friend. He helped me through school with his kind heart. I loved his Bible class! He aided in my deep relationship I have with God today! I am so sorry for your loss. We will all see him again in Paradise! Corene
- Corene Doss Lucik, Savannah , Ga
So sorry to hear about Jim. He was such a great person and truly a wonderful travel agent. He will be sorely missed. His love of the travel industry will not be replaced by anyone. Our thoughts and prayers for the family will be lifted up With love, Coachlight Tours Family Elizabeth KAMALAKIS
- Elizabeth Kamalakis, Savannah , GA
My father passed away in 1974. Keith and I were best friends. Jim became a father figure to me. Taking us duck hunting at the ponds behind Savannah Christian. We used to go to Tybee and stay with he and Barbara (Mrs Lanier) as I called her. Then the trips he planned to Washington and then starting his business. Excursions Unlimited. (What a name). Only Jim could come up with that! What a successful venture. Jim and Barbara were very special people in my life and his death is a great loss. He will be greatly missed. We love y'all!!!
- Chip Jones , Savannah , Ga
When I think about Mr Lanier a flood of memories come back, all good. He was my teacher for 4 years at SCPS and I loved him. I will remember all the great times with Mr Lanier for the rest of my life. He was a great teacher but more than importantly he was great human being. As a travel agent he helped my mom and Dad attend a Braves game. My dad had mobility problems and he personally helped him get into and out of the stadium and hotel. My life is better for Mr Lanier influence in my life. My prayers are with Mrs. Lanier, Keith and the rest of his family. You will be missed by me and many others. I love you. Cindy Davis Hadaway
- Cindy Davis Hadaway, Cumming, Ga.
I Rejoice for Mr. Lanier because he is rejoicing with his Savior. I will pray for comfort for his family. Mr. Lanier was my Bible teacher, the best!
- JoLisa Windle Brooks, Savannah, Georgia
Dear Family, Jim and his twin sister Jane were just 10 years old when I married their Uncle Lee Roy. I watch him grow from a child to a young man who made a loving husband, father, teacher and a father to his younger siblings. With a heavy heart I say "Your work on earth is done". We will miss you. Joan Akins (Aunt) xoxo
- Joan Akins, Rincon, GEORGIA
Barbara, my prayers are with your entire family at this terrible time. I remember him as being so funny and often thought when I was in school that y'all must have had a lot of fun together. My prayers are for peace, comfort, and protection from loneliness. We know that we will see them again, but that is of little comfort now. I don't think that there is "time" in heaven...so he only has to wait what seems like 5 minutes for you...unfortunately, you have to wait to see him. So many people feel your pain and grief. Know that both of you touched many, many lives...always making them better. So sorry for your loss.
- Pam Coman Gaudry, Savannah, GA
. I have been a close friend with Jim's brother Keith for many years. In 1973 I transferred from Independent Presbyterian school to my first yr @ Savannah Christian School as an eighth grader. That year I was very blessed to have Jim's wife Barbara as my Algebra 1 teacher. At the end of that school yr, the yearbook, called the "Miracle" was dedicated to Jim & Barbara, as they made such an amazing impact on the school that year for all of their hard work & personal dedication to the students. Later in Eleventh grade I was blessed again to get to have Jim as my Bible & World History teacher. His enthusiasm for history was contagious. He was responsible for originally setting up our eleventh grade class trip & all of the other trips to Washington DC. He set up a wonderful honeymoon trip to Colorado for me & Christy from his travel agency "Excursions Unlimited" Jim was a very jovial person, and one of most loving Christian brothers I've ever met. He will be sorely missed. Barbara, we will be praying for you & the family. Thanks from all of us for allowing me to share our condolences.
- David Hester, Deltona, FL
I was blessed to finish my last two years of high school at SCS where many influential adults would help shape my future, including Jim and Barbara. Over the course of those two years, Jim would be my home room teacher, Bible teacher, DC trip leader, senior trip chaperone, and baseball coach. Barbara meanwhile was the quintessential example of strength in her own way that led the two of them to be another godly example to me of what a healthy loving marriage looked like. Our family moved away from Savannah shortly after I graduated and therefore I have not seen them in over 48 years. Still, my heart became heavy this morning when I first learned of Jim's passing. However, the Word of our faith reminds us that our grief is not without hope. Not a "hope so" kind of hope, but a profound assurance kind of hope that does not disappoint. Jim, I have no doubt that you heard a resounding, "Well done, good and faithful servant!", and you are now just on the other side waiting on the rest of us. Barbara and family, may the God of all comfort wrap you with grace and peace. We will see Jim again.
- Larry Morris , Winston Salem , NC
I offer my sincere condolences to the family. I have had the privilege of taking several trips that Jim planned specifically for the senior adults at FBCJAX. We loved working and planning with him on these trips. He will be greatly missed. My prayers are with you.
- Ramona Brown, Jacksonville, Fl
Jim was and will forever be "the man"! That's what he would call me along with "big Jake". I would always respond "no big Jim, you're THE MAN!" I was blessed to have gotten to know him through countless phone conversations over the last 2 years or - as he would've measured it - 3 Jaguars football seasons! Honored to have been his Jaguars representative and to get the chance to meet him! I'm forever grateful for him always being able to brighten up my day with his contagious personality!
- Jacob Clayton, Jacksonville, FL
Barbara and family: words can not express the sadness in the loss of Jim that I share with you. Jim and you were the first folks that we got to know after we moved to Savannah as teachers and you helped us to transform from northern Yankees to lovers of the South. Jim's generosity, enthusiasm for life and commitment to those he loved became foundational on my life's path. There is so much to say but please accept my sincerest sympathies as you deal with the loss of your life's partner. My prayer is for peace, patience, acceptance and understanding as you move forward day-by-day. Follow the Light during this temporary time of darkness while celebrating your memories of a man who impacted so many lives.
- David Heinen, Pella, IA
To the Lanier family, I was sad to read of Jim's passing. It brought a flood of memories from my days at Savannah Christian. Mrs. Lanier, you two had such a positive effect on the life of so many students! I was blessed to have both of you as teachers. I pray for all of you,God bless you. Eddie Coppage Class of 1978
- EDDIE COPPAGE, MIDDLEBURG, fl
Mrs. Barabara, Mandy and Family, The Rentiers send our deepest condolences. Growing up across the street from y'all, Jim was an awesome man to look up to for Joey and I. Learning to play half rubber and stick ball with him, Carl and all the other Tybee Market softball players back then was fun! I remember y'all letting Joey and I babysit Mandy just as long as out Mom was across the street just in case anything happened :-) Jim is in a better place and he will be missed! Love The Rentiers George, Joey, Kenny, Susie and our Families
- The Rentiers, Tybee Island/Savannah, GA
Barbara, I am so sorry to hear of Jim's passing. Please give my love to Jane, too, as we graduated together. I have admired you all and appreciated your loyalty and dedication to SCPS through so many years. Love and prayers to your family.
- Gloria Tootle , Savannah , Ga
Barbara, Mandy and family, we are so saddened to hear of Jim's passing. He was a very special man who had a great influence on many people in our community. We hope and pray your fond memories will sustain you and that the love of those around you give you comfort.
- Tom and Jo Lamas, Savannah, GA
I had the privilege of conducting Jim's DC tours for 30 years. Jim was the Best - a knowledgeable, caring professional who always put his clients first. I can hear him saying" Now Lou Ann you'll show my people a good time, right?" We have lost a kind, generous business partner, and more importantly, friend.
- Lou Ann , Washington , DC
I am so very sorry to hear of Jim's passing. He was a very good man, and was a good friend to my son, Jack Brinson II. I will always remember him driving from Savannah to Brunswick to attend my mother's funeral in February of 2015. My sincere condolences to his wife, daughter, grandchildren, and other family members. I am thankful to have gotten to know Jim and to be able to call him a friend.
- Jack Brinson, Sr., Brunswick, Ga
I am saddened to hear of Jim's passing. He was my favorite teacher ar SCS. I remember the trip to Washington DC with the History Club and how much fun we had. I always enjoyed running into him on Tybee when he & Barbara had the house on Butler Ave. He lived a good life and I will keep his family in my prayers.
- Jan (Knight) Ward, Kennesaw , Ga
Our love and prayers to all the family. Janie and her husband Mo are in our Covenant Small Group at church and we've had them in our prayers throughout Jim's illness. Six of us in our group attended Belhaven College including Jim and Janie. So sorry about the loss and so thankful for the hope of the gospel of Christ.
- Lanier and Karen Ellis, Matthews, NC
Sending love from Carlin, John, Ava, Brody, Audrey, John Luke, Hailey, Hunter and Kim.
- Carlin Dixon, El Paso, TX
I am blessed to have had the opportunity to work with Jim for a total of nine years at Excursions Unlimited and Kelly Tours. I also had the pleasure of teaching with Barbara for seventeen years at Savannah Christian Middle School and even taught Piper when she attended school there. Jim will be fondly remembered and will be greatly missed.
- Sonny & Cindy Lady, Savannah, GA
Keith and family, I'm sorry to hear of your loss. Excursions brought much joy into my mother-in-law's life. You all are in my heart.
- Marian Teuton, Savannah, GA
My heartfelt condolences to Barbara and all of Jim's family members. Recently returning to Georgia I was shocked and saddened by the news. I just wanted to share that Jim and Barbara were great teachers, friends and mentors. You both changed my life's path and I will forever be grateful for that gift.
- Donald Parker, Pooler, GA
Sorry for your loss. He had a great love of history. I enjoyed both of you as teachers. Class of 79.
- Paul Chance , Savannah , Georgia
Jim was a great teacher (as was Barbara) at Savannah Christian. His brother Keith was in our class of 1978. So sorry to hear of his death.
- Diane (Cobb) Biggs, Savannah, GA
Dear Lanier Family, So sorry I missed Jim's funeral and saddened that I didn't see the family. I grew up across the street from the Lanier. I played with Rose as a child and my brother Kim played with Keith. I remember Jim fondly and know he was a fine man. The Lanier were such a part of my growing up. My deepest sympathy to all of you. Love, Barbara
- Barbara Hammesfahr Howell, Savannah, Georgia 31510
To Mrs. Lanier, Keith and the Lanier Family, please know that I will keep you all in my prayers nightly. I was blessed to have Mrs. Lanier as a wonderful math teacher and Coach Lanier as a homeroom teacher at Savannah Christian. Keith will forever be one of my favorite funny sweet classmates, Class of 78'. In the upcoming weeks and months, may Christ grant you peace that transcends all understanding.
- Kathryn Gustin Penny, Savannah, GA
To Mrs. Lanier, Keith and the Lanier Family, please know that I will keep you all in my prayers nightly. I was blessed to have Mrs. Lanier as a wonderful math teacher and Coach Lanier as a homeroom teacher at Savannah Christian. Keith will forever be one of my favorite funny sweet classmates, Class of 78'. In the upcoming weeks and months, may Christ grant you peace that transcends all understanding.
- Kathryn Gustin Penny, Savannah, GA
Services under the direction of:
Fox & Weeks Funeral Directors, Hodgson Chapel
912-352-7200
Visitation

11:00 a.m. to 12:30 p.m. on Sat, August 26, 2023

Fox & Weeks Funeral Directors, Hodgson Chapel
7200 Hodgson Memorial Drive (map)


Savannah GA 31406

912-352-7200