We have been made aware that families being served by Fox & Weeks are being contacted by individuals requesting payment over the phone. Fox & Weeks will not contact a family requesting payment over the phone. Please contact the Savannah Police Department immediately if you are contacted and asked to make payment over the phone. Please contact Fox & Weeks if you have any questions.
Celebrating the life of
Gregory Scott, Sr.
September 20, 1956 - August 08, 2023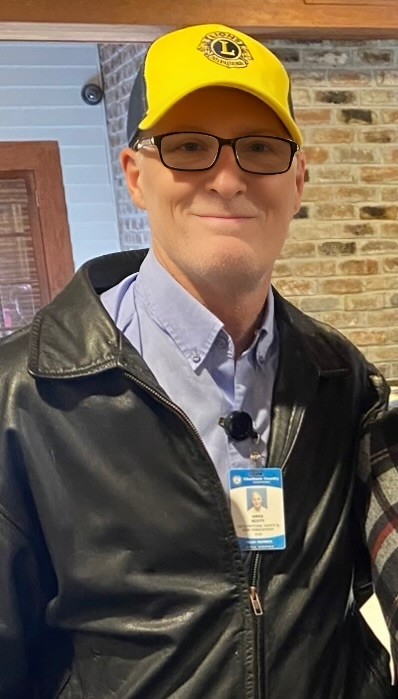 Gregory Scott Sr. died on August 8th, 2023.
Greg was a Savannah native who was born on September 20th, 1956. As a young man, Greg served as a Sheriff's Deputy for Chatham County. He went on to complete a criminal justice degree at Armstrong State University and an MBA at Savannah State University. Greg spent many years working as a claims specialist before ultimately becoming the Risk Manager for Chatham County. While he is known to many through his jobs, Greg was, first and foremost, a family man. With Angela, his wife of forty years, he raised Gregory, Jr. and Melissa. He was also the proud grandfather of Gregory Jr.'s daughter, Leila. To his friends and family, Greg was many things. However, he is most often described as a nice guy who always had a joke to share or an outrageous football prediction to make.
Greg's funeral service will be held at 1:00 pm on Saturday, August 12th, 2023 at Fox & Weeks Funeral Directors, Hodgson Chapel.The family will receive friends for one hour prior to the service.
GUEST BOOK
The Wuest family will be forever grateful for having Greg (and Angie, Gregory and Leila) come into our life through his daughter Melissa. As his sister noted in a Facebook post, his shining presence was like a North Star to all who knew him. His gifts were many — the ability to make you feel loved and appreciated, his encouragement when you needed it most, his willingness to help you no matter the circumstances or time of day. Always, always there for our daughter Emily, whom he treated like a 2nd daughter. We will never, ever forget his many kindnesses. We are even going to miss his truly terrible dad jokes. We will always be reminded of his immense joy in his family and try our very best to lead our lives the way he led his — with laughter, hugs and sweet love. Greg, you will be dearly missed. with love, Patricia, Tom, Emily, T.J. and Ariel Wuest
- Patricia Wuest, Savannah, GA
What an unfathomable and tragic loss. I got to know Greg through his granddaughter Leila, who is my granddaughter's friend. I also work for Chatham County. May God be with you through this tragic time. I am lifting the family up in prayers.
- Michael Moody, Tybee Island, Georgia
If Greg was alive and in his comedian persona, he would Crack up at the way his life ended. In Insurance and Risk Management for decades and a Freak Weather related accident takes him away from us. I worked with him for several years at WI Windsor Group. Great and funny man. So grateful for knowing him
- Barbara Wilson , Roswell , GA
So very sorry for your loss. Greg was one of the best! He always expressed his love for his family and constantly bragged about how wonderful his children and his granddaughter were . His smile, friendship, wit and sense of humor will be greatly missed. As well as his big heart and willingness to help others. He truly earned his wings. Rest in power and peace my friend.
- Pamela Everett, Savannah , Ga
I knew Greg as the Brother-in-law to Jimmy & Fran Lozen. He help Jimmy on bigger jobs at my house over the years. Since I was an Insurance Agent, He and I shared many Insurance stories. I will always remember and cherish his smile and humor. To his family he will be remember by many diverse occupants in Savannah from County Commissioners to family he was on the way to deliver a check on Monday night during that storm. May his soul and the souls of all the faithfully departed Rest In Peace!
- Ron & Joanne Webber , Savannah, GA
On behalf of the Court Division, our sincere condolences to the Scott family. As mentioned, Greg always had a smile and a story to share. We will miss him very much.
- Court Services Division, Chatham County Sheriff's Office, Savannah, GA
We share in your profound loss and sorrow. Greg was an upstanding guy. Honorable. Candid. Professional. Great sense of humor. Our heartfelt condolences to his family.
- Diane + Skip Sasser, Wilmington Island, GA
Although we did not know you personally, we are good friends with your brother & sister in law, Don & Sharon. Our deepest condolences to you both and all the family. What a tragedy. May God begin to heal your hearts as only He can do.
- Linda & Randy Harris, Nicholasville , KY
So very sorry to hear of his passing. I worked with him several years at Windsor Group Insurance. Hugs and prayers for his family.
- Penny Nipple, Douglasville, GA
My husband and I were lucky to meet Mr. Scott during our search for a new home. I was 7 months pregnant when we first viewed the Scott family home that had been on the market for 30 minutes, and Greg was at the house when we arrived. Our short viewing turned in to a couple of hours of conversation about the amazing home, the family memories stored within the walls, and lots of jokes told between he and my husband. He told us at closing it was the jokes that got us this house! We will forever be grateful to him. We didn't know him well, but we knew that he was a kind and loving man who cared so deeply for his family. This is an absolutely tragic loss, and we are sending all of our love and support to everyone who loved him, especially his wife and children. May he rest peacefully.
- The Kendrick Family, Savannah, GA
We were so sorry to hear about Greg. I worked with him at the sheriff's office in Savannah years ago and it was a pleasure to know him.
- Barry and Diane Stevenson, Jacksonville, Fl
Greg was such a wonderful person. When I started working as Magistrate Court's Judge/Clerk/Court Administrator three years ago, Greg made it a special point to welcome me onboard. He not only checked back to see if I had any questions on county programs and provide assistance , but he took time to get to know me. I loved hearing his stories about how much he loved his family. There are just no adequate words to provide comfort. Greg was a blessing to everyone he met, and my heart goes out to his family on such a tremendous loss.
- Tracie Macke, Savannah, GA
We extend our condolences to the family. We both had the honor of working with Greg at Chatham County. Whenever he was asked how he was doing, he would say if he was any better, he wouldn't know what to do with himself. He was one of the most positive and cheerful people we knew. He never met a stranger and let's not even talk about his jokes. He will truly be missed!
- Michael and Ramona Johnson, Savannah, GA
Greg was my one of my favorite cousins . We grew up together starting from feeding each other butter when we were babies. We were always there for each other. He loved his family and especially his children and his granddaughter. He was always there with a joke. I'm going to miss him so much. This was such a shock to us all. I'll miss you so much. I love you.
- Debbie Sheley, Guyton, GA

A candle has been lit!
Love and light to you all❤️⭐️ Anytime I crossed paths with Greg it always ended with a big smile on my face. He was full of love light and laughter.
- Christine Bishop (mom), Savannah, Ga
Greg and I were classmates at Cathedral Day School, I remember him fondly. Please accept my sincere condolences. RIP Greg.
- Mary Barker Reiser, Thunderbolt, GA
Our love, thoughts, and prayers are with the Scott family. We are so very sorry for your loss and are holding space for you during this time of grief and sadness. May you find comfort in your fond memories and laughter from his silly jokes. Love and light.
- Allison and Jason James, Kensington , MD
He was very pleasant young man. He made me feel at home at the job on the first day. I loved his jokes and that will be missed as well as he will. My condolences to the family.
- Mr & Mrs Servatreus Baker, Springfield , Ga
My thoughts and prayers will continually be upon your family. Greg was an awesome man. Every person he met he left a great impression upon them. You my friend will truly be missed.
- Tonya Williams , Savannah , Georgia
Greg was a kind soul. I knew him when we both worked for the court system, and had training together years ago. My condolences to the Scott family. I am so sorry for your loss. May he rest in peace now.
- Anne Sutton, Thunderbolt, Georgia
Greg, I will miss you and your daily dad jokes. I will also miss all the great talks we had about family. Thank you for always being kind to me and taking the time out just to say "hi". My condolences to the Scott family.
- Nikolle Watts (Chatham County Finance Dept), Savannah, GA

A candle has been lit!
My love and prayers are with the Scott Family as they deal with this terrible tragedy. Greg's father, Neil, worked with my dad. He used to give me a rise to school (Sacred Heart) when the weather was too bad to walk. The Scott Family has a very special place in my memories. May Greg rest in peace
- Clare Dulohery Frew, Savannah, GA

A candle has been lit!
My condolences
- Chara Stephens, Savannah, GA
Sending my prayer and condolences in the loss of a great man with a heart of gold. I had the absolute pleasure of knowing him when we worked together in Atlanta. He loved his family so much and never complained about traveling back and forth, but only how he loved to take care of his family. His granddaughter had his heart ❤️ from the beginning. He presence will be missed and even though it's been years since we saw each other. I had plans to visit so we could go out for lunch he could take more on a tour of Savannah and meet the family I always heard about. I so wish I could've gotten there sooner, but I know his spirit lives on. God has gained an angel.
- Nicole Gibert, Kennesaw, GA
Greg will surely be missed. He was a man that encouraged others. He loved his family and I cannot express the hurt that this has caused amongst the risk management world. He was one of the best and caring clients that I had the honor of working with. He would make us laugh with his puns and challenge me during work. Thank you for being apart of my life and I am glad that we met.
- Rzlyn Williams, Hinesville, GA
Dear Greg, I am so sorry about the sudden loss of your father. You and your family are in my prayers. Please share my condolences with the Lozens. God bless you. With deep sympathy, Sister Susan
- Sister Susan Harms, Savannah, GA

A candle has been lit!
I AM A RESIDENT IN CHATHAM COUNTY I HAD JUST MEET MR. SCOTT A FEW DAY JUST BEFORE HE PASSED VERY NICE GUY WHEN WE SPOKE ON THE PHONE ABOUT A ROAD ON QUACCO PRAYING FOR THE FAMILY
- RENESA CRUMLEY, SAVANNAH, GA
My heart broke to hear of the loss of Greg. He was brightest light in every way. Please know how much he loved his family and friends. That's all he spoke about as he told his wonderful detailed stories. After we parted professionally, we tried to connect annually when we would visit for St. Patty's day or when he came up to Atlanta for work. He always made time for us. We will miss his Savannah walking tours. May we learn from his light and live into it in his honor.
- Salena Sandford Staub, Decatur , GA
Angela Aliffi here....so sorry for your loss. I have fond memories of everyone in the family. May God bless you all.
- Angela M Brisendine, Screven, Georgia
Services under the direction of:
Fox & Weeks Funeral Directors, Hodgson Chapel
912-352-7200
Visitation

12:00 p.m. until 1:00 p.m. on Sat, August 12, 2023

Fox & Weeks Funeral Directors, Hodgson Chapel
7200 Hodgson Memorial Drive (map)


Savannah GA 31406

912-352-7200
A private burial will be held