We have been made aware that families being served by Fox & Weeks are being contacted by individuals requesting payment over the phone. Fox & Weeks will not contact a family requesting payment over the phone. Please contact the Savannah Police Department immediately if you are contacted and asked to make payment over the phone. Please contact Fox & Weeks if you have any questions.
Celebrating the life of
Carolyn Ernest
December 13, 1940 - August 08, 2023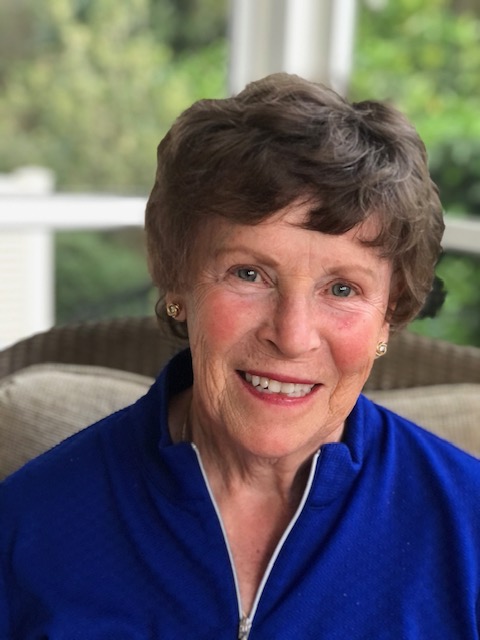 Carolyn Dexter Ernest died peacefully on August 8, 2023, with her family at her bedside after a short but courageous fight with brain cancer. Carolyn, 82 years old, was born in Worchester, MA, to E. Lewis and Gertrude Loring Dexter. Carolyn's father died in 1945 when she was four and her sister, Cynthia was seven. Their mother raised the girls working as an elementary school teacher in nearby Auburn.
At school, Carolyn loved math, science, and sports. After high school, Carolyn went to nursing school and became a registered nurse in 1961. Her first nursing position was in Boston, at the New England Deaconess Hospital. While working in the operating room, she met her future husband, E. Robert ("Bob") Ernest, a college student, recently out of the military and working his way through university. After a short engagement, they married in 1963, and both worked to continue Bob's education.
Carolyn's nursing responsibilities grew and included, among other things, running the cardiac cath lab and the
heart lung perfusion equipment for open heart procedures.
After Bob's graduated from college and graduate school, they moved to upstate NY before settling in northern Illinois where they raised their two daughters, Gretchen, and Kristen. While in Illinois, Carolyn worked for her bachelor's degree in nursing through the University of Illinois. She was also involved in local school board politics, fund raising and found time for tennis.
After 10 years in the mid-west, the family moved to New Jersey for a career and company change, bringing the family closer to the extended family. Carolyn continued her education earning her BSN in 1982 from Rutgers University. After, she served as a hospice nurse, work she found highly fulfilling. She also continued to play tennis, paddle, and golf. Always a talented athlete, she loved to compete but eventually gave up racquet sports for golf.
After moving to the Landings in 2005 the racquets were hung up in favor of golf and fitness. Always a competitor, Carolyn knew the rules and obeyed them to ensure fair play.
Carolyn was an active member of Skidaway Community Church and was deeply involved in the work of Mission and Benevolences which got her involved in fund raising for Safe Shelter among other charitities. Carolyn was an active and enthusiastic member of PEO International on Skidaway Island and was a recent Chaplin of her chapter. Also, she and Bob loved work in Guatemala with Faith in Practice on medical mission trips drawing on their medical training.
With Carolyn's death a light has been extinguished in the hearts of many beneficiaries of her love, compassion, generosity and goodness. The sparkle of her gentle smile is and will be missed and not easily forgotten.
Carolyn is survived by her husband Bob of 60 years, daughter, Gretchen Brigden of Vail, CO; daughter Kristen Maas and son in law Todd Maas of Bloomington, MN; granddaughters Isabelle and Mallory Maas and Molly Brigden; sister Cynthia Schweppe of Concord, MA as well as numerous nieces and nephews.
The family thanks the wonderful, skilled compassionate team at the Oaks at the Marshes of Skidaway Island and Savannah Hospice for their care.
In lieu of flowers the family has requested donations for the Pre-School at the Skidaway Community Church located at 50 Diamond Causeway, Savannah, GA, 31411.
A service celebrating Carolyn's life will be held on Saturday, September 16, 2023 at 11 AM at the Skidaway Community Church.
GUEST BOOK
Hello everyone I want to use this Medium to say big thank you to www.ethicsrefinance.com for they just helped me recover my stolen crypto worth $367,000 through their hacking skills I tried it I was skeptic but it worked and I got my money back, I'm so glad I came across them early because I thought I was never going to have my money back from those fake online investments website .. you can also contact them via ethicsrefinance@gmail.com Website: www. ethicsrefinance .com THEY OFFER THE FOLLOWING SERVICES * RECOVER LOST/STOLEN CRYPTO * BLANK ATM CARD * PAYPAL HACK TRANFER * CASH APP FLIP * WESTERN UNION FLIP * BANK WIRE TRANSFER * ANY HACK SERVICES YOU NEED…E.T.C
- Catherine walker, new york, new york
Accept our condolences for your loss. Your family holds so many fond memories of our time together in New Providence. Thoughts and blessings to you during this difficult part of life's journey.
- Earl and Pat Mitschelen, Fredericksburg, VA

A candle has been lit!
- Patricia Mitschelen, Fredericksburg, VA
Bob, Gretchen and Kristen, we grieve with you for Carolyn's passing yet rejoice as well knowing that she is now with Jesus receiving the reward of her lifelong faith. We are blessed for having known her and will always remember her warm smile, kindness and easy laugh. May you feel the nearness and comfort of the Holy Spirit in the days and months ahead.
- Sue and Clive Turner, New Providence, NJ
Deepest sympathy to the Ernest family from a Baker family cousin.
- Baker, Middletown, RI
Services under the direction of:
Fox & Weeks Funeral Directors, Hodgson Chapel
912-352-7200
Celebration of Life

11:00 AM on Sat, September 16, 2023

Skidaway Community Church
50 Diamond Causeway (map)


SAVANNAH GA 31411