We have been made aware that families being served by Fox & Weeks are being contacted by individuals requesting payment over the phone. Fox & Weeks will not contact a family requesting payment over the phone. Please contact the Savannah Police Department immediately if you are contacted and asked to make payment over the phone. Please contact Fox & Weeks if you have any questions.
Celebrating the life of
Meta Maria Hogge Wright
January 23, 1930 - August 06, 2023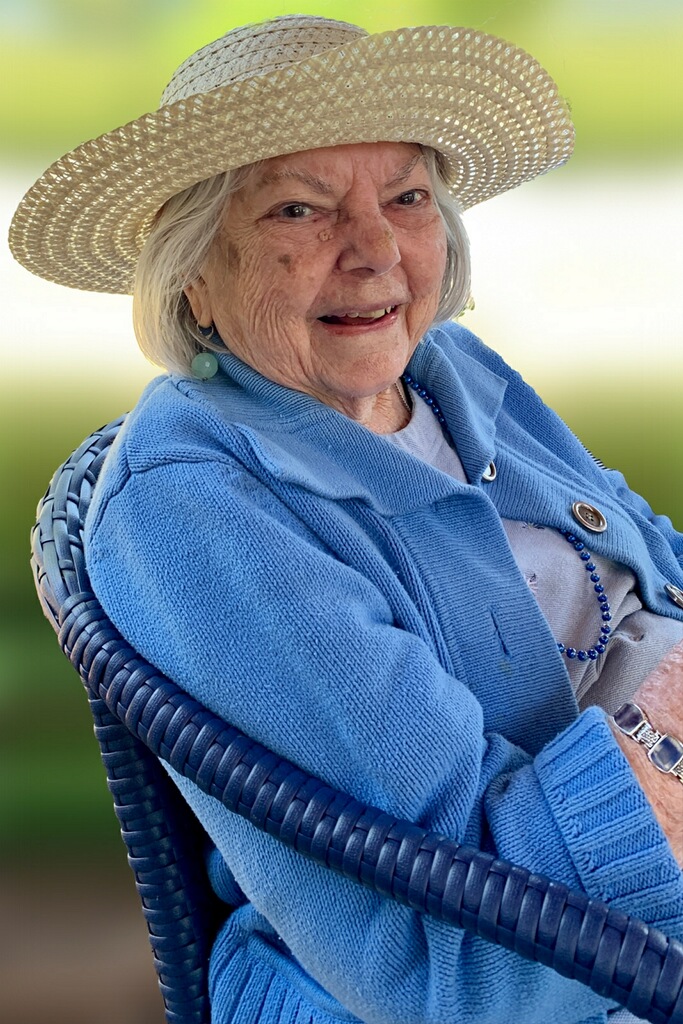 Meta Maria Hogge Wright "Mimi" passed away peacefully on August 6, 2023, at her home at The Oaks Assisted Living in Pooler. She was born in Atlanta, Georgia on January 23, 1930, to Bertie Rafael Hogge and Cornele Smith Hogge. Mimi spent her youth in several Central American and Caribbean countries where her father worked for United Fruit Company.
Mimi and her sister, Betsy, came to the United States to attend high school at Mount De Sales in Macon, Georgia during WWII. After graduation, she attended LSU where she was a member of Kappa Kappa Gamma sorority. Later, she attended New York City's Katharine Gibbs secretarial school.
Mimi married Harold Bell Wright in 1955, and they later welcomed their 2 sons, Scott and Michael. Mimi moved to Savannah in 1973 where she worked at Chatham Nursing Home for 21 years as comptroller and administrator.
Mimi partnered with some co-workers to build Marshview Assisted Living, one of the first of its kind in Savannah. She retired in 1999; afterwards, she spent her time inputting historical birth/marriage/death records into a database at the Cathedral of St. John the Baptist. In addition, she gave her time volunteering with the Martin de Porres Society and bowling in the Savannah city league.
Grandmama Mimi, as she was affectionately called by her 5 grandchildren and 6 great-grandchildren, loved spending time with family and friends and cheering on the Atlanta Braves. She spent her final years in the loving community at The Oaks Assisted Living, where she cultivated new friendships. Mimi was known for her sweet demeanor and funny sense of humor.
She is survived by her 2 sons and wives: Scott Wright (Jan) of Cleveland TN and Michael Wright (Lynn) of Savannah, grandchildren: Charlie Wright, Sallie Wright Tingle (Caleb), Steele Wright (Brooke), David Wright, and Rebecca Wright (Joel Medford) and her 6 great-grandchildren, her sister Betsy Kersey (Gerry) of Cleveland TN, nieces, and a nephew. Through the years Mimi attended St James, Sacred Heart, and the Cathedral of St. John the Baptist in Savannah.
GUEST BOOK
Michael-Scott, we were saddened and sorry to receive the news of your beautiful Mom's passing. A life well lived, I'm grateful for the Friendship that I shared with her, we will remember her as a woman of great Character, Integrity, Morals, Values, Principles-she was Spiritual with an unwavering belief in God, she was a loving/caring Wife, Mother, Sister, Grandmother, Mother in Law and she was always a Loyal and True Friend. We pray for her Spirit and we pray that God will comfort all of you during this difficult time.
- Richard, Ann Lutz and our family , Savannah , GA
Scott, Jan, and family, we were so sorry to hear of your mother's death. We know she will be greatly missed. You will be in our prayers through the coming difficult day. Love to all of you! Deborah and Willie
- Deborah and Willie Roberds , Savannah , GA
Hello everyone I want to use this Medium to say big thank you to www.ethicsrefinance.com for they just helped me recover my stolen crypto worth $367,000 through their hacking skills I tried it I was skeptic but it worked and I got my money back, I'm so glad I came across them early because I thought I was never going to have my money back from those fake online investments website .. you can also contact them via ethicsrefinance@gmail.com Website: www. ethicsrefinance .com THEY OFFER THE FOLLOWING SERVICES * RECOVER LOST/STOLEN CRYPTO * BLANK ATM CARD * PAYPAL HACK TRANFER * CASH APP FLIP * WESTERN UNION FLIP * BANK WIRE TRANSFER * ANY HACK SERVICES YOU NEED…E.T.C
- Catherine walker, new york, new york
Services under the direction of:
Fox & Weeks Funeral Directors, Hodgson Chapel
912-352-7200