We have been made aware that families being served by Fox & Weeks are being contacted by individuals requesting payment over the phone. Fox & Weeks will not contact a family requesting payment over the phone. Please contact the Savannah Police Department immediately if you are contacted and asked to make payment over the phone. Please contact Fox & Weeks if you have any questions.
Celebrating the life of
Mary Odom Grosse
February 13, 1931 - July 30, 2023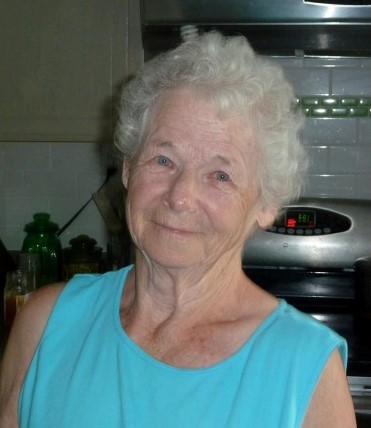 Sunday, July 30, 2023, Mary Odom Grosse died peacefully in her sleep at Spanish Oaks Retreat in Savannah, Georgia at the age of 92. Born in Evans County, Georgia, Mary worked for the FBI in Washington, DC, where she met her husband Richard (Dick) Grosse. Together they lived in the Democratic Republic of the Congo, Germany, New York State, and finally the last 60 years on Tybee Island, Georgia. Mary was predeceased by her husband Richard, who she loved amazingly. Her advice on marriage was this: "Love is good and sex is great, but you really have to like a person in order to have a successful marriage."
She was also predeceased by parents, Willie and Lamora Odom, her brother Hiram Odum and sister Joanne Odom Richey. She is survived by her brother Billy, who she told so many stories about from her childhood, mostly about getting into mischief together.
Mary owned and operated The Sugar Shack on Tybee Island for several decades, stopping only when forced to by illness at the age of 88. She loved talking to customers from all over the world, and especially loved seeing children enjoy her food and ice cream.
She was an advocate for exercise, and for thirty years could be seen daily walking six miles a day around Tybee's North End. Her children and grandchildren fondly remember being called her "anchor" slowing her down when they risked walking with her. Mary placed first in the female 80+ age division of the 10k Savannah Bridge Run several years in a row until she decided she had proven her point.
Mary loved her children, grandchildren, and great-grandchildren so much. They all survive her: sons Russell (Tammy), Ian (Bonnie), Louis (Paula), Bruce Grosse; daughter of her heart Angela Malone Grosse; grandchildren Stephen, Andrew (Alana), David (Charlene), Samuel (Ashly), Stuart, Christopher (Kristin), and Kara Grosse, Erin Pettigrew (Nathan), and Patricia Grosse Brewer (John); great-grandchildren Asher, Ames, Ali, John, Mary, Atlas, and Willa Grosse, Hannah, David, and Micah Pettigrew, and Winifred Brewer.
Mary was raised Southern Baptist and became a Presbyterian along with her husband. She believed God to be a great and awesome God, whose love exceeded human comprehension. Family will greet visitors for a visitation at 10am Saturday, August 5, 2023, with a service to follow at 11am at Fox and Weeks Islands Chapel.
Mary loved flowers and books. Flowers and remembrances can be sent to Fox and Weeks Islands. In lieu of flowers, donations may be made to the Tybee Island Branch Library, which provided her with thousands of books and countless hours of entertainment. Send any donations to Live Oak Public Libraries–Tybee Island Branch at 2002 Bull Street Savannah, GA 31401
To view the livestream, please use this link https://my.gather.app/remember/mary-grosse
GUEST BOOK
Mary befriended two little girls (over 50 years ago) who loved to talk, eat ice-cream and French fries. She became a lifetime mentor, friend, family and mostly Nana! Her legacy lives on! Love all of you so very much!
- Kathleen Malone Brinson, Savannah, Georgia

A candle has been lit!
- Kathleen Malone Brinson, Savannah, Georgia
What an amazing lady, and my second Mom! So generous with her love and her time, and more energy in a day than I have in a decade! I am missing her, but I am so glad she is walking circles around heaven now, fully whole once more. My heart is full!
- Kathy Grosse, Watkinsville, GA
We have always loved and admired Mrs. Grosse. She was a fine, lovely lady. A Tybee legend to be sure. Farewell, rest easy.
- Terri (Brown) and Mike Patillo, Tybee and Savannah , Georgia
"Miss Mary" always knew what wanted when we stopped at The Sugar Shack on our way home from Tybee. Thank you for being part of the memories of those days. Rest in peace.
- Billy S. Wilson, Jr., Savannah, GA
A great light has been extinguished, but her memory burns as bright as the Sun for her family and all that knew her. My sincerest condolences in the loss of a wonderful person and matriarch of her family.
- Patrick Malone, Arvada, Colorado
I'm very sorry to hear that she had passed away
- Adam Wilkins, Tybee island , GA
My deepest sympathies for the family. She was such a blessing in so many lives.
- Crystal Farmer, Savannah, GA
I was lucky enough to call Mary (Nana) my mother-in-law for 22 years. I so admired her energy, her strength and her wisdom. She welcomed me into the family with open arms and never let go. I was from the Buffalo area and Mary would say to me, "I meet more people from Buffalo on Tybee. What's wrong with Buffalo?" I see Nana is both my kids. Her love and passion will carry on in those that knew and loved her. Goodbye Nana. You will always have a place in my heart. ❤️
- Patti Constable, Carthage , NY
I am very sorry for your loss. She was a wonderful lady, and it was a pleasure to see the love you had for her. A life Well Lived!
- Donna Adamson, Savannah, GA
The very first person that I met when I came to Tybee in l97l. she was walking the beach early about dawn. We talked and I had a life long friend whom I shall miss. I know that she is with Jesus.
- John Claffie, Burnside, Ky
Many happy memories of Tybee Days & ice cream from Sugar Shake on the way home! Love and sympathy to you all! Kathryn Getty Murray
- Kathryn Getty Murray, Pembroke, GA 31321
Services under the direction of:
Fox & Weeks Funeral Directors, Hodgson Chapel
912-352-7200
Visitation

10 a.m. - 11 a.m. on Sat, August 05, 2023

Fox & Weeks Funeral Directors, Islands Chapel
4605 Hwy 80 East (map)


Savannah GA 31410

912-898-0900
Memorial Service

11 a.m. on Sat, August 05, 2023

Fox & Weeks Funeral Directors, Islands Chapel
4605 Hwy 80 East (map)


Savannah GA 31410

912-898-0900