We have been made aware that families being served by Fox & Weeks are being contacted by individuals requesting payment over the phone. Fox & Weeks will not contact a family requesting payment over the phone. Please contact the Savannah Police Department immediately if you are contacted and asked to make payment over the phone. Please contact Fox & Weeks if you have any questions.
Celebrating the life of
Ralph Heinze
December 06, 1933 - July 20, 2023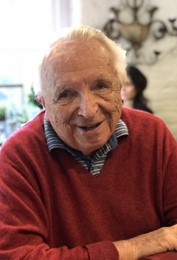 Ralph A. Heinze, age 89, died peacefully in Savannah, Georgia on Thursday, July 20, 2023.
He is survived by his children, Susan Taylor of Savannah, Georgia and Bob Heinze of San Clemente, California; son-in-law Paul Taylor; daughter-in-law, Julie Heinze; and five grandchildren, Will (Madi) Heinze and great-granddaughter, Georgia; Elizabeth Heinze; Clay Heinze; Sean (Kate) Taylor; and Natalie (Domenic) Scavola. Ralph was born in Chicago, Illinois and attended the University of Arizona where he met the lady who would forever change his life, Ann, who preceded him in death in 2012.
Ralph joined the Army ROTC at U of A and was sent overseas to France for the early part of their marriage, then entered a training program at General Electric Co. after military discharge that took them to Indiana and New York, before finally settling in Oklahoma City, Oklahoma for many years. For his retirement, Ralph and Ann returned to their beloved Tucson, Arizona in 1997, where he remained until moving to Savannah, Georgia to be close to family in his most recent years.
Ralph was a man who loved to tell great stories and enjoyed all things mechanical, golf, and airplanes. He was happiest spending time with his family and friends, and they adored him in return.
In lieu of flowers, donations may be made in Ralph's name to Hospice Savannah at www.hospicesavannah.org or 1352 Eisenhower Drive , Savannah, GA 31406 or The American Cancer Society. A private Memorial Service for the family will be held in Spring 2024 in Tucson, Arizona.
GUEST BOOK
Ralph and I met at GE in Oklahoma City in 1966 as fellow Manufacturing Engineers. We spent 20 years together, helping grow the business, training new people, playing golf. Ralph was instrumental in starting our metal fabrication facility, a key to our success. May he rest in peace, and may all the good times with Ralph bring smiles and solace to family and friends at this time.
- Skip Cameron, Oklahoma City, Oklahoma
I met Ralph as a colleague at the General Electric division in Oklahoma City in the mid '60's and enjoyed working with him over the years through the acquisitions by Honeywell and Control Data until I left there in the late '80's. Ralph was a talented engineer and manager and great to work with on any project or problem. He loved good jokes and stories which he enjoyed telling, such as when he drove his Model A from Chicago to Arizona to attend college. I also was fortunate to work with Ralph's son Bob at Conner Peripherals in San Jose in the '90's - for sure a chip off the old block. The image I will share is of a commemorative coin of the opening of GE's Building 101 and the machine shop there of which Ralph was a key contributor.
- Lou Vovk, Edmond, OK
Just saw the Ralph Heinze obituary. He and I were both employed as engineers at OKC GE/Honeywell/Control Data/ Seagate. When OK Univ. offered night courses leading to a Master of Science degree in Industrial Engineering, Ralph and I took turns driving to Norman three evenings a week after work for years. The day before finals, Ralph and I rented a motel room in Norman to review and quizz each other on the material for the four areas of study we would have to demonstrate proficiency in. We were the only two out of an initial class of about 12 or 15 night students to get our MSIE in 1971. I also remember Ralph was developing molds to reproduce small parts for either a model T or model A Ford he had at the time. I enjoyed the conversation time we had on those many drives, and am so sorry to learn of his passing.
- Jon Heavener, Oklahoma City, OK
Services under the direction of:
Fox & Weeks Funeral Directors, Hodgson Chapel
912-352-7200