We have been made aware that families being served by Fox & Weeks are being contacted by individuals requesting payment over the phone. Fox & Weeks will not contact a family requesting payment over the phone. Please contact the Savannah Police Department immediately if you are contacted and asked to make payment over the phone. Please contact Fox & Weeks if you have any questions.
Celebrating the life of
Charles W. Osonitsch
Passed away on July 24, 2023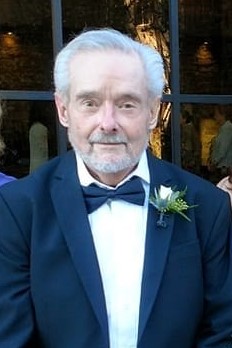 Charles William Osonitsch, a pioneering aerospace engineer and devoted family man, passed away on July 24th, 2023, at the age of 81 in Savannah, Ga. He was born on March 26th, 1942, in Queens, New York, to his loving parents Hartwin Osonitsch and Mary Osonitsch.
Charles leaves behind a rich legacy, his wife, Virginia Osonitsch as well as his four beloved children: Annmarie Caccavale, Kerianne Miller, Vincent Osonitsch, and Alexander Osonitsch.
Educated at New York University, Charles achieved great heights in his academic journey, earning both a Bachelor of Science and a Master's in Aeronautics and Astronautics. Charlies went on to also attain a Masters in Nuclear Engineering. His passion for engineering led him to pursue further excellence, resulting in several distinguished awards in Thermodynamic Engineering from esteemed institutions like Northrop Grumman and NASA.
Throughout his professional life in New York, Charles collaborated with other brilliant minds in the field of rocket systems, contributing significantly to the Lunar Excursion Module (LEM) used in the NASA Apollo missions, which landed humanity on the moon. He was later a key player in building and designing the propulsion systems for the first Space Shuttle, an achievement that became instrumental for NASA for decades. Before retiring, Charles also contributed to the development of the Grumman F-14 Tomcat, one of the most powerful supersonic jet fighters the United States Military has ever fielded.
Following his illustrious career with Northrop Grumman, Charles joined Gulfstream Aerospace in Savannah, Ga. He held the esteemed position of Technical Fellow, the highest level an engineer can reach in the company. At Gulfstream Aerospace, Charles continued to leave his mark, actively participating in the development of cutting-edge aircraft, many of which are still in use today, along with various other special projects.
Charles William Osonitsch will be deeply missed by his family, friends, and colleagues. His brilliance, determination, and dedication to his work have left an indelible impact on the aerospace industry and the lives of those he touched.
The Visitation will be held on Thursday, July 27th, 2023, at Fox & Weeks Funeral Home on Hodgson Memorial Dr. from 5:00-7:00pm, where loved ones can pay their last respects.
A Funeral Mass to celebrate Charles' life will take place on Friday, July 28th at St. James Catholic Church at 11:00am, followed by a burial at Greenwich Cemetery in Savannah, Georgia.
Any flowers or items for the family may be sent to Fox & Weeks Funeral Home on Hodgson Memorial Dr.
May his soul rest in eternal peace with Christ.
GUEST BOOK
Our condolences to your family. What an amazing contribution that man gave back. I'm sure the impact he made was even greater. It's a true loss and he will be missed. I'll never forget hearing that man all the way from the other side of the room in laughter.
- James Menchaca, Leesburg, Florida
I am so sorry to hear of Charlie'passing. May he Rest In Peace. Thoughts & prayers to Ginny & the family. Sincerely, Sara Locko & family
- Sara Locko, Tampa, FL
Y'all are in our prayers. Love you guys <3
- Sarah Prouty, Wiley, and Liam, Savannah, GA
The world is a better place because he was here. May he rest in peace.
- D. Lovette, Savannah, GA
Dear Virginia and family. I was saddened to read the news about Charlie O. Charlie O was a happy and smart man who lived life to the fullest. May God be with you during this time and forever. My condolences.
- Marie Sabiston, Savannah, GA
I'm Sorry to hear of this. He was always a kindrespectful man.He always listened to meRunning Mymouth how - Rocketsilly I feltwhen I found He WAS A Rocket scientistNo wonderhelaughedandlooked atme SILLYLOL. R.IP. FlyHigh Wthoseangel Rockets
- Marilyn Clay, Garden city, Ga
Services under the direction of:
Fox & Weeks Funeral Directors, Hodgson Chapel
912-352-7200