We have been made aware that families being served by Fox & Weeks are being contacted by individuals requesting payment over the phone. Fox & Weeks will not contact a family requesting payment over the phone. Please contact the Savannah Police Department immediately if you are contacted and asked to make payment over the phone. Please contact Fox & Weeks if you have any questions.
Celebrating the life of
John O. Reed
April 23, 1959 - July 20, 2023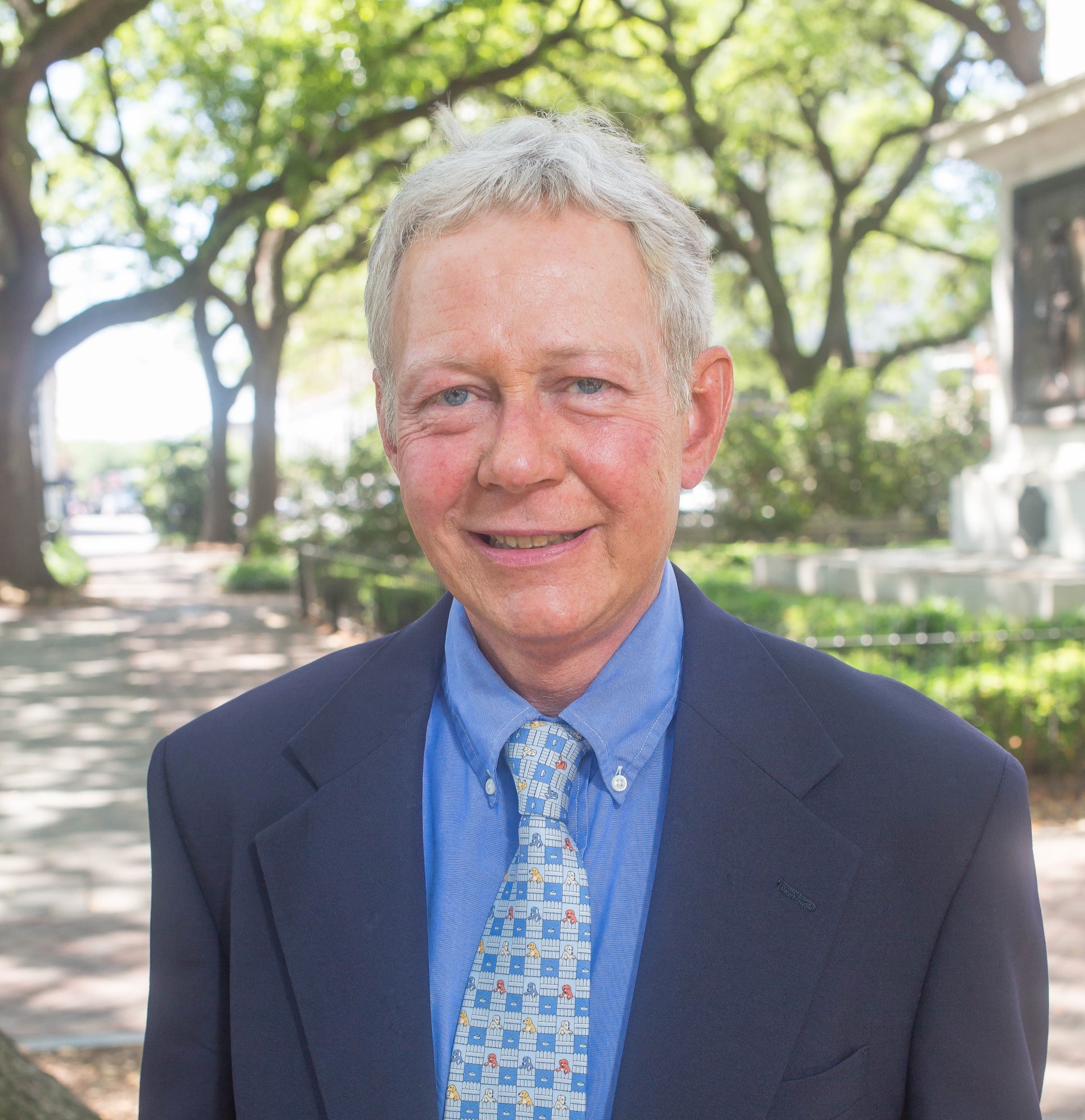 John O. Reed, 64, of Savannah Ga passed away peacefully on July 20, 2023 at Candler St. Joseph Hospital after a brief illness. He was the beloved son of the late James O. Reed and Barbara Dawn Smith Reed of Rome, Georgia.
Upon John's graduation from Darlington School in Rome, GA., he joined the U.S. Navy in 1982 serving his country and traveling the world. Upon his discharge, he attended and graduated from State University of New York at Albany with an Associate of Science in Military Science and then from Temple University in 1992 with a degree in geography.
John was most recently employed by Visit Savannah where he worked as an Operations Manager for Visitor Center Operations. Prior to this position, his penchant for the outdoors and experience as an Eagle Scout parred well with his job as an Interpretive Park Ranger with the Georgia Department of Natural Resources at Fort Morris State Historic Site. Upon moving to Savannah in the early 1990s, John was employed by the Georgia Department of Natural Resources with the Department of Family and Children Services where he was able to connect resources with those in need to include serving as a board liaison for Youth Futures Authority, Girls and Boys Club of Savannah, Second Harvest Food Bank and Homeless Authority of Savannah.
John will always be remembered for his love of animals, especially his much loved kitties, his quirky sense of humor, his kindness to others, his stories of traveling the world, and his gracious southern manners.
John is survived by his partner of 33 years, Thomas Jeanquart; uncle Alexander Reed (Joan), cousins Vicki (Jack) Hamill, Mark Reed, Laura (Darren), Emily, and Sarah Segers, and Edward Reed; Carolyn and Lenno Jeanquart, Christina Jeanquart and Keith (Margaret) Jeanquart; and nephews Daniel and Alec Woodruff and Andrew Jeanquart. He is also survived by many loved friends.
We would like to extend special thanks to all the caretakers at St. Joseph's Candler and Hospice Savannah who helped make his final days peaceful.
A celebration of life and visitation will be held on Monday, July 31, 5:00 p.m. to 7:00 p.m. at Fox and Weeks Funeral Home at 7200 Hodgson Memorial Drive.
In lieu of flowers, donations can be made to: Chatham County Animal Services, Attn: Director, 7211 Sallie Mood Drive, Savannah, GA 31406. Humane Society for Greater Savannah, 7215 Sallie Mood Drive, Savannah, GA 31405
GUEST BOOK
On behalf of the CAST of Old Town Trolley Tours of Savannah, I would like to express our condolences to family and friends on the passing of John. He was an absolute gentleman and a great ambassador for Savannah. He will be missed by all. GP
- Garry Patrick, Savannah , GA
RIP John. Thank you for your friendship. You will be missed
- Adam Nye, Savannah , Ga.
I will miss you, my friend and boss. You were a great man and loved by many. I will always think of you on Groundhog's Day. You were loved by so many at the visitor's center, and we will all miss you, but I will miss you the most. Hope to see you in the afterlife. Love always, T
- Teresa Willard, Savannah, GA
May God strengthen and comfort you, as you celebrate the life of Mr. Reed. My condolences and prayers go out to Tom Jeanquart and family.
- Jo Ann Pinkney, Savannah, Georgia
Rest in Pesce John and may God comfort those left behind.
- Dirk Hardison, Savannah , Georgia
I have nothing but the fondest memories of John! From the moment we met at Chatham county DFCS when I heard the lovely sounds of the one and only Herb Alpert coming from his office. I was intrigued and ran into his office and excitedly discussed all my memories of growing up with Herb Alpert and the Tijuana brass coming from my parents Hi-Fi. From that moment on we were bonded! We became fast friends and soon were introduced to each other's spouses and had many a weekend together. John and I shared many memories of attending private prep school and compared our experiences! John was the consummate gentleman and scholar. He was with me through some of the happiest times in my life and celebrated them alongside me. He was also there during the lowest points of my life when I wasn't sure which direction to turn. He always included me and took me into "the fold" of his ever-growing circle of Friends. My heart goes out to you Tom Jeanquart. I will miss you my dear friend along with many other people. Your memory Will live on in my heart and mind forever. Rest in peace my dear friend!
- Kristin Fahey, Savannah, Georgia

A candle has been lit!
Keeping John and family in my thoughts and prayers today. John was an example of true love in action. Kind, uplifting, and in an tourism industry that all too often can devolve into mere faction, John was the consummate gentleman, the one who wanted to help, who encouraged the rest of us...all of us. Blessings, John and keeping your loved ones in prayers of peace.
- Chase Anderson, Savannah, Georgia
I am so thankful to have had a friendship with John, I miss him and his fun stories so very much. Tom, I wish I had words that could take your pain away. I know John is rejoicing in Heaven with Zoolander rubbing on his ankles. We will all see him again when we are called home to paradise. Sending you love and prayers.
- Kelli Lee, Savannah, GA
Tom, my heart goes out to you...may you find some comfort in the deepest love of family and friends. Love, Brion
- Brion Ehret, Savannah, Georgia
Like my friend Barry L once said, "If John isn't welcomed to Heaven, I don't want to go there."
- Lois Hill, Savannah , Ga
I knew John through work. He truly was a very kind man and 'easy to talk to.' And w his gentleness was laughter and humor. Humor, I said as a DFCS employee, never leave home without it. And John's humor brightened any day I saw him and helped relieve anxiety and the stress of work. With due deference to all my friends, but patriarchal societies by some of that time rendered 'caring' and 'nurturing' as the provenance of 'women' and, hence, 'social work' was deemed to be a career for women primarily and not men. Such a tragic view of careers. Caring and nurturing belong obviously to men and women. My hats off to all who serve but my hats off to all the men who came to serve despite the patriarchal norms of the times. The world is a better place because of John Reed.
- David Bates , Orangeburg , South Carolina
My heartfelt sympathy to Tom, as well as to John's family and friends. John was a great ambassador for Savannah. He never met a stranger and enjoyed promoting the city that he loved. I consider my life blessed for having the opportunity to work closely with John for the last thirteen years. He was not only a coworker, but a close friend and advisor. He will be greatly missed by me and many others, as he was loved by all he met.
- Mava Byrd, Savannah, GA
John was a wonderful man, and a true gentleman. His love for Savannah was infectious. And, we are so appreciative of all he has done for the city, and our tourists. Old Savannah Tours would like to extend our deepest condolences to the family and friends of John. We will certainly miss him.
- Old Savannah Tours, Savannah, GA
Our condolences for your loss, Tom. Please know we're thinking of you.
- Marc and Sunny NElson, Roanoke, Virginia
It was such a joy and pleasure to meet you and see you being apart of the Jeanquart family. Such an amazing person with the best hugs and smile. You will be deeply missed.
- Erica Justice, Harrisburg, PA
My condolences and prayers go out to John's family and friends. Savannah has certainly lost a fantastic representative. You would never meet a sweeter person who always has a smile and kind word. He will truly be missed by all.
- Barbara Bacon, Savannah , Georgia
Tom, our condolences to you and your family.
- Denise L. Wilson, Enoch Wilson Jr, Hazel V. Jackson, Antoinette M. Mullino, Savannah, Georgia
Tom & family, I was so sorry to hear of John's passing. He was a kind & caring friend & will be greatly missed. Please accept my deepest condolences. Until we meet again, may John rest in peace. Love, Mark
- Mark Hayes, Doylestown , PA
Wishing all of John's friends, family & beloved partner peace during this difficult time. John was a lovely human, I feel honored to have called him a friend.
- Shelby Schoenborn, Tampa, Fl
I am very sorry to hear about the passing onward of your loved one. My sincere deepest condolences to the family and friends. May he rest in peace and May the family and friends find the peace, the joy, and the comfort knowing he is now healed as he rests with our higher power.
- Cornelia Reed, Savannah , GA
I am praying for peace for you, Tom. I am so glad that you were able to travel the last year to several places. I hope those memories will help ease the pain. I sincerely wish I had gotten to know John. He sounds like a special man.
- Jo Anna Hayes, Savannah, GA
Services under the direction of:
Fox & Weeks Funeral Directors, Hodgson Chapel
912-352-7200