We have been made aware that families being served by Fox & Weeks are being contacted by individuals requesting payment over the phone. Fox & Weeks will not contact a family requesting payment over the phone. Please contact the Savannah Police Department immediately if you are contacted and asked to make payment over the phone. Please contact Fox & Weeks if you have any questions.
Celebrating the life of
Cecilia Collins Courtenay
April 09, 1930 - July 16, 2023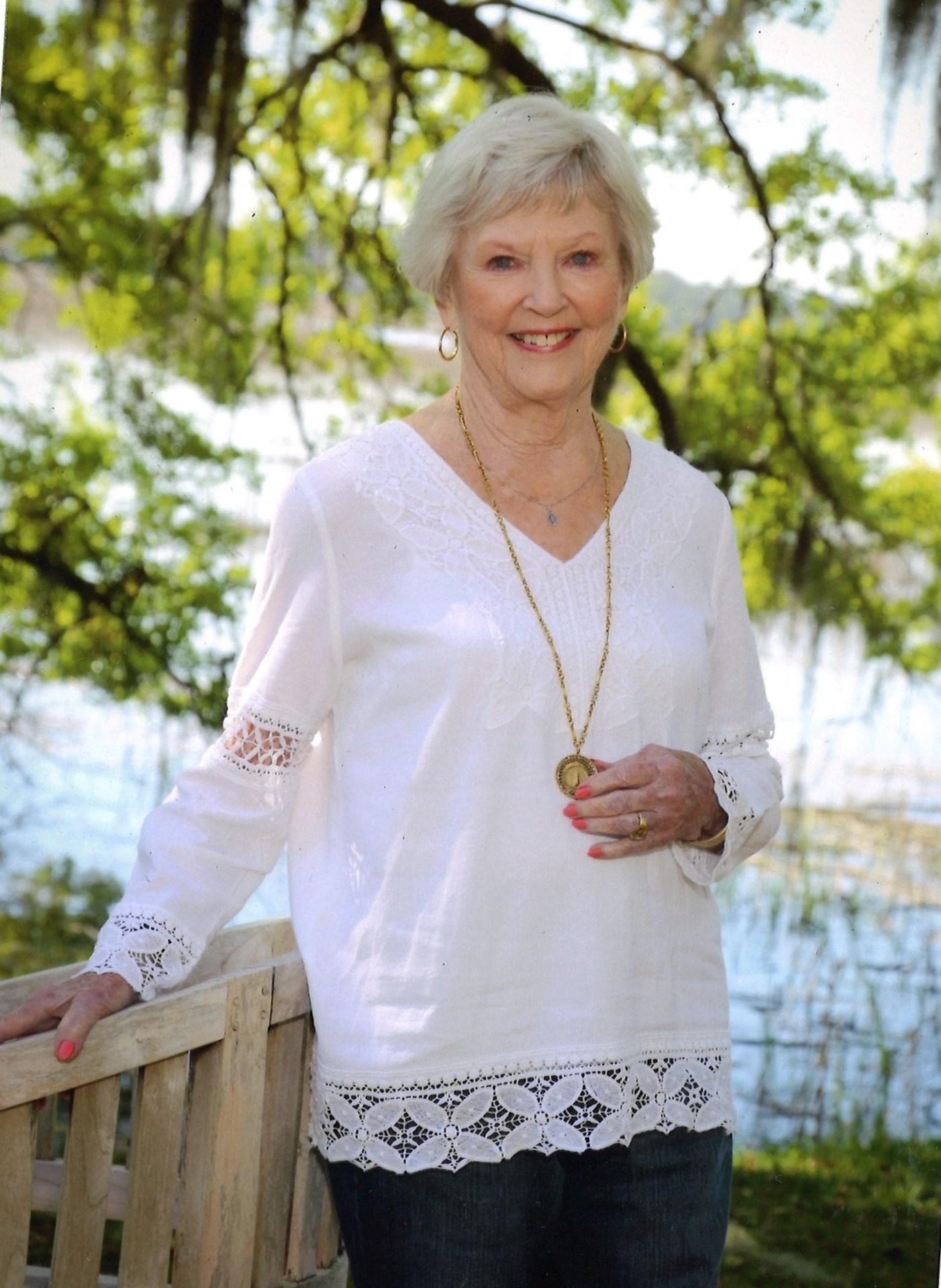 Cecilia Collins Courtenay passed away on Sunday July 16, 2023, surrounded by her family. Cecilia was born April 9, 1930, in Savannah Georgia to James Joseph Collins Sr. and Cecilia Cassidy Collins. She was the eldest of four siblings.
Cecilia grew up in Savannah, graduating from St. Vincent's Academy in 1948 and attended college at Armstrong where she formed a lifetime of enduring friendships with her beloved girlfriends, the "Knitwits." In 1956 Cecilia married Edward A. Leonard Jr. and together they had four daughters. She raised her children while continuing her 28-year career with the Citizens & Southern Bank.
Although her first marriage did not last, she later met a wonderful man, Charles Courtenay, who was raising six children on his own. They married in 1972 and blended their family of ten children. Cecilia and Charlie remained happily married until his passing in 1996.
Cecilia remained active throughout her life and enjoyed her weekly foursome bridge game, being a member of the St. Vincent's Alumnae choir and volunteering for years in the Candler Gift Shop.
In addition to her loving parents, she was predeceased by her husband Charlie Courtenay, stepdaughter Nancy and beloved grandson, Phillip.
Cecilia is survived by her sister, MaryAnn Haslam Butler, her two brothers James J. Collins Jr. and Stephen C. Collins (Adele), her four daughters: Kathleen Hall (Buddy), Cecilia Lenahan, Leslie Singer (Benton) and Moira Sherrill (Jackson), stepchildren; Brenda Stewart (Sonny), Ann Kelly, Chuck Courtenay (Vickie), Maureen O'Brien (Tom), Helen Selman (Scott) as well as many beloved grandchildren, great grandchildren, nieces, nephews, cousins, extended family, and friends.
Cecilia was a wonderful wife, mother, grandmother, and friend and will be sorely missed. She was a devout Catholic and longstanding parishioner of the Cathedral Basilica of St. John the Baptist.
Visitation will be Thursday, July 20, 2023, from 5:00 to 7:00 p.m. with a Rosary service at 6:30 p.m. at the Cathedral Basilica of St. John the Baptist.
Mass of Christian Burial will be Friday, July 21, 2023, at 10:00 a.m. also at the Cathedral Basilica of St. John the Baptist. Burial will be in the Greenwich section of Bonaventure Cemetery.
Remembrances may be made in her honor to St. Vincent's Academy or the Cathedral Basilica of St. John the Baptist.
GUEST BOOK

A candle has been lit!
Rest well devoted servant of God ! Sweet Cecilia. Your love of your family, your faith and your friends cannot be measured. Sending love and peace to all.
- Kelly Kilpatrick Hunt, Savannah, GA
Steve we are so sorry to read of your sisters passing. Our thoughts and prayers are with you and the entire family. Charlie and Jackie Brown
- joseph Brown, Metter, Georgia

A candle has been lit!
My mom (Martha Brown) and I worked at C&S Bank, of course, crossing paths with Cecilia. I always considered Cecilia one of the most gracious, southern ladies I've ever met. Life caused different directions. Many years later, I learned she was a good friend of my aunts, Margaret Burnett from St. Vincents. A small world...it's so true! About 4 years ago, during Aunt Margaret's rehab at Savannah Square, Cecilia came to visit. I reminded her of my mom, and memories were shared. Once again, small world. Today, these 3 wonderful friends have passed on. I extend my sympathies to family and friends. Prayers for healing and comfort.
- Belinda Burnett, Savannah , Ga
I worked with Cecelia at C&S and she was a very special lady! Loved to hear her talk, her voice was like butter, a true Southern Belle❤️! am so saddened that she is gone so soon. I know she will be greatly missed!! Test in peace sweet Cecilia
- donna plumbley, Savannah , Georgia
Sending wishes for peace to all the family and friends of Cecelia. She was such a big part of so many lives. I am grateful to have known her!
- Ann O'Brien Fuller, Harris Neck, GA
I hand only known your mother for a short time at Buckingham South. I'm a sitter for Ms Rona, but always loved spending time with Cecilia. When we were in activities we would call her Happy Feet because she was always moving her chair around the room. She has been missed by the residents and me. I always got hugs and kisses and a hello doll. Thank you for sharing your mom with me. Cecilia I know your Happy and Healthy again in Heaven with your mom and dad and your hubby Charlie. Till we meet again. Love you Theresa
- Theresa M. Bambrick, Savannah, Georgia
Your mom was such a southern lady always so kind and thoughtful. I have many fond memories of her. My sincere sympathy to The entire family.
- Sherri Denmark Forbes, Savannah , Ga
I worked with Cecilia for many years at the Armstrong office (C&S Bank). She was the epitome of a Southern lady, gracious and soft spoken. We shared many lunch breaks together. I remember her love of S C peaches. When she was able to get them it was peaches and cream for a full week. She was delightful. We will miss you Cecilia. Rest in Peace my dear friend.
- Gaye Johnston, Savannah, GA
Prayers that the grace of God will ease your pain.
- Deb Thurman, Great Falls, Montana
I send my deepest sympathy & condolences to the family of Cecilia for her loss. Such a beautiful, kind lady, may she rest in peace. God bless.
- Carolyn Sheehan , Tybee Island , GA
I am so sorry for this wonderful family. What a tremendous loss. Cecilia will always remain in my heart. Soft spoken, kind and oh, so lovely, she was a joy to talk to. I'll never forget her. Prayers for all.
- Beth Buttimer, Savannah, GA
Cecilia was a neighbor at the Marshes and the epitome of a delightful Southern Woman! She was always beautifully dressed and groomed with a ready laugh or quip. She will be missed !
- Sheila Winders, Savannah , Ga
Sincere condolences. May she RIP. Pray for healing hearts during this time
- Susie Cromartie Russell, Savannah, Ga
Services under the direction of:
Fox & Weeks Funeral Directors, Hodgson Chapel
912-352-7200