We have been made aware that families being served by Fox & Weeks are being contacted by individuals requesting payment over the phone. Fox & Weeks will not contact a family requesting payment over the phone. Please contact the Savannah Police Department immediately if you are contacted and asked to make payment over the phone. Please contact Fox & Weeks if you have any questions.
Celebrating the life of
Charles F. James Jr.
May 19, 1949 - July 16, 2023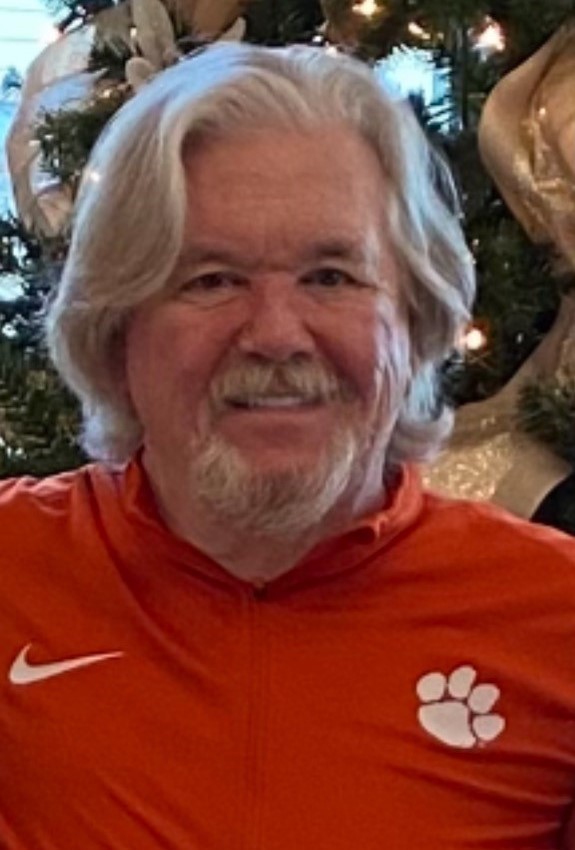 Charles F. James, Jr., affectionately known as Chuck, passed away on July 16, 2023, leaving behind a legacy of love and kindness. Born on May 19, 1949, Chuck lived a life filled with compassion, dedication, and joy.

Chuck was a devoted husband, father, and friend. His gentle spirit and loving personality touched the hearts of all who had the privilege of knowing him. Throughout his 50 years of marriage, Chuck remained a constant source of love and support to his beloved wife, Denise James. Their bond was a testament to the power of true partnership and unwavering commitment.

In addition to his loving wife, Chuck is survived by his son, Charles (Trey) James, III, who meant the world to him. Chuck cherished the time he spent with Trey, and their shared moments created a lifetime of cherished memories. Chuck also leaves behind his brother, Ronald (Ronnie) D. James (Kathy), Goddaughter Margaret (Maggie) Newman Roesch (Marty), his faithful fur baby and companion, Georgee, and many beloved cousins.

Chuck's journey of education began at Daniel High in Central, South Carolina, where he graduated and set the foundation for a successful future. He then pursued his passion for business administration at Central Wesleyan College, also located in Central, South Carolina, earning his degree. Chuck's dedication to learning and personal growth was evident throughout his life.

As an avid sports enthusiast, Chuck loved passionately rooting for the Clemson Tigers. He followed their journey and faithfully cheered for their victories every season. His unwavering support for his beloved team was a reflection of his spirited nature and unwavering loyalty.

Chuck's professional career revolved around the world of accounting. He began his journey at TRW in Martinez, Georgia, and later ventured into the field of aviation at Garrett Aviation in Augusta, Georgia. Chuck's expertise and dedication led him to Savannah, Georgia, where he served as the Director of Business at Gulfstream Aerospace until his well-deserved retirement.

Outside of his professional life, Chuck found joy in various hobbies. He had a deep passion for fishing, tennis, and golf, relishing in the tranquility and camaraderie that these activities offered. As a man of faith, Chuck was a member at Isle of Hope Methodist Church. Yet, above all, Chuck's greatest joy stemmed from the love he shared with his wife, Denise, and their son, Trey. Their happiness and well-being were always his top priorities.

A memorial service to celebrate Chuck's life will be held at Fox & Weeks Funeral Directors, 7200 Hodgson Memorial Dr, Savannah, Ga. 31406 on Friday, July 21, 2023 at 1:00 with a reception to follow at the home of the James family.

In lieu of flowers and if your heart desires, a donation can be made to one of the following:

Hope House
P.O. Box 3597
Augusta, Ga 30914

Hale Foundation
402 Walker Street
Augusta, Ga 30901
GUEST BOOK
So sorry for your
- Rod Richardson , Seneca , SC
So very sorry. Chuck was a true friend and I'll miss him. I'm at a loss for words. He was such a wonderful person.
- Joseph C. Cowart, Evans, Georgia. 30809
I am so sorry Denise . He was a wonderful man and so kind . I am praying for you and Trey.
- Lisa Morse, Asheville, NC
I am sorry for your loss...
- Rod Richardson , Seneca , SC
So sad! I wish we could have met again. Praying for the family who has so kindly taken care of me in the 90s!
- Harald , Mainz, Germany

A candle has been lit!
- Harald , Mainz, Germany
I have so many fond memories of Chuck. His huge smile and wonderful laugh was infectious. He taught me a lot about life. He taught me about being fair and doing what is right by people. I will also always remember his warmth and kindness he showed me throughout my life. He was like a second Dad to me. I'm blessed to have known him. Love you Denise and Trey.
- Clifford Baker, Jacksonville, FL
Very sorry for your loss. I held Chuck in the highest regards, always honest. Enjoyed playing golf with him.
- Don Boltz, N. Augusta, Sc

A candle has been lit!
My heartfelt condolences to Denise and Trey. Chuck and you two will always be remembered for the kindness shown to Cliff. He loved Chuck and was just speaking of what a wonderful example he was to a young boy. Holding y'all close in my thoughts and prayers.
- Joyce Denise Baker, Augusta, GA
Sorry for your loss--praying for the family
- Dr Nicky Shuman, Hilton Head Island, South Carolina
Denise and Trey, it saddened me to hear of Chuck's passing. I so much enjoyed his company, and his friendship. I will always remember his smile. May he Rest in Peace and may God comfort you both. Sincerely, David Moss
- J. David Moss, Harlem, GEORGIA

A candle has been lit!
- Shawn Byrnes, Summersville , Wv
Services under the direction of:
Fox & Weeks Funeral Directors, Hodgson Chapel
912-352-7200