We have been made aware that families being served by Fox & Weeks are being contacted by individuals requesting payment over the phone. Fox & Weeks will not contact a family requesting payment over the phone. Please contact the Savannah Police Department immediately if you are contacted and asked to make payment over the phone. Please contact Fox & Weeks if you have any questions.
Celebrating the life of
Josephine Boswell
April 12, 2021 - July 13, 2023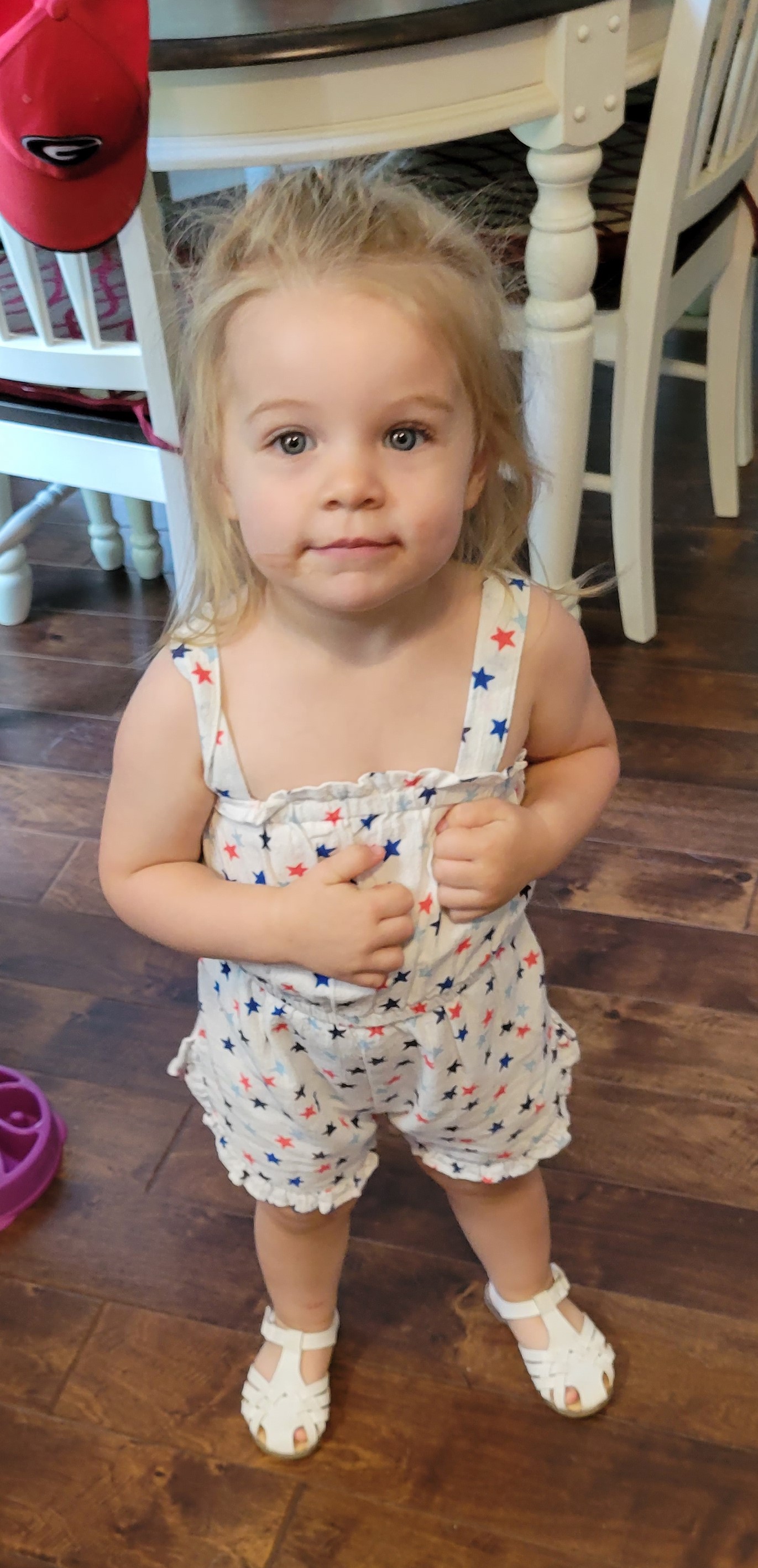 Josephine "The Tyrant" Marie Boswell blessed the world with her arrival on April 12, 2021. Her family's lives were collectively shattered when she passed away the evening of July 13, 2023 in her hometown of Savannah, Georgia. She is survived by her parents Kassandra "Mommy" and Lee "Daddy" Boswell, her grandparents Linda "Nama" and Gary "Pop-pop" Gober, her Aunt Nicole "Nikik" Pelky, her Uncle Thomas "Tamos" Ferrer, numerous other aunts, uncles and extended family members.
Josephine's presence commanded the attention of anyone present wherever she went. Her natural intelligence and consciously-taught empathy outweighed most adults and allowed her to be the ringleader of most of the mischief occurring at Chunks Learning Center where her and her best friends (frenemies when the mood struck) Amali & Camille have been attending since they were less than six months old.
Josephine's impact on the world has been immeasurable and demonstrated most by the friends and family that have come to Lee and Kassandra's side in the intervening minutes, hours and days to voice and show their support with hugs, tears, food, drink and most importantly, by sharing stories about Josephine. The family cannot begin to express how important that has been, and will continue to be, in the dark times that are sure to follow.
A Celebration of Life will be held at 4:00 pm on Tuesday, July 18, 2023 at Christ Church Anglican, 2020 Bull St, Savannah, GA 31401. The Celebration of Life will be followed by a short visitation and then reception in the adjacent room. Due to the circumstances, children are asked not to attend the service or reception. However, childcare for children under the age of 13 will be provided during that time as needed.
Josephine's graveside service will be held at 9:30 am on Wednesday, July 19, 2023 at Greenwich Cemetery, 330 Greenwich Rd, Savannah, GA 31404. Due to the circumstances, children will not be allowed at the graveside service and childcare is not available. Afterwards, the family will be having a late breakfast/brunch and anyone attending the graveside service is welcome to join them.
In lieu of flowers, the family requests that donations be made to a charity that will provided at the services.
GUEST BOOK
My condolences to the family. This is heartbreaking and if there is anything that I can do, please let me know. I am here for whatever you need
- michele a mitchell, pooler, GA
Josephine was a beautiful soul to be always remembered by those who knew her, held her, watched her grow and loved her.
- Melissa Tinfow, Savannah, GA
Heartfelt condolences dear Boswell and Mrs. Boswell
- vacco Bonson, Savannah, Georgia
There are no words except our deepest condolences to all family members of this sweet Angel. Our thoughts and prayers are with you. May God embrace you in His Loving and comforting arms.
- Eric & Debra Miller , Clermont , Ga
No words are enough to express how heartbreaking this loss is. We are incredibly sad. We'll be thinking of you and Josephine.
- Ana Beleza, Bristol, Avon
Our hearts are broken. We grieve with you all and are sending countless prayers to everyone for comfort. Much love always.
- Mike and Hanna Dettman, Lawrenceville , Ga
I continue to pray for your sweet family.
- Kimberly Staples, Maysville, GA
Deepest condolences to the family. I am so very sorry for your loss. We all are grieving with you. The Zulfic family
- Edina Zulfic , Suwanee , GA
Sweet Josie we love you and will forever keep you in our heart. Kassandra & Lee we love you all like family. I'm so sorry and will keep you in my thoughts and prayers during this time.
- Chrystal & Camille, Columbia, SC
I am so so sorry. My family is praying for yours. If you ever need anything please do not hesitate to ask.
- Carrie Kitchen, Pooler, Ga
We are so very sorry for your loss. We never met her, but we met you, and we know how much you loved her and will miss her.
- Megan and Adam Laufenberg , Charlotte , NC
I'm sad and heartbroken to hear of your lost. Thinking of you and your family
- Perry Ju, Spokane Valley, WA
I cannot begin to imagine the pain Kassandra and Lee are going through. I ask God to put his hand on both of you and give you the strength to bear this pain. God has a plan and we may not understand it, but, we have to endure. Don't lose sight of the Lord, because Josephine is in his arms now. Think of her as an angel that has just gone home. You will see her again. Love you guys. If you need me to do anything let Freddie know and I'm there
- Lakesha Drayton, Pembroke , Ga
Deepest condolences from everyone at the Linesight family.
- Linesight, New York, NY
Our deepest condolences for The Boswell Family. We are sending prayers and love for all Boswell Family members. May God hold you close at this most difficult time to provide Love and comfort.
- Kathryn & David Sukkestad, Savannah, Georgia
Lee & Kassie, I am so sorry you're experiencing the pain and suffering of losing Josephine. My husband and I are here when you need us to offer an ear to listen, a shoulder to cry on, a hug, or someone to just sit with. You are forever in our prayers.
- Sarah Pascual, Savannah, GA
You have our sincere condolences at this time. You and your family are in our hearts and prayers B-Well and Mrs.B-Well .
- Jenniya, Noa, and Jaida, Savannah , GA

A candle has been lit!
I will never forget the first time I met Josephine. She was just 6 months old, and already commanded whatever room she was in - even from her car seat! It was a joy to witness her growth on Sundays! We love you, Boswells. Let us know whatever you need.
- Erin and Jack Macdonald, Savannah, GA
Heartfelt condolences to the Boswell Family - Many prayers coming from your GPD Family.
- "A" Watch - Gainesville Police Department, Gainesville, GA
My heart is broken. My deepest condolences to you and your family. I will continually pray for strength, peace and healing for your broken hearts. Josie will be sorely missed. Mrs Michelle Brunson Chunk-a-bees
- Michelle Brunson, Rincon, Ga
I cannot fathom a pain so great as losing a child - and one so young as Josephine. Though I did not know her, please know you have been and will continue to be in my prayers. May God's peace surround you and the hope of the Resurrection sustain you. - Marc Robertson, Rector Emeritus, Christ Church Anglican
- Marc Robertson, Tuckasegee , NC
May God's Love and compassion surround you and comfort you forever. May His peace and hope be your never wavering foundation. God is with you through the love of family and friends, and all of us a Christ Church.
- Barb and Bob McWilliams , Savannah, GA
Upstate Door Company wishes to send it deepest condolences at this very sad time. Josephine was surely a beautiful soul and nothing will ever take that away. We send many Prayers and much Love to the entire family and just know how much our hearts are breaking for you because a child is a precious gift from GOD and only he knows why? GOD is Good and he has now gained a beautiful ANGEL that will forever be on our side!! God Bless your Family !!
- Upstate Door Company , Greenville, SC
We are so sad to hear about little Josephine. May God hide you in the shelter of His wings and send His angels to minister to you. May he guard your hearts and minds in Christ Jesus as you grieve and get through these days. May God grant you His peace and comfort as only He can.
- David and Melanie Brown, Savannah, Georgia
My heartfelt condolences to your family.
- Eric Osborne, Savannah, Georgia
My prayers are with you and your family.
- Kristina Sylvester, Savannah, GA
My deepest condolences for all of this Sweet Baby Girls Family. Sending all of our love and Prayers for you all. Please let us know if we can help in anyway.
- Kristen Cornett , Flowery Branch , GA
Heart broken for you. Lots of love from us to you and your family.
- Lori and Jim Scienza, Cumming , GA
Kassie and Lee Cristina and I pray that the spirit be with you both. We pray that it will lift you up and sustain you both as you endure this painful time. We want you to know you guys are special and brought a beautiful spirit into world to enjoy. Her joyful love of life in those pictures reached out and touched us especially me.I will never forget her. We love you both ALWAYS ❤️
- Gordon and Cristina Slagle, Saint George, Utah
Kassie and Lee You both have my deepest sympathies during this difficult and sorrowful time. I am so deeply sorry
- Maggie Muise (Margaret), Hull, Ma
We send our deepest condolences for the loss of your precious Josephine. Our thoughts and prayers go out to you and your familiy.
- Alvin & Margaret Montgomery, San Francisco, CA
Jaime and I wish to provide our most sincere condolences. You and your family will be in our thoughts.
- Ryan Dillard, Elk Grove, CA
Our deepest condolences. You and your family are in our thoughts and prayers during this unimaginably difficult time.
- Christine & Jonas Sicat, Dublin, CA
My deepest condolences to you and your family. My thoughts and prayers go out to you during this difficult time.
- Nicole Garcia, Oakland, CA
We are so heartbroken for your family, and send our deepest condolences.
- Jessica McNamara & Johnathan Pollard, Orange, CA
I cannot begin to imagine what your family is going through - Please know you are all in our hearts and prayers.
- Socrates Anagnostou, Lawndale, CA
Services under the direction of:
Fox & Weeks Funeral Directors, Hodgson Chapel
912-352-7200
Celebration of Life

4:00p.m. on Tue, July 18, 2023

Christ Church Anglican
2020 Bull Street (map)


SAVANNAH GA 31401

912-355-7730