We have been made aware that families being served by Fox & Weeks are being contacted by individuals requesting payment over the phone. Fox & Weeks will not contact a family requesting payment over the phone. Please contact the Savannah Police Department immediately if you are contacted and asked to make payment over the phone. Please contact Fox & Weeks if you have any questions.
Celebrating the life of
Rita Bartley Waters
January 16, 1937 - June 25, 2023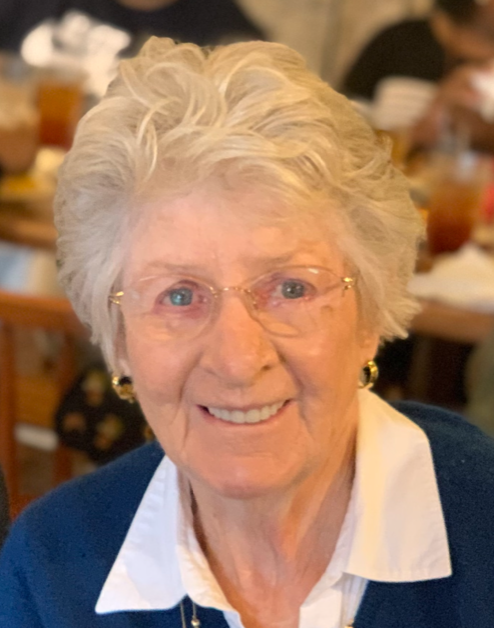 Rita Catherine Bartley Waters, 86, of Peachtree City, Georgia, formerly of Savannah, Georgia passed away on June 25, 2023, surrounded by her loving family at Brightmoor Hospice in Griffin, Georgia. She was born on January 16, 1937, in Beverly, Massachusetts to John and Catherine Bartley. Rita graduated from Beverly High School in 1955 where she was a member of the Drum and Bugle Corps Color Guard in St. Mary's Church Parish and continued her education at Beverly Hospital School of Nursing graduating in 1959 with her RN degree.
Rita dedicated her career to nursing in a variety of settings for 42 years, working at Memorial Medical Center, Candler Hospital, and St. Joseph's Hospital in Savannah. She was also the owner of a quilt store, Perfect Patchwork, in Savannah and enjoyed teaching others to quilt and sew. Her hobbies included quilting, sewing, gardening, and reading. She particularly loved quilting and proudly made quilts for her parents, children, and grandchildren. Rita met the love of her life, George Waters at a New Year's Eve party on his birthday in 1958 while he served in the Navy on the USS Constitution in Boston. They were married in 1960 and made their home in Charleston, South Carolina while George continued to serve in the U.S. Navy. They eventually moved to Savannah where they began raising their children. In 1976, Rita and George moved to Rio Vista on Burnside Island in Savannah where they resided for the next 35 years. It was here they created happy memories as they raised their children and enjoyed boating and sunsets on the banks of Moon River.
Rita was preceded in death by her loving husband of 55 years, George Carson Waters, and her son, Michael Carson Waters, as well as her sister Vivian Fumarola and her parents. She is survived by her daughter, Susan Waters Adcox and son-in-law, Bill Adcox of Peachtree City, Georgia, and grandchildren Alex Adcox, Andrew Adcox and his fiancé Kaleigh Caldwell, Mary Katherine Adcox, Matthew Adcox, and Carson Waters. She is also survived by her sister Janet St. Pierre, her sisters-in-law Ouida Waters and Cecile Waters, brothers-in-law Doty Waters and Paul Fumarola, and many nieces and nephews.
Visitation will be Friday, June 30th from 5-7pm with a Rosary service at 6:30 pm at Fox & Weeks Funeral Home, Hodgson Chapel in Savannah, Georgia. A Mass of Christian Burial will be held on Saturday, July 1st at 11am at St. James the Less Catholic Church in Savannah, Georgia. Interment will follow at Forest Lawn Memory Gardens in Savannah where she will be laid to rest beside her beloved husband and son.
In lieu of flowers, the family requests that friends and family consider a donation to The Shepherd Center or St. Jude's Children's Hospital.
Rest in peace, Rita Catherine Waters.
GUEST BOOK
We are thinking of you in during these difficult times. You are in our thoughts and prayers.
- The Norris Family, Savannah, Georgia
Thoughts and Prayers to My Dear Friends Susan, Bill and their Whole Family During this Difficult Time. May Mrs. Waters be Welcomed Home and Sit at God's Peaceful Side with Her Loves Mr. Waters and Sweet Michael that She's Missed So Much! God Bless You All. I Love You
- Kim and Jerry Smith, Jacksonville, Fl
Dear Susan and Bill and grand children, Rita was such a loving person and was so good to me the many times I was at her home with Michael. She was one of the reasons I became a nurse. She encouraged me by telling me when I was growing up that I would make a great nurse. I have such endearing memories eating with them, staying with them and loved them so much as second parents. Susan, know that I will always consider you part of my family and love you all so much. I know that you will miss your parents and Michael as I do as well. It gives me joy to know Michael is with them again. I hope you find comfort in your loss and I will always think of you as a sister! God bless you! Suzanne
- Suzanne Connell, Edmond , Oklahoma
Sending love and prayers as you prepare to celebrate your sweet mama's life.
- Kelly Kilpatrick Hunt, Savannah, GA
Our thoughts and prayers are with you all . May you feel God's peace and comfort. We have some many wonderful memories with your family. Deannie and Mario
- Deannie de la Guardia, Amelia Island , Florida
It was my honor to come into Rita and George's life as a caregiver 10 years ago. Our friendship developed quickly and she became like a mom to me in many ways having lost my own mom shortly before we met. I learned a lot from her and we shared many of the same interests. I enjoyed spending afternoons with her and accompanying her to many appointments. I always looked forward to our visits. She loved her family above all and always talked about them with such devotion. I will truly miss her. I know she is at peace now with Michael George, and her sister Vivian. My condolences to the whole family who I have also come to know and love.
- Marianne O'Shaughnessy , Peachtree City, GA
Susan, I am so sorry. Rita was the sweetest person ever and I always admired her. May she rest in peace.
- Bettyann Talley, Savannah, Georgia
So Saddened about the passing of my Aunt Rita. Many memories of road trips down to Savannah on Moon River. Shrimp falling into our bathing suits and 100 degree temperatures, and a 24 hr road trip. More memories of when my cousins, Susan and Michael saw snow for the first time at Grammy and Grampy's. She was ever the Big Sister to my Mom, Vivian. Always giving her sage advice until her passing almost 5 yrs ago. How can you sum up a person you love in one paragraph? She will be sadly missed for so many reasons but at last she will be in peace. I wish I could be there Love you Aunty Rita, Kris (Fumarola) Palandro
- Kristine E Palandro, St Petersburg, FL
Services under the direction of:
Fox & Weeks Funeral Directors, Hodgson Chapel
912-352-7200