We have been made aware that families being served by Fox & Weeks are being contacted by individuals requesting payment over the phone. Fox & Weeks will not contact a family requesting payment over the phone. Please contact the Savannah Police Department immediately if you are contacted and asked to make payment over the phone. Please contact Fox & Weeks if you have any questions.
Celebrating the life of
(Ima) Jean Sapp
Passed away on June 18, 2023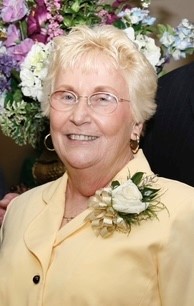 Ima Jean Sapp passed away on June 18th at her home peacefully in her favorite chair. She was born in Screven County on October 16, 1936, to Fred and Vetta Mae Jenkins. Jean graduated from Georgia Teachers College and had various career opportunities. She met and married Larry Sapp after a brief courtship and enjoyed over 61 years of life together. She worked for Savannah Gas Company, taught elementary school at Calvary Baptist Day School, managed the Activities Center at Calvary Baptist Temple, and worked for many years with her husband in the life and health insurance industry. She always worked to serve the Lord and to serve people and help them in whatever way they had need. Jean was a member of Calvary Baptist Temple, Skidaway Island Baptist Church, and most recently Compassion Christian Church.
Jean is survived by daughter Michele Swails, (Jimmy); granddaughter Mary Sayer (Matt), great granddaughter Kinsley Sayer, and great grandson Brandon Sayer. She is also survived by sister Joanie Freeman and many nieces and nephews. She was predeceased by her husband Larry Sapp and her brother Fred Jenkins, Jr.
A funeral service will be held on Friday, June 23rd at 2pm at Fox and Weeks Hodgson Chapel, (www.foxandweeks.com). Visitation will be from 1pm until 2pm. Private interment will follow.
In lieu of flowers, donations may be made to Compassion Christian Church or a charity of your choice.
GUEST BOOK
So sorry to hear of our loss of Ima Jean. My Mom, Ima Jean and myself had great times together back in the good ole days!! She was kind and loving sweet lady and blessing to all that had the good fortune to meet her.
- Linda Glisson, Kennesaw , GA

A candle has been lit!
So sorry for your loss, Jean was a fine lady, prayers for her family
- Linda Ellis, Savannah, Ga
So Sorry for your loss, Mrs. Sapp was a wonderful lady. I will miss her coming to the office to see Dr. Lewis. She is in Heaven with her husband. God bless the family in their time of loss. Sincerely, Jackie,Tanika, and Dr. Lewis and other office staff.
- Summit Cancer Care, Savannah, Ga

A candle has been lit!
Mrs. Sapp was truly like a grandmother to me, she shared so many stories and teachings about life that I will hold near and dear to my heart forever. We met last year but it's as if I'd known her my whole life. Such a selfless and beautiful woman, she will be deeply missed!
- Maya Scott, Savannah, GA
Mrs Jean, Thank you for every minute I was able to have with you. You showed me a place of belonging. A friend at any given moment. And I will truly miss you . And I will hold on to our times together forever. Thanks for being A Mother figure and My dearest friend. I know heaven is rejoicing. For you are home. Your Caregiver. Your Personal Assistant. But more than that My friend. Pamela H.
- Pamela Henry, Savannah , Ga
Michelle & Jimmy so very sorry to learn of Mrs. Sapp's passing. Praying for comfort & peace for the family and praising God that she is now with Him in Glory.
- Wanda Burnsed, Savannah, GA
Services under the direction of:
Fox & Weeks Funeral Directors, Hodgson Chapel
912-352-7200
Visitation

1:00 p.m. to 2:00 p.m. on Fri, June 23, 2023

Fox & Weeks Funeral Directors, Hodgson Chapel
7200 Hodgson Memorial Drive (map)


Savannah GA 31406

912-352-7200