We have been made aware that families being served by Fox & Weeks are being contacted by individuals requesting payment over the phone. Fox & Weeks will not contact a family requesting payment over the phone. Please contact the Savannah Police Department immediately if you are contacted and asked to make payment over the phone. Please contact Fox & Weeks if you have any questions.
Celebrating the life of
Peter L. Iott
Passed away on June 16, 2023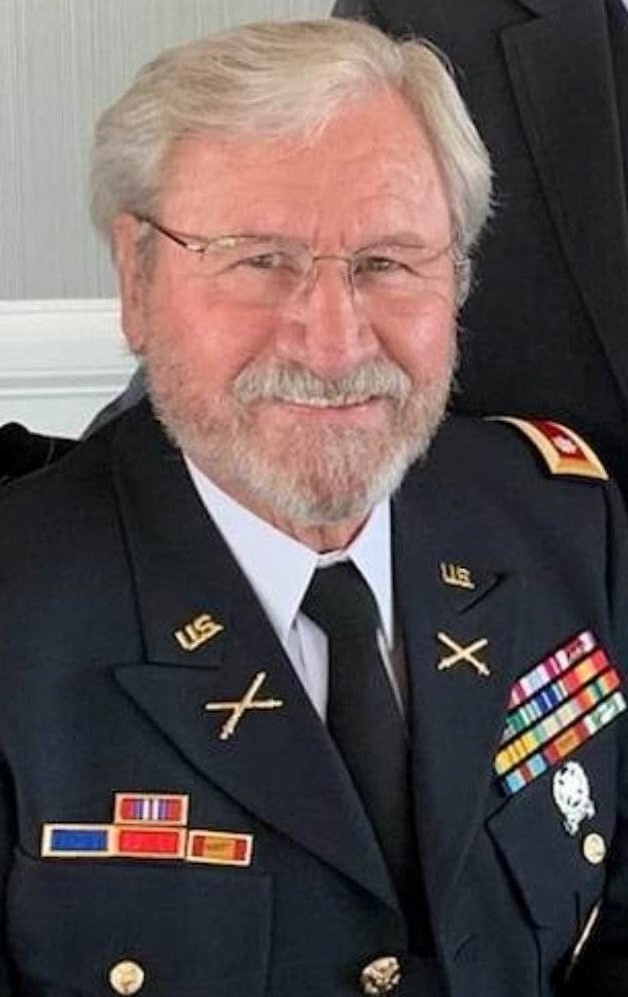 Lt. Col. Peter Lindy Iott, (U.S. Army, Retired), 76, of Savannah, Georgia, passed away on June 16th, 2023. He was predeceased by his mother, Mildred Iott, and his father George Iott. Still with us are: his wife, Patti Iott, their son Peter [Amy] Iott II, and daughter Paula Walton; his grandchildren, Taylor [William] Golden, Mel Walton, Peter Iott III, Nicholas Walton, Austin Iott; and his sister, Linda Bickford and nephew John Bickford, both of Rapid City, South Dakota.
Pete was a proud and respected combat veteran (Vietnam) and an influential educator with an illustrious career in Chatham and Effingham county schools. Even more impressive than his careers, degrees, and accomplishments were his spirit and his magnetic personality. His was the loudest song at every birthday, and the brightest whistle on any stroll. He will be lovingly remembered for his determination and service, but even more so for his love of life.
The family would like to express their deep appreciation for the wonderful and dedicated care of Hospice Savannah.
A Private Service will be held by the family.
GUEST BOOK
I first met Pete in June 2018, when we worked on the Journey together. We were both Army veterans, and hit it off right away. He even attended a couple of my granddaughter's softball games at South Effingham Middle School. Everyone knew him; that's when I found out about his career in academics. When he read a passage from scripture in life group, I would be mesmerized by his booming voice. I am proud to have called him my friend and my brother in Christ. Love ya Brother, Tom Clarke
- Tom Clarke , Guyton, GA
Mr Iott was my daughter teacher in Chatham county years ago. And any time we seen him, he acknowledged us and said Hi. The best teacher and friend to Becki
- Jackie Taylor, Pooler, Ga
Taylor and Mel, please accept my sincere sympathy in the loss of your wonderful grandfather. I know the love you all shared was precious. May that love and your warm memories of him comfort to you. Sally Scott
- Sally Scott, Savannah, GA
What a wonderful teaching friend Pete was! Patti, he talked so lovingly about you and the kids. Pete and I taught together at South Effingham Middle School. When he entered the room, the whole classroom lit up. We constantly cut up with each other. I have always considered him a good friend even though we hadn't seen each other in years. My prayers are with you and the family for I know he will be missed.
- Becky Knight, Brooklet , Georgia
Pete will always be remembered as a true friend and mentor by students, parents, and educators. I was privileged to work with him. I have so many great memories of working with him at South Effingham Middle School. While Assistant Principal, Pete established the Rhino award given at the end of the year to a student who demonstrated resilience, determination, and inner strength in the face of life's challenges. Pete was certainly a Rhino! My prayers are with his family.
- Mark Winters, Statesboro, Georgia
Pete and I worked together at DeRenne MS in Savannah. He entered the media center each morning with a huge smile and a booming voice. He was such a great person, educator, and friend. He will truly be missed. My prayers go to his family.
- Anne Donnelly, Pooler, GA
Pete has left an indelible, positive mark on the people with whom he came into contact. He possessed an effervescent energy that also energized those around him. Paul experienced Pete's leadership, mentorship, but best of all, a friendship. Kristen experienced Pete's collegiality as both teacher and administrator, and Emmy, his classroom instruction and administrative oversight. We will remember this great person with great fondness.
- Paul and Kristen Richards, Basye, Virginia
I am so, so sad to hear this. Mr. Iott is the reason why I got my first teaching job in 2009. When almost no one was hiring, Mr. Iott fought hard to make sure that he could hire me to teach at SEMS. It was 11pm when he called me to tell me the board had officially approved me as a hire - the meeting had just ended but he knew I was so stressed to not have a contract in June. Mr. Iott was unlike any principal I've had since. When I was a substitute, he came to check on me every single day, and as a teacher I saw him almost as much. He'd walk through the classroom, see what the kids were doing, say hey. Every single morning we got an email, which might be annoying to some, but it started our day off with positivity, communication and usually a praise of some kind. He walked through lunch daily with the kids, singing a song and dancing a jig. He rode through the halls on a ridiculous scooter and went to every dance, sporting event and activity. I'll never forget watching him punch a wrestling mat in the Burke County gym after a bad call in the boys basketball game. I'm so grateful those first three years of teaching were under his leadership. He truly valued building relationships with teachers and students. What a mark he made on us all.
- Angela Burrell Powell , Pendergrass , GA
Patti, we speak often of our times at Fort Knox. Manson says they use to meet at the racket ball court at 4:15 every morning before work. But the most wonderful times began when you guys and the Jenkins came to Savannah for St. Patrick's Day, met Michael McDonough and the rest is history☘️☘️☘️ May God hold Pete in the palm of His hand✝️. Much love to you and family.
- Manson and Lucia Owens, Richmond Hill, Ga
Services under the direction of:
Fox & Weeks Funeral Directors, Hodgson Chapel
912-352-7200
A Private Service Will Be Held