We have been made aware that families being served by Fox & Weeks are being contacted by individuals requesting payment over the phone. Fox & Weeks will not contact a family requesting payment over the phone. Please contact the Savannah Police Department immediately if you are contacted and asked to make payment over the phone. Please contact Fox & Weeks if you have any questions.
Celebrating the life of
Annis Louise Lane
October 10, 1943 - June 09, 2023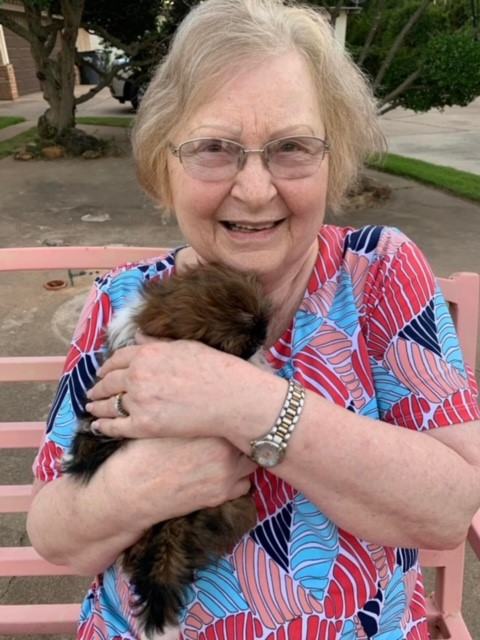 Annis Louise Shatley Lane, 79, passed away Friday, June 9, 2023 at her home with her family by her side. She was born in Elizabethton, Tennessee to the late Clyde and Louise Shatley. She attended East Tennessee State University, and received her Master's degree in Education from Midwestern State University. Mrs. Lane was a Speech Therapist and Diagnotician for the Wichita Falls Independent School District. She was a member of the P.E.O. (Philanthropic Education Organization) since 2001 and served as President from 2008 until 2010. Mrs. Lane also was a member of many other charitable and civic organizations. She had a longstanding love of Bridge and those who played it with her. She played in many different Bridge groups for years. After moving to Savannah, she recently began attending Skidaway Island Community Church.
In addition to her parents, she was preceded in death by her daughter, Susan Elizabeth Lane.
She is survived by her husband of 58 years, David Ronald Lane of Savannah, three sons, Steve Lane (Elayne) of Savannah, John Lane (Torry) of Wichita Falls, TX, and David W. Lane (Samara) of Wichita Falls, TX. Also surviving are her sister, Brenda Blevins (Terry) of Kings Mountain, NC, nine grandchildren, David Snell (Cecily), Jacob Lane, Harrison Lane (Meranda), Riley Vandehey, Brennan Vandehey, Ethan Lane, Olivia Lane, Kiyah Lane, Dylan Lane, one great-granddaughter Kylie Lane of Bend, Oregon, and several nieces and nephews.
The Funeral Service to honor her life will be 2:00 p.m., Friday, June 16, 2023 at Skidaway Island Community Church, 50 Diamond Causeway, Savannah, GA 31411.
Burial will follow in Forest Lawn Memory Gardens.
Remembrances may be made to the Alzheimer's Association (alz.org).
GUEST BOOK

A candle has been lit!
- Raymond West family, Elizabethton, TN
We are praying for you all during this time. Our kids knew her only as Mimi. We have sweet memories of her. Love you all.
- Jonathan, Ginger, Raley, and Owen Pino, Canton, Texas
Annis and all her family have been and will continue to be a very special part of our lives. Our love to all of you.
- Jerry and Kathy Eaton and Family, Tallahassee, Florida
Annis was a pillar of love, joy and support after losing my mother during my early teen years. Her light will shine brightly forever! My love and condolences to you all!
- Mark Krienke, Oklahoma City, OK

A candle has been lit!
I'm so sorry for your loss. Annis was a special lady that I will forever hold dear in my heart. Sending the family prayers for comfort and peace.
- Molly Stone, Wichita Falls, TX
Elayne, Your mother in law was a lovely sweet person. Steve and his brothers were and are blessed to have had her in their lives. We are thankful to have met Mrs. Lane. Please accept our heartfelt condolences. With God's never ending love. The Wholey family
- Wholey, Savannah, GA
Steve, Elayne & family, heartfelt sympathy & empathy at the loss of your precious Mom, Mother In-Law, Grandmother, wife, sister…pleasure to meet her! Soo delighted she was able to move to Savannah & be nearby. Especially grateful she was home surrounded by loved ones in her final days. Our prayers are with all of you.
- Jamie & Jeff Dixon, Savannah, GA

A candle has been lit!
Annis will truly be missed.
- Gary & Sheryl Jackson , Simms, Texas
I'm so so for your loss. God rest her and comfort your hearts.
- Susan Wehba, Oklahoma City, Oklahoma
Services under the direction of:
Fox & Weeks Funeral Directors, Hodgson Chapel
912-352-7200
Funeral Service

2:00 p.m. on Fri, June 16, 2023

Skidaway Island Methodist Church
54 Diamond Causeway (map)


Savannah GA 31411

912-598-8460