We have been made aware that families being served by Fox & Weeks are being contacted by individuals requesting payment over the phone. Fox & Weeks will not contact a family requesting payment over the phone. Please contact the Savannah Police Department immediately if you are contacted and asked to make payment over the phone. Please contact Fox & Weeks if you have any questions.
Celebrating the life of
Anne Marie Dosso-Powell
Passed away on June 09, 2023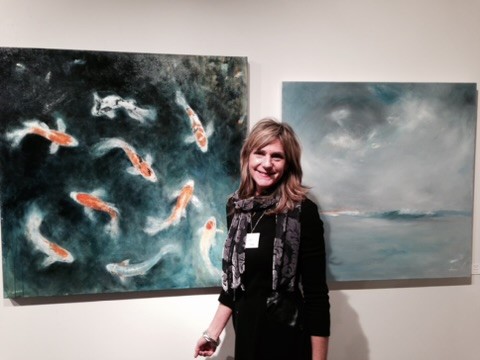 And so it goes that my beautiful, thoughtful, talented, creative, artistic and caring sister has passed on to join some of our family and a few friends in a peaceful, pain-free place surrounded by music, happy thoughts, laughter, lots of paint and many blue butterflies.
She was the "good" sister. The "tall" sister with freckles and green eyes. The one with the biggest heart.
We are very proud of Anne's tenure at NASA, her gallery exhibitions and her contemporary art website, but most of all, we are proud of her kooky independence, her free spirit nature and her gentle kindness.
She truly mattered to so many people.
Along her journey, while she held a lot of roses, she also felt the thorns.
Her superpower was her perseverance – she never gave up on anything or anyone.
We learn in life that we have no control over most things, especially our destiny. But we must remind ourselves that the one thing we can control is how we deal with and accept the life that has been chosen for us. God's plan.
Leave the anger, the resentment and the negativity in a closet somewhere and choose to find positivity, gratitude, forgiveness and optimism – things that would make your life better and your world a nicer place to live.
Anne always tried to do just that…
In the end, all Anne wanted to do was to "go home"…
Welcome Home dear Anne.
While we can't quite imagine life without you, and we miss you already – we smile to think that you are "somewhere over the rainbow".
You took a piece of all of us with you.
Please watch over us and save us a seat at your table.
We love you so very much.
Angel Blessings
xoxox
In memory and honor of Anne, simply do a kind thing, or say a kind word to someone – she would have liked that that very much.
On her website, Anne posted a quote by Wassily Kandinsky :
"Lend your ears to music, open your eyes to painting and stop thinking!
Just ask yourself whether the work has enabled you to "walk about" into a
hitherto unknown world.
If the answer is yes, what more do you want?"
Anne's answer was always YES.
GUEST BOOK
Dear Anne; It was such a blessing to have known you. You will be deeply missed. All my love, dear friend, Darla
- Darla Fowler, Woodstock, Ga
Anne was a great friend and a free spirit with a quick wit. I'm grateful for the times we got to spend together in Marietta, and that I got to see and hear her art. I will miss her terribly
- Carol Lord, Marietta, GA
Dearest Annie, I love you and I miss you. You are always in my heart. Peaceful blessings to your family.
- Judith Madonia, Marietta, GA
Anne, you will be missed but will forever be in my heart. I see your painting several times a day. Go rest on high dear friend. I love you
- Donna Dale, Marietta, GA
To the family: I knew Anne in Marietta, but experienced her greatness when she moved to Savannah. An unforgettable day when we went gallery to gallery in Bluffton with her contemporary work in the back seat of her car. But, no one could have prepared me for our last stop at Red Piano Gallery, when she sat at the piano and stunned everyone with some her talent as classical pianist. I will be forever grateful for having spent time with her before and after her illness. God Bless all family and friends.
- Carol Clark, Bluffton, SC
i cried and cried. So beautiful and moving. I recently lost my husband and took comfort in her obituary..
- Debra J Baier, Savannah, Georgia
I'm was so very sorry to learn of Anne's passing this evening. We met several times, were FB friends also and I've always respected her beautiful work. I went to one of her earlier shows and have truly enjoyed watching her artistry grow and develop over the last 10+ years. May she be only surrounded with light and love now.
- Melissa Gordon Rhine, Atlanta, GA

A candle has been lit!
I knew Anne for years. She helped me at a time when I needed guidance and love, and I will be forever grateful. May you take comfort in the memories you shared.
- Holly A, Marietta , Georgia
Hugs to the moon and back. Annie's love of life, creativeness, fun and friendship will live in me forever. Fly free my freind. There will always be a flower blooming in my garden for your sweet butterfly wings.
- Roxane Hollosi, Atlanta, GA
Annie and her family: I knew her through my wife, Julie. What a blessing and difference she made in my life. As another fellow artist, Annie was an inspiration with her passion, creativity, and positivity. Always smiling and full of energy. She inspired me to go back to my roots with painting and enjoy living in the moment. Annie will be terribly missed. Love her dearly.
- Jay Montgomery, Marietta, GA
Hugs to the moon and back. Annie's love of life, creativeness, fun and friendship will live in me forever. Fly free my freind. There will always be a flower blooming in my garden for your sweet butterfly wings.
- Roxane Hollosi, Atlanta, GA
I am grieved to lose Anne. She is safe in the arms of God, as are her son Justin and my son Chase.
- Sharon Roeble, Salisbury, MD
I was blessed to have crossed paths with dear Anne almost 8 years ago. She was such an awesome friend and someone I could always count on to make me laugh. I loved her quirky, free spirit. She had magic fingers that would glide effortlessly over her keyboard and produce music that would bring tears to your eyes. I am honored that I traveled on the same path with this dear soul, if only for a while. I love you Anne. I will miss you, see you later.
- Debbie Dalton , Marietta, GA
Sweet, sweet Anne. You are such a bright light and I know you are shining brightly in the heavens. You always lifted me up when we spoke. Love and blessings to your family.
- Kristin Dillon, Acworth, GA
I send my love and condolences to Anne's family today. I had been thinking of her and am now just seeing this announcement. I knew she had suffered greatly with her illness but she rarely complained. She was one of the most talented individuals I have known. Her gifts were not of this world. Now she flies free to have no more pain and sorrow. I know life here will not be the same without her. I hope to see you again Annie!
- Laura Parker, Decatur , GA
Annie and I lived together in Cocoa Beach Florida for a few years in the late 80's. She was my best friend at the time. We hadn't seen each other since she moved away. We spoke on the phone a few times, but, time and distance got the best of us. I only recently found out about her passing, and I am very saddened to hear this. She was and is a beautiful spirit, and I'm blessed to have lived beside her. Even though I haven't seen her recently, I miss her.
- Geri Riggert, Melbourne , Florida
Services under the direction of:
Fox & Weeks Funeral Directors, Hodgson Chapel
912-352-7200
A Private Service Will Be Held