We have been made aware that families being served by Fox & Weeks are being contacted by individuals requesting payment over the phone. Fox & Weeks will not contact a family requesting payment over the phone. Please contact the Savannah Police Department immediately if you are contacted and asked to make payment over the phone. Please contact Fox & Weeks if you have any questions.
Celebrating the life of
Suzanne Sherman
Passed away on May 30, 2023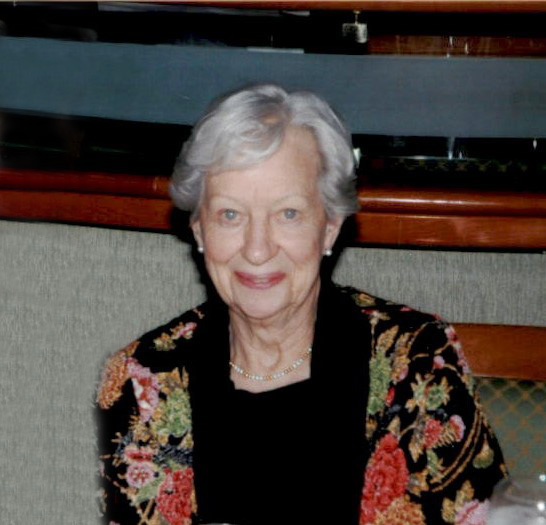 Suzanne Sherman died May 30, 2023, at The Oaks of Skidaway Island, Savannah, Georgia. She was born February 1, 1920, to Margaret (Stewart) and George Ackinclose in Meadville, Pennsylvania.
Her childhood summers were often spent on the grounds of the Chautauqua
Institution, in western New York State, where her family owned a boarding house. Suzanne was one of the first females to sell the Chautauqua Daily newspaper, usually out selling her male counterparts. She also collected autographs from many notable guests and speakers at the Institution, including John Phillip Sousa, Thomas A. Edison and Franklin D. Roosevelt. After graduating from Meadville High School, she attended Alleghany College and graduated from Meadville Business College, becoming a secretary.
In 1941, she married her high school sweetheart, Robert A. Sherman. Soon after they moved to Rochester, New York. In 1989, they retired to The Landings (and later to the Marshes) on Skidaway Island. Suzanne and Bob were together 74 years until his death in 2015.
Suzanne had many interests, including travel, genealogy, history, painting, drawing, needlework, mah-jongg, and crossword puzzles. She was an excellent bridge partner and avid golfer. She and Bob were members of Oak Hill C.C. in
Rochester, NY, Mid-Ocean C.C., Bermuda and The Landings on Skidaway Island, GA. where, in 1997, she scored a hole-in-one on the 17th hole at the Magnolia course.
Her main interests were her and volunteering in service to the welfare of children and the elderly. In her youth, she taught Sunday school at the Methodist church in Meadville and, as an adult, continued volunteer work at the Summerville Presbyterian Church in Rochester. She believed that if she was a member of an organization, then she should participate in the activities. Over the years, Suzanne's volunteer work included her being president of her hospital Twig, assisting the art director of the Rochester Museum of Art, working at the Joseph Avenue Settlement House, presiding over a group that raised funds for a children 's home, selecting and selling UNICEF greeting cards, and being a Girl Scout and Cub Scout Den Mother. While living in Bermuda, Suzanne was president of the
International American Women's Club, which helped new residents acclimate to life on the island.
Suzanne is preceded in death by her husband, Robert; sister, Janet Talaski of
Tucson, AZ, niece Carol Lincoln of Tucson, AZ; son-in-law Lew Savage of
Savannah and her parents. She is survived by her daughter Christine Savage of Savannah; son Jack (Joan) of Athabasca, Alberta, Canada; son Tom (Judy Sagara) of Columbus, Ohio; niece; grandchildren Jason Sherman, Christopher Sherman and Margaux (Danny) Corrigan, all of Columbus, Ohio; Jessica (Steven) Alford of Savannah, Ga.; Erica (David) Garcia of New Orleans, La.; great-grand children Jack and Riley Corrigan and John and Suzanne Alford.
Suzanne's ashes, along with those of her husband, Bob, will be placed in the Ackinclose family plot in Harmonsburg, PA.
The family thanks the staff at the Oaks, daughter Christy and her longtime caregiver Angel Anthony whom she loved like family.
Services under the direction of:
Fox & Weeks Funeral Directors, Hodgson Chapel
912-352-7200