We have been made aware that families being served by Fox & Weeks are being contacted by individuals requesting payment over the phone. Fox & Weeks will not contact a family requesting payment over the phone. Please contact the Savannah Police Department immediately if you are contacted and asked to make payment over the phone. Please contact Fox & Weeks if you have any questions.
Celebrating the life of
Georgiann Faust
January 09, 1946 - May 30, 2023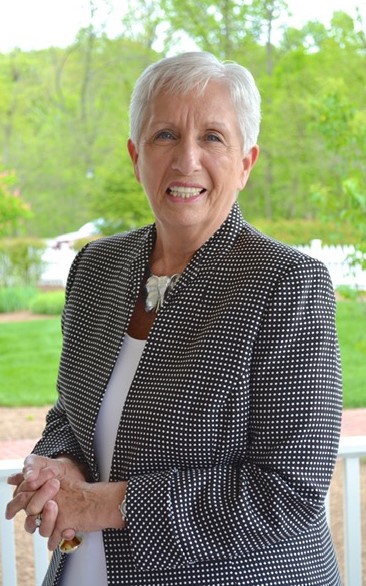 Georgiann Hunyady Faust, age 77, passed peacefully into the arms of the Lord on May 30, 2023. She was born January 9, 1946, in Tallahasee, Florida. Georgiann was the daughter of the late Lucas (Doc) and Georgia Dasher. She was raised in Savannah and attended local schools, graduating from the H.V. Jenkins High School in 1964. As a proud Sequoyah, she was head majorette and homecoming queen. She then attended Georgia Southern College.
In 1965, she married her lifelong love, James Manning Faust. In their 57 years together, they created a beautiful Christian home for their three daughters. Her passion in life was to be a loving wife and mother. Georgiann worked at the Georgia and Savannah Welcome Centers as a tour guide. Later as a realtor, property manager, bridal consultant, owner of Georgiann's Catering and as a travel coordinator for a senior citizen group. She enjoyed craft making, sewing and creating personalized handmade greeting cards for every occasion for all her friends and family. Georgiann was a proud member of the First Baptist Church of the Islands and the Good Neighbor Sunday School Class.
In addition to her husband Manning; Georgiann, affectionately known as "Gigi", leaves behind her three daughters, Amy Branson (Todd), Allison Branson (Troy) and Joy Markin (Christopher); six grandchildren, Kaleigh, Sydney, Reilly, Dave, Joel and Sloan; one brother, Joseph Dasher (Joy), who will all miss her greatly until they are reunited with her in Heaven.
The funeral service will be held at 1:00, Friday, June 2, 2023, at Fox & Weeks Funeral Directors Islands Chapel with Brooks Cail officiating. Interment will follow at Hillcrest Abbey East Memorial Park. A visitation will from 12:00 util 1:00 at the funeral home before the service.
GUEST BOOK

A candle has been lit!
Thinking of all of you in prayer and Thanksgiving as you gather to celebrate an amazing woman who loved each of you with every beat of her heart. Gigi takes with her your love and leaves on this side of heaven a legacy of children and grandchildren ready to be kind and good people in her place. Pops....you were her greatest adventure and love of her life. God bless each of you as you move forward through life amidst this profound absence.
- Mary Davis, Ogden, IL
I am so sorry, she was a good buddy. I love you like a sister❤️
- Fred Gordon/ Flash / , Bloomingdale ,, Georgia
We are thinking of you and praying for you as you grieve her homegoing. She was very special to our family. May the Lord bless all of you with every spititual blessing in Christ Jesus.
- Guy & Bettty Dasher, Lawrenceville, Georgia
I fondly remember working with Georgiann at Konter Realty. She was always a light in the dark. May her memory be a blessing to you all. God bless. Martha Swindelle
- martha swindelle, savannah, GA
I am so sorry to read of Georgiann's passing. In the time I worked with her at Konter Realty she was a clever and fun loving lady whom I learned a lot from. Prayers for her entire family. Lisa Neville
- Lisa Neville , Savannah , Georgia
Manning I will be in prayer for you and your family.
- Reginald Blakewood, Boissevain, VA
We're so sorry for your loss. You're in our hearts and prayers. She was a very special lady. She will be truly missed.
- Jon and Pam Surch, Crystal Lake , Illinois
Amy I want to tell you how sorry Cathy and I are to hear of your Mom's passing. I remember meeting her after Todd and I had an Eisai Sales meeting in Florida and were going golfing with Manning. She was gracious, welcoming and charming. I am truly sorry for your loss.
- Gordon Burkett, Knoxville, TN

A candle has been lit!
Our hearts go out to your family. There is nothing to say that will help ease the loss of a wife/mother/Gigi. She was an amazing person. We are here for you and send our love and support during this difficult time.
- Dave & Donna Patton, St. Joseph, IL

A candle has been lit!
Sorry for your loss.. you are in our thoughts @ prayers.Rip Mrs. GEORGIANN. THE LEWIS FAMILY
- The Lewis family, Savannah, Ga
Georgiann was always a delight to be around. She will truly be missed. I was fortunate to be a recipient of her handmade greeting cards and have all of them in a special place.
- Jacky Yglesias, Tybee Island, GA
Words cannot express the sorrow I feel for the loss of Aunt Georgiann. I hope that her family and loved ones and friends can find strength during this sad time.
- Joan J Faust, Mechanicsville, VA
Services under the direction of:
Fox & Weeks Funeral Directors, Hodgson Chapel
912-352-7200
Visitation

12:00 - 1:00 on Fri, June 02, 2023

Fox & Weeks Funeral Directors, Islands Chapel
4605 Hwy 80 East (map)


Savannah GA 31410

912-898-0900
Funeral Service

1:00p.m. on Fri, June 02, 2023

Fox & Weeks Funeral Directors, Islands Chapel
4605 Hwy 80 East (map)


Savannah GA 31410

912-898-0900