We have been made aware that families being served by Fox & Weeks are being contacted by individuals requesting payment over the phone. Fox & Weeks will not contact a family requesting payment over the phone. Please contact the Savannah Police Department immediately if you are contacted and asked to make payment over the phone. Please contact Fox & Weeks if you have any questions.
Celebrating the life of
Elizabeth C. Sprague
Passed away on May 29, 2023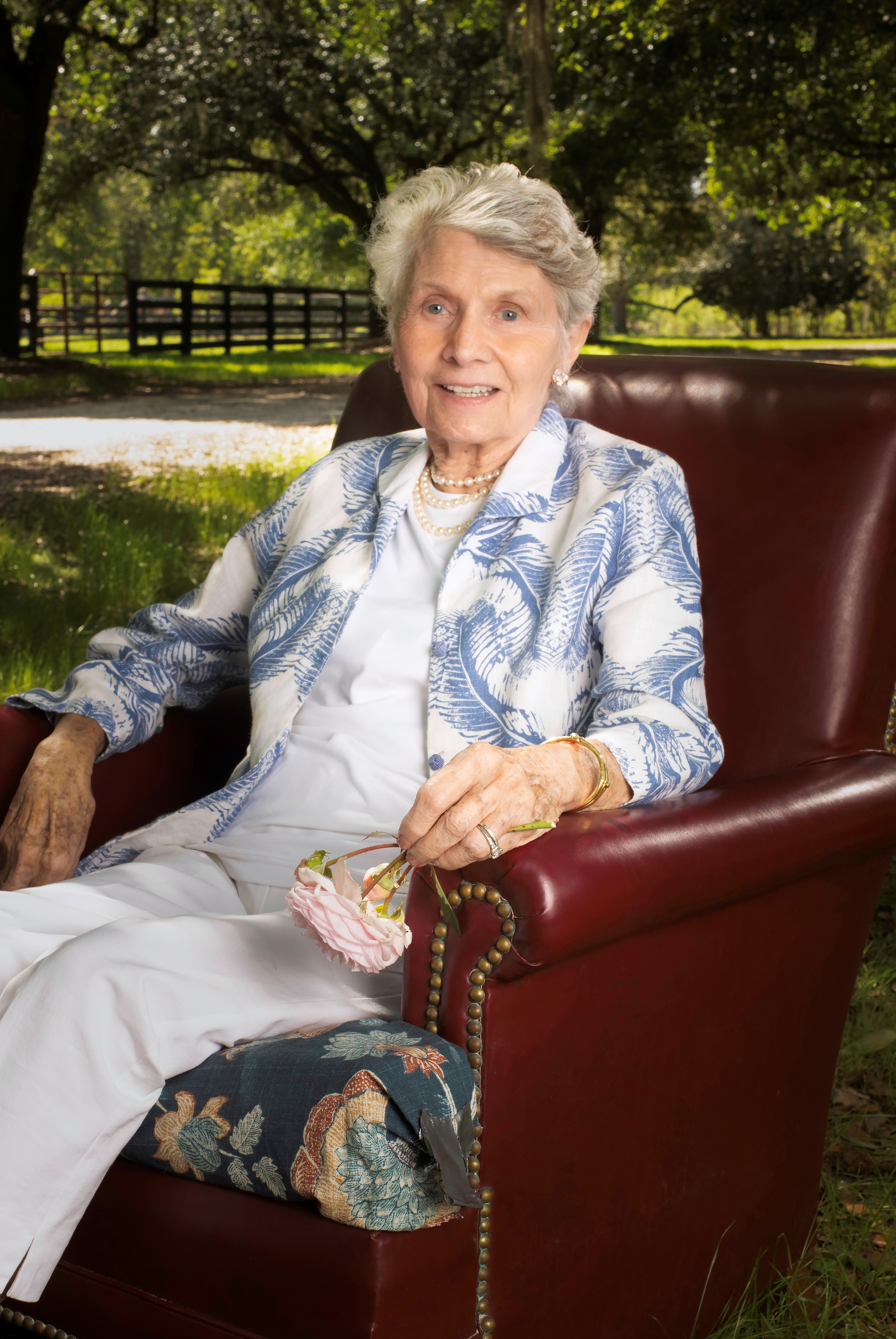 Elizabeth Louise (Carr) Sprague died peacefully at age 90 in the early morning of May 29, 2023. She had recently been put into Hospice but was able to enjoy visits by friends and family over the past several weeks.
Known as Liz, she was born in Ann Arbor, MI on June 1, 1932 to Louise Neil Carr and Dr. Duane Mills Carr. From a very early age she was raised in Memphis, TN. She had two sisters, Diana Carr Bailey (Hal) and Lauren Duane Carr. Both parents and sisters predeceased her.
Following in the footsteps of her mother, Liz graduated cum laude from Wellesley College in 1953. Liz then came to Tybee to visit her roommate, Swannie Sprague Iselin for two weeks and stayed a lifetime following Liz's marriage that same year to Swannie's older brother, William (Bill) Wallace Sprague, Jr. Twelve months following their wedding Liz gave birth to twins, Lauren D. Sprague (Mary Ellen) and Courtney Sprague Flexon (Dr. Phillip Flexon). Sixteen months later another son was born, William Wallace Sprague, III (Taryn). The fourth child, Elizabeth Louise Sprague O'Meara (Gerard Jr) completed her family.
Liz was blessed with ten grandchildren: Ellen Adeline Sprague, Donald Lawrence Sprague, Anna Augusta Sprague Warner (Mark), Lauren Louise Flexon Marcinkoski (Jason), William Winter Sprague (Julie), Alexander Hartley Sprague (Ryan), Kathrine Carr Sprague Kozaczki (Luke), Taryn Elizabeth O'Meara Hall (Jack), Gerard Joseph O'Meara III, and Benedict Patrick O'Meara, II. She also had five great-grandchildren: Samuel Phillip and Alexander Joseph Marcinkoski, Raya Claire Kozaczki, Adeline Beth Warner, and Jack Edward Hall IV. Babies Kozaczki and Warner are expected to arrive in September and October of this year.
As a cum laude graduate of Wellesley, Liz used her intellect, education and incredible energy as the life partner of her husband William Sprague as he brought Savanah Foods and Industry, Inc. from a small regional sugar refinery to one of the largest sugar companies in the world and a Fortune 500 corporation. In fact, her husband Bill was fond of saying, "Liz could have run General Motors." With poise and grace, she raised four children, and ran three households counting Swan Hill and their summer home at Tybee.
In addition to the family activities Liz was very active in the Savannah community and carried out numerous charitable good works. She was passionate about protecting the historic nature of Savannah and served as the president of Historic Savannah. Several historic properties in Savannah escaped demolition due to her hard work. She and husband Bill restored their house on Taylor Street. This restoration endeavor was noted by many experts at the time "as the finest and most accurate residential restorations done in Savannah". Liz served as president of the Junior League and the Trustees Garden Club. Then there were those in the community that Liz helped, often by giving of her own time and known only to her and the person helped.
Tybee during the summers was a special time for her and the family. Liz loved crabbing with the children and later the grandchildren. Eating shrimp and picking crab on the porch at Tybee with the family gathered around was another of her favorite activities.
Liz was more adventurous than her petite, well-dressed frame might indicate. She loved hiking in the North Carolina Mountains with friends. Then there was the nine-day trip on rafts down the Colorado River and the overnight horseback trips in Montana. After the children left home she and Bill took hiking trips to Europe and traveled to Asia, South Africa and Australia.
When one came into a room Liz's eyes would light up and she always greeted people with a warm smile and kind words. She was always gracious, both when it was easy and when it was not. Liz had many friends whom she cherished, yet she enjoyed times of solitude or quiet times spent with only a handful of people.
Liz grew up in the Episcopal Church and was a faithful Christian. She was a "student of theology and scripture on the personal level". Bill and Liz participated in a home Bible study with George and Virginia Maxwell for many years which served as a time of learning and support. Most recently, Liz was a member of Asbury Memorial Church.
As Liz's health declined she was lovingly cared for by Pam Garvin. When she went into Hospice Pam was ably aided by the wonderful ladies of Katrice Hudson's agency 'Loving You More at Home', especially Nichole Warren, Janae Godboldte, Sara Jean Mosley, Robin Williams, and Patrina Spellman, to whom the family is deeply grateful.
In lieu of flowers please send donations to Historic Savannah, Trustees Garden Club, or Asbury Memorial Church.
Funeral arrangements are being made through Fox & Weeks Funeral Home. The Memorial Service will be held at 11:00 AM on Saturday, July 15 at Asbury Memorial Church, 1008 East Henry Street, followed by a reception at the Oglethorpe Club.
GUEST BOOK
She was the dearest person in my life. There will never be a more beautiful person, inside and out, than Liz. I mourn, but rejoice for the heavens. Love, Patti
- Patti Teter, Beaufort, SC 29902
Liz will always be remembered for her graciousness and kindness to my wife Kathy and me. Condolences to the family. You will be in our prayers!
- Gregory H Smith, SAVANNAH, GA
What a truly lovely person Liz was. She had a warm gracious nature and always spread joy. She will be greatly missed.
- John Cay, Savannah, GA
So sorry to hear this news what a special lady. Our thoughts and prayers are with your family.
- Kim and Sandy Dixon, Savannah, Georgia
Courtney, Phil, Lauren and family. Please accept our most sincere condolences on the loss of your beautiful mother, mother-in-law and grandmother. What a great lady. I remember her with great presence and true kindness. Please know that all of you are in our thoughts and prayers. God's love and peace, Patty and Mike Brady Savannah, Ga.
- Patty and Michael Brady, Savannah, GA
What a delightful and gracious lady Liz was! Waldo and I enjoyed many hunting trips with Liz and Billy to Swan Hill and shooting trips to England. It was always a great pleasure to be in her company. My heartfelt condolences to all the Sprague family. Jenny Lynn Bradley
- Jenny Lynn Bradley, Savannah, Georgia
A lady though and through and the epitome of graciousness
- Mimi Cay, Savannah, GA
Larry - so sorry for your loss. Your mother sounds like a truly wonderful person. I know she will be missed by you and many others. God Bless you and your family. Dave & Audrey
- Dave & Audrey Debien, Midway, GA
Liz would always give such encouraging words to lift your spirit. Kindness was possibly her strongest spiritual gift. It was an honor to attend church with her.
- Dawson Long, Savannah, GA
Liz and Billy moved to the Marshes the same day as Bob and I. We became very close friends. Liz was a lady, accepting everyone, and never making any distinctions. She will be sadly missed by everyone. Love, Evelyn Heath
- Evelyn T Heath, Savannah, GA
Dear Larry and Mary Ellen, we never met her, but she sounded like the most fabulous woman. Such accomplishments and love of family and friends. So very sorry for your loss.
- Tim and Judy Grissette, Savannah, Ga
I am so honored to have known Liz. What an elegant, funny, gracious, and truly southern woman. I know your family is mourning, but she is dancing with Jesus and waiting for you all. May God give you comfort, peace, and surround you with His infinite love during the long wait to join her. God Bless You All. Pam
- Pam Gaudry, Savannah, GA

A candle has been lit!
Dear Elizabeth, Larry, Mary Ellen, Bill and Courtney, I am so sorry about the loss of your lovely mom. I have wonderful memories of times spent at Tybee and in town with Elizabeth and your mom. She had such a gentle, loving way about her. I was especially touched by her lovely comment to me at my mom's Memorial service in 01/2023. God Bless her and all of your family.
- Laney Barroll Stark, Chenequa, Wi.
Liz was so warm and loving to all and she had a way about her that everyone loved...her elegance and lady like manners, to name a few. I loved hanging out w Elizabeth at Tybee and stayed down there to watch Larry and Mary Ellen court each other. Loved to crab. I remember having lunch w my grandmother, Retta Jelks, and Liz at the Oglethorpe Club. I asked for unsweetened tea and started to put in artificial sweetener. Liz then proceeded to tell me all the things wrong w sweeteners and I should put real sugar in my tea. Needless to say, I put in real sugar. Will miss her and Bill. Fondly, Retta
- Retta J. Vance-Poynter, Charlotte, NC
Liz will always be remembered by myself and my wife Robin for the hospitality and warmth with which she received us. Deepest sympathies to all. God bless.
- Harry E. Wedewer, Huntingtown , MD
Your mother was a gracious, welcoming soul. So sorry we can at be there with you at this time. Karen & Joe
- Joe & Karen Gold, SAVANNAH, Georgia
A remarkable and capable career to be proud of knowing.
- Scott Backus, Savannah, GA
Services under the direction of:
Fox & Weeks Funeral Directors, Hodgson Chapel
912-352-7200