We have been made aware that families being served by Fox & Weeks are being contacted by individuals requesting payment over the phone. Fox & Weeks will not contact a family requesting payment over the phone. Please contact the Savannah Police Department immediately if you are contacted and asked to make payment over the phone. Please contact Fox & Weeks if you have any questions.
Celebrating the life of
Marian Bazemore Bouchillon
June 22, 1931 - May 26, 2023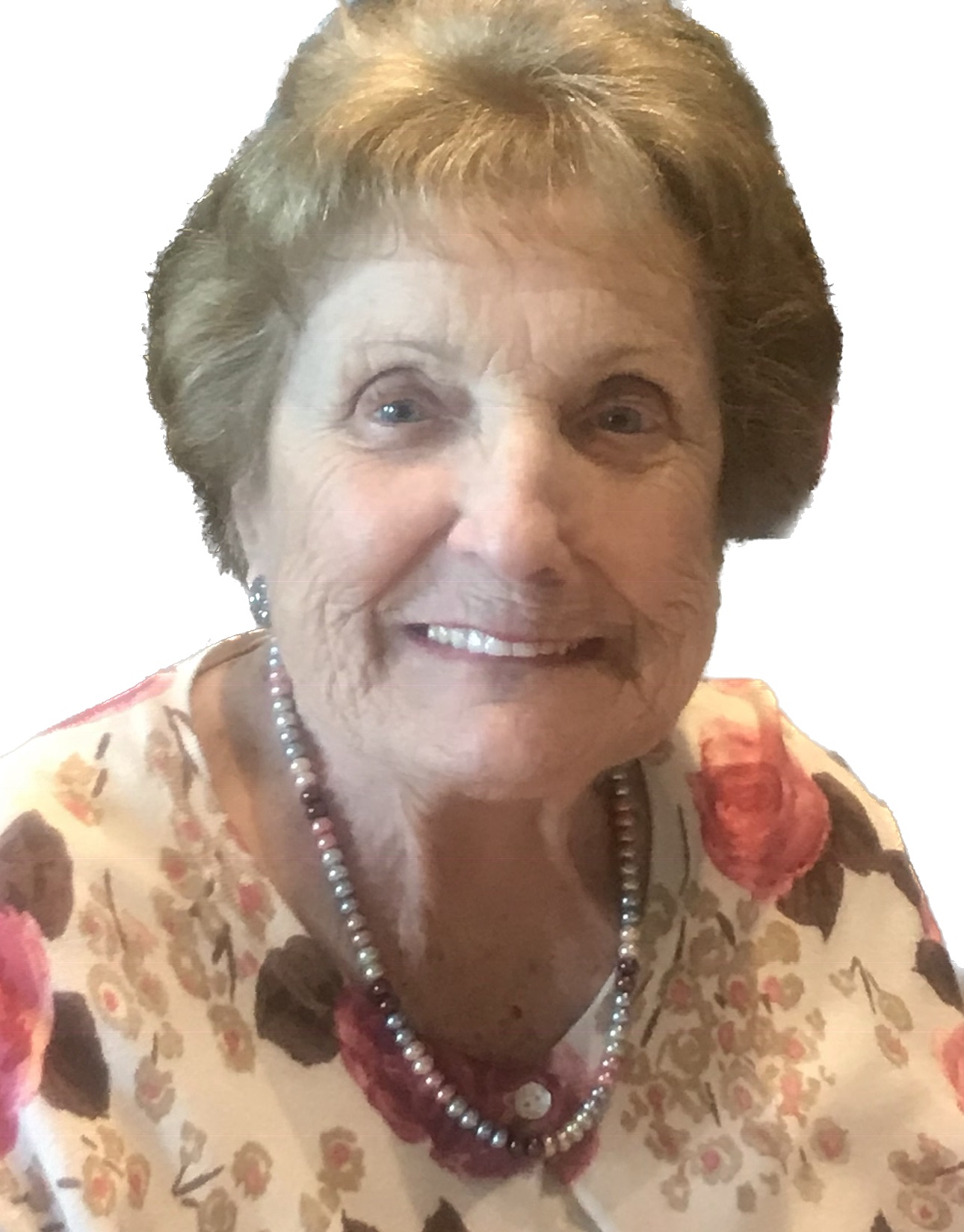 Marian Bouchillon, 91, died peacefully on Friday evening on May 26th after enjoying a bowl of ice cream with her daughter Barbara. Up until the end, she was surrounded and cared for by her loving children and large family. Marian Bouchillon was born in Savannah, Georgia on June 22, 1931 to Wilbur G. Bazemore and Bonnie M. Gross.
She spent part of her childhood in Sylvania, Georgia on a farm, and her teen years in Savannah. She married Hoke S. Bouchillon, Jr on June 26, 1948, and they enjoyed 64 wonderful years together until he passed on November 25, 2012. She was a devoted wife, and they are reunited in Heaven together holding hands. Her humble beginnings on a farm taught her the value of faith, gratitude, sacrifice, hard work and most importantly love. Marian spent her life filling our hearts with love, our souls with her character, and our stomachs with her delicious southern cooking. She was our mother, our advocate, our teacher, our defender, and our champion. In 1969, she completed nursing school so she would have her own career in case our father's newly started business, Bouchillon Body Service, happened to fail. She wanted to make sure she could always support our family. For years she worked as a nurse at Memorial Hospital on the rehabilitation floor. Marian's love extended to all who knew her. After late nights at the hospital, we remember her bringing home her patients' clothes to wash and iron.
Marian was also an avid golfer and over five decades she competed with ladies' golf groups at La Vida Country Club, Bacon Park Golf Club, The Landings Club, and the Savannah Women's Golf Association winning numerous times in her flights and being recognized as Ladies Club Champion at the Landings. Marian was a faithful member of Central Christian Church for many years, and later became a faithful member of Compassion Christian Church.
She was predeceased by her parents, her husband Hoke, by her stepmother Eileen Mock, her sister Hilda ¨Gale¨ Kelly-Smith of Savannah, and her brother, Ned Bazemore US Navy retired, of Norfolk, VA. Our mother is survived by her children, Dale (Donna) Bouchillon, Bonnie (Dale) Hardie, Barbara (George) Summerell, Joey Bouchillon, and Kelly (Melissa) Bouchillon, all of Savannah. She is also survived by her 17 grandchildren and 21 great-grandchildren. Her grandchildren are Braydon Lowe, Allen O'Berry, Amy Thomas, Heather Rudolph, Holley Morris, Brian Summerell, Corey Summerell, Jeremy Summerell, Kathryn Boaen, Reagan Rowse, Brandon (Hoke) Bouchillon, IV, Carlyne Cadwell, Thaddueus Wheeler, Kelly L. Bouchillon, Jr., Emmaline Bouchillon, Briggs Bouchillon, and Bellamy Bouchillon. The family would like to thank all her caregivers over the years but special thanks to Renee Burton for her endless dedication and love for our mother. We would also like to acknowledge the staff of Azalealand for their loving care.
A service celebrating her life will be at Fox and Weeks Hodgson Chapel on Saturday, June 3rd with visitation at noon. The funeral service will follow at 1:00 PM, followed by a private family burial at Greenwich Cemetery alongside our father and her beloved husband. In lieu of flowers, the family asks that you make donations to Compassion Christian Church.
GUEST BOOK
Dale, Bonnie, Barbara, Joey, and Kelly, I am so sorry to hear of Mom's passing. Although it doesn't ease the pain of losing her, she lived a good and long life. She was a wonderfully, sweet, genuine person and I loved her lots. My thoughts and prayers for peace and comfort are with you all. Much love. Sherri Flanders Clifton
- Sherri Flanders Clifton, Swainsboro, GA
MS BOUCHILLON WILL BE MISSED. LOVE AND PRAYERS OF COMFORT TO THE FAMILY.
- GINA ROBINSON, savannah, GA
I was fortunate to work at the family business and Mrs. B, like the rest of the family, always treated me as part of the family. She always took the time to check in with the staff when she would visit the shop. One of my favorite memories of her was that she would check my desk and see if I had any new photos of my daughter. She always had a smile and a kind word for everyone and she was a genuine person who loved her family, both her biological one and the "shop" family. Love and prayers to Bonnie, Dale, Barbara, Joey, Kelly, Hollie, and all the family.
- Bob Brunn, Savannah , GA
Marion was a wonderful person. She will be missed by many people whose life's she touched. I know Hoke has been waiting along time for her to come home. My prayers go out to Dale, Joey, Kelly, Barbara, Bonnie and all the grandchildren. Peace be with you. Love Alisa
- Alisa and David Haberman , Savannah, GA
OUR DEEPEST SYMPATHY GOES OUT TO THE ENTIRE FAMILY FOR THE LOSS OF THE SWEETEST LADY ON EARTH. I WILL ALWAYS REMEMBER HER AND HER FAVORITE DOG DUTCHESS GREETING ME AT THEIR DOOR WHEN THEY LIVED IN BACON PARK
- EDDIE & CONNIE (STRICKLAND) KESLER , RINCON, GA
So sorry for your loss. Praying for your family.
- Paul M Long, Pooler, GA
So sorry for your loss.
- Sue Hagins , Savannah , Ga
Great lady from a great Savannah family.
- Ed Johns, Savannah, GA
Ms Bouchillon will be missed. My mother Melva Clark loved her like a sister.We will all miss her she was a wonderful women an a faithful christian.
- Paul clark, Meldrim, GA
I am sorry for the loss of your Mom. Praying for peace and comfort in the days to come.
- Treena Hendrix Smith, Signal Mountian , TN
Neighbors from early 60's. Played kick ball and other games in back yard. She treated us like family. She was loved by all of the kids…….May her soul Rest In Peace, Susan Lutz Nyberg
- Susan Nyberg, Savannah , Ga
To the Bouchillon Family; the Hancock and Garrison families are thinking of you at this time. But knowing Marian she is feeling comfort now with Heavenly Father and Hoke as well as her other family. May God Bless y'all at this time. Lynda (Sissy) Garrison Savannah Ga
- Lynda Garrison, Savannah, Georgia
So sorry for your loss. Praying for your family.
- John Shearouse, Guyton, Ga.
The Bouchillons are loved and prayed for by extended family in Virginia. As the children and grandchildren of Ned Bazemore, we always enjoyed visiting with his sisters and their families.
- Amanda Howie, Virginia Beach, VA
Services under the direction of:
Fox & Weeks Funeral Directors, Hodgson Chapel
912-352-7200