We have been made aware that families being served by Fox & Weeks are being contacted by individuals requesting payment over the phone. Fox & Weeks will not contact a family requesting payment over the phone. Please contact the Savannah Police Department immediately if you are contacted and asked to make payment over the phone. Please contact Fox & Weeks if you have any questions.
Celebrating the life of
Michael Jerome "Jerry" Hogan, Sr.
Passed away on May 11, 2023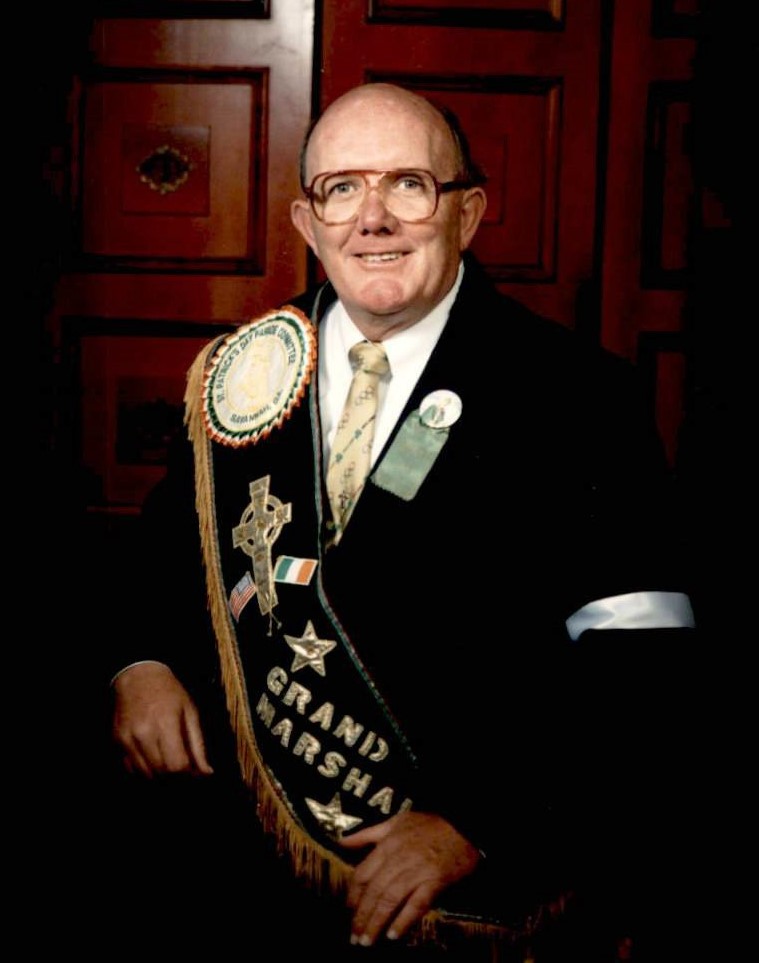 Michael Jerome "Jerry" Hogan, Sr. died peacefully Thursday afternoon surrounded by his family.
Michael Jerome Hogan, Sr. was born in the "Old Fort" Section of Savannah on August 21, 1942, to Mary Dyer Hogan and William James Hogan, Sr. He attended Cathedral Day School and graduated from Benedictine Military School in the Class of 1961. Jerry attained the rank of Eagle Scout alongside many of his Benedictine classmates. He served in the United States Marine Corps and the United States Marine Corps Reserves. After serving in the Marine Corps, he married Ellen McAlpin Hogan. Jerry worked as a police officer at Tybee Island for several years until he began working as a stevedore in the Port of Savannah and the Port of Miami. In 1975 he started M.J. Hogan & Company, Inc. at the Port of Savannah. He also started Hogans' Marina in 1991, a full-service marina on Wilmington Island. He led both companies until his death.
In 1997, Jerry married Arie McCray Hogan.
The three cornerstones of Jerry's life were faith, family, and community. He served them all well. He was a dedicated member of the Catholic faith. Jerry was active in every parish in which he lived and the Diocese at large. He was a strong supporter of Catholic education. He started the Joseph O'Brien Ramsey Scholarship at Benedictine Military School, as well as numerous other scholarships for Catholic schools in the Diocese of Savannah.
Jerry also served the Savannah community as a member of the Jaycees, Savannah Pilot's Association, Savannah Arbors Commission, Chatham County Tax Assessors Board, and numerous other civic boards. Jerry played an integral role in all aspects of the Port of Savannah maritime community. He was elected and served as President of the Propeller Club of the Port of Savannah as well as serving in National positions for the Propeller Club. In 1992, he was named International Propeller Club Member of the Year.
Jerry served the Irish Catholic Community in many ways. He cherished his Irish Catholic faith and heritage. Jerry was proud and honored to be elected as the 1994 Grand Marshal of the Savannah St. Patrick's Day Parade. He served for four years as General Chairman, from 1986 to 1989. Prior to that, he served as Vice-Chairman in 1984 and 1985. Jerry was the Adjutant of the St. Patrick's Day Parade in 1981,1982, and 1983. In order to bring more youth engagement to the parade, Jerry was instrumental in establishing the flag unit for the Parade. Jerry was a proud member of many Irish organizations.
Jerry loved spending time at Tybee Island with his family. He enjoyed boating and skiing on the Back River with friends and family. The family vacations and times together were the highlights of his life. He loved the family ski trips to Snowshoe Mountain, trips to the dude ranch in Montana, and traveling to Alaska, Ireland and Italy with his family. He cherished every moment. He loved his retired life in the country in Millen and found many new friends and enjoyed life on the farm, especially with friends and family. He will be missed by many loved ones.
He is survived by his wife Arie McCray Hogan; his son, Dr. Joseph K. Hogan and daughter-in-law, Dr. Natalie M. Hogan; son, Michael J. Hogan, Jr. and daughter-in-law, Mary Anne Hogan; and daughter, Mary Kathryn Moss and son-in-law Parks Moss. He is also survived by his grandchildren Ellen Ebberwein (Patrick), Ross Hogan, Keenan Hogan, Isabella Hogan, Sarah Moss, and Henry Moss; as well as great-grandchildren Teddy Ebberwein and Emma Bates Ebberwein; his brother, William J. Hogan, Sr., sister, Elizabeth Jan Hogan; sister-in-law Karin Hogan; as well as many cousins, nephews, and nieces. Jerry is preceded in death by his first wife Ellen McAlpin Hogan, his parents Mary Dyer Hogan and William James Hogan, Sr, his brother Thomas John "Jack" Hogan, Sr.; and his sister Mary Joy Hogan.
Visitation will be 5:00 to 7:00 p.m., with a Rosary at 6:00 p.m., Tuesday, May 16, 2023, at The Cathedral Basilica of St. John the Baptist. Mass of Christian Burial will be 10:00 a.m., Wednesday, May 17, 2023, at The Cathedral Basilica of St. John the Baptist. Burial will be in the Catholic Cemetery.
In lieu of flowers, please send donations to Benedictine Military School, 6502 Seawright Drive Savannah, GA 31406.
GUEST BOOK
Our hearts go out to the entire Hogan Family for your loss. Jerry was a one of a kind. A natural leader, Always taking the lead in everything he did, with a generous Heart. He will be sorely missed. God Bless☘️
- Shirley and Tony Ryan, Savannah, Georgia
We are so sorry to hear of the passing of our very dear Friend, Jerry(James). He will be forever in our hearts and memories. We had so many good times and travels together. I am sure when we meet again we will have even more memories to share. Peace be with you Jerry
- Rockney and Candy Nigretto, TACOMA, WA
Jerry Hogan was my guardian angel as a young person growing up on Tybee Island. Later in life as a businessman he was there supporting me. He was also a big supporter of my family in all our endeavors. The Barrett family will greatly miss him.
- Bert Barrett, Jr., Savannah, Georgia
Everyone who knew Jerry, loved Jerry. His jovial spirit always lifted me up, even though he sometimes paused his tale to turn to me and apologize for a word he was going to say. :) He never failed to make me smile. His deep faith was an inspiration to me. He wanted to come and worship with his church family every chance he could, even when pulling his oxygen tank next to him. Two years ago on Good Friday, he wanted to pray with us at our outdoor Stations of the Cross but the heat made it too hard for him to be outside. He didn't let that stop him though, he just stayed in his pick-up and drove around at the edge of the group. His faith taught me so much. Most of all I knew Jerry as a giver. He and Arie have very generously given to so many different causes, but I know they also gave very quietly to make the lives of many, many easier or brighter. This was a way of life for them. Most of all, Jerry gave his love to all! He had a special way to make both children and adults laugh and feel special. Everyone was family! His heart was so big!!! I am eternally thankful that Jerry was a part of my life!
- Patti Boddiford, Sylvania, GA
We are so sorry to hear about Mr. Jerry. He was the kindness man that I have ever had the pleasure knowing. When they moved in above Mama and Daddy until their house was built they immediately became family. He will be missed by many. Will continue to keep his family in my prayers.
- Kimberly Oglesby, Millen, GA

A candle has been lit!
- Stephen Herb, Savannah, Ga.
May Jerry Rest In The Eternal Peace of Our Lord. May His Family receive strength through this time. God Bless
- Roy and Cam Banks, Flowery Branch, Ga
I had the distinct privilege of growing up in Savannah. Jerry was an influential part of my socialization. I have many fond memories of my association with all of my extended family, especially my cousin Jerry. He was an impressive person and influenced many lives. I have always respected and looked up to him. I love you, brother. My sympathies!
- Col. (Ret.) Leonard Olson, Jr., Griffin, GA
Sorry to see that Jerry has passed away. I know the last few years have been tough for him. Never a dull moment when Jerry was around. Had many conversations with him through the years and he loved his Irish heritage and Catholic faith. Rest in Peace my friend!
- Bob White, Greensboro , Ga
My heart goes out to the family for your loss. Jerry sounded like a one of a kind man and I know he is watching over the family with nothing but love and gratitude.
- Morgan Smith , Buford, Georgia
I'm very sorry to hear this. I first met Jerry when I open the marina and he was more than helpful as Jerry,jr. was also. Our hearts go out to the family during this difficult time..
- Ed and Beth Cope, Savannah , Georgia
Airie, Joseph, Jerry, Mary Catherine, Jan and Jimmy, our deepest thoughts are with you at this time of loss. He will be missed by many. He was always nice to me and my entire family. Our families have been close going back 4 generations. The stories that have been told to us of years long gone have stayed with us throughout our lives. I'm grateful that our generation was able to continue the friendship. My love and prayers. Billy Manucy and Family
- William J. Manucy Family, Savannah, Ga.
We are so sorry for your loss! We are praying for comfort and peace in the coming days. Love , Alice Roberts, Gracie, Hunter and Nicholas Cobb
- AliceRoberts, Norman Park, GA
I am so sorry to hear about "Uncle" Jerry's passing. I have such fond memories of my younger years at the beach house, sleeping in the bunk beds on the porch, learning to ski, riding in the St. Patrick's parade float...I always felt like an honorary Hogan :) He will be missed by so many. My prayers are with all of you.
- Cathy (Grimes) Bryant, Savannah, GA
I am so sorry for your family's loss. May you be consoled by God's love in this difficult time. Jerry's true love for his family and friends came through every story regaled with great humor and insight. It is a treasured blessing to continue to remember his laughter and smile. God bless you.
- Amy Miller, Guyton, GA
Prayers for the family and may his soul rest in peace
- Beverly Williams fountain, Jacksonville Beach, Florids
Sarah, we are so sorry for your loss. I know Bennett loved your Pop. We are praying for you and your family.
- Paul and Susan Davidson, Sumner, GA

A candle has been lit!
- Rhonda K. Sutlive, Savannah, Ga
I am deeply saddened to hear of Jerry's passing and extend sincere condolences to his entire Family at this most difficult of times. It can be said with great certainty that He will be sorely missed by Family and friends for a long while. Many will comment and attest to the genuine facts and knowledge of His vast love and dedication to his Irish Heritage, and Catholic Faith, his untold most sincere and Generous Giving of his time and talents to those in need in the greater Savannah Community from the Old Fort to the Shores and Sands of Tybee and Beyond. I am especially Happy and proud to have known him throughout his entire Life, and know you are comforted in the sure and certain knowledge that Jerry has passed through Death to Life Forever with Our Blessed Lord, and Mary Immaculate. Erin Go Bragh!
- Jack Daniels, Tybee Island, GA
What a giving man Pops was. He made us all laugh and taught us to be humble people. Prayers for the entire family as I know they all will feel his void. The kids always talk about how he said they needed to come help on the farm, so I allowed them on day. They told me when they came home that they played all day and he took them out to eat-and they believe he used them to get out of working for the day. He will be missed greatly by so many.
- Kevin and Kris Price and Family, Jefferson City, MO

A candle has been lit!
- Jimmy Holland, Savannah, GA
To know Jerry was to love him. I have known Jerry since I was a little girl. He would hang out with his friends at my parents (Bruce and Betty Gaskin) house at Tybee. He was without a doubt one of the kindest, funniest, and one of the most thoughtful people I have ever known. It was always a good time when Jerry was around. Deepest sympathies to all of his family.
- Kay Gaskin Abbitt, Gainesville, FL
We are so sorry for your loss. We loved Jerry and the entire Hogan Family
- Frances and Tommy Clark, Palm Coast, FL
A great man and an inspiration to others including me. Always kind! I remember a busted sea cock out on the Gulf Stream and radioed in we would try to make it back. Mr. Hogan was there with pumps to help! Loved seeing him and chatting on St. Pats day. I was fortunate my son CJ met him. My thoughts are with the family who I consider family. Calvin Haupt
- Cal Haupt, Jupiter, FL
Such a great friend to my mom. Was there when my father passed suddenly. Many memories of the back river house. Rest easy Mr. Jerry.
- steve stettler, savannah, GA
Dear Joe, Jerry and Mary Catherine, We are so sorry for your loss and know that our prayers and thoughts are with you during this time. Your pop was a great man and I know will be missed by the family. May God Bless you and send peace. Kevin and Sally Werntz
- Kevin and Sally Werntz, Savannah, GA
I never had the pleasure to meet this remarkable man. But if he was the father of Mary Kathryn Moss, he had to be amazing. May God grant Jerry eternal life and may his soul rest in peace free from all suffering and pain. Mary Kathryn and family, you now have your guardian angel looking out for you from Heaven.
- Gene Richardson, Rome, GA
Mr. Jerry was such a gracious host when he welcomed the Ga Council of Magistrate Cout Judge a number of years back. He was such an interesting person to talk with. It was obvious from my conversation with him that he was proud of his family. As I reach the later years of life I realize a man can achieve no higher honor than being remembered as a Godly family man. May God comfort each of you in the days to come as you grieve. Jim Thurman
- Jim Thurman, Leesburg , Ga.
I knew Jerry twice. Once on the river and once on the creek. Savannah river. Turners creek. I purchased Southern Marine supply in 1983. I met Jerry a few days later, on the docks, waiting for a ship. He was tying up the ship and I was supplying the ship. I was on the docks for 18 years and Jerry was a fixture there the whole time. We often commiserated about shipping companies that didn't pay well and we both had to take a deep breath when we arrested a US lines ship. I knew Jerry again from the marina on turners Creek. I often fueled up there. During the Olympics, Jerry's marina fueled the large fleet of boats involved in running the Olympics. I was in charge of the video boats and bumped into Jerry and his son quite often during the two years we were involved in the Olympics. My dad kept his boat at Jerry's marina and they became sort of pals. Jerry delivered my first adult scolding when I was on his board at the propeller club. At one of the board meetings, he turned to me and said "Neff what's your report?". Well, I didn't have one. I hadn't expected to be called on and was completely unprepared. "Nothing to report" I muttered. A few days later Jerry came up to my office and gave me what for. "Next time I call on you you better have a report ready." He was pissed. I got it. After that things got better between us and he supported me when I took over as president. Well done Hogan! All the ships are tied up. All the boats are stored in the shed. Saint Patrick is waiting. Time to cruise.
- Neff McIntosh, Flat Rock, Nc

A candle has been lit!
Im saddened for your loss. Mr. Hogan was such a great person and businessman. He will always be in my heart and prayers as well as his family. He always such a happy person and brightened anyone's day that he came in contact with. Boy could he throw a wonderful party, too!
- Patty Fletcher, Bloomingdale, GA
Janna and I send our condolences to the Hogan family on Jerry's death. As a member of the Benedictine Class of 1961 with Jerry, I had the privilege of his friendship for many years. Jerry never backed down from a challenge and became an ultra successful business man who used his success to help numerous less fortunate people. Jerry's death is a great loss to his family, multitude of friends and the community. Stan Friedman & Janna Martin
- Stan Friedman, Savannah, Georgia
What a fantastic man your father was! I will miss him...
- Andrew Price, Black Creek, GA
We have been friends all our life and we will always continue to be friends. May the road rise to meet you. May the wind be always at your back. May the sun shine warm upon your face, the rains fall soft upon your fields and, until we meet again may God hold you in the palm of His hand. I Love you Brother. Denny
- Dennis J & Sally G Chandler, Savannah, GA
So many great memories beginning at Tybee on the back river and beyond. My deepest sympathies and condolences to the entire Hogan Family. Love and prayers, Leslie(aka Lisa) as Big Jerry loved to call me.
- Leslie Heyel Marino, Savannah , Ga
To Arie & the Family of Jerry, I send my deepest sympathy & condolences with his loss. My heart Is aching that this dear man has left us. Jerry, Arie & their children, were such dear friends to my beloved Dan & to me. No matter the passage of time, I treasure the memories, the laughter, the full on jollification, that we shared. It was a glorious time in our lives. May Jerry Rest In Peace, & may you, his family, be comforted with God's peace of heart & soul, now & in the days to come. God bless & my love.
- Carolyn Sheehan, Tybee Usland, GA
So sorry to hear of Jerry's passing. He was always a good friend to us. My prayers being send at this time. Harriett
- Joseph Dillon Family, Savannah, Ga
Our thoughts and prayers go out to the family for their loss.
- Mike & Dawn Schmitt, Columbia, SC
Bubba, Michelle, Brett, Ryan, Zack, Keith and I are so sorry for your loss. In life we have to recognize and thank God for the blessings he bestows on us. Pops was such a blessing to your family. We had the pleasure of meeting him at the marina and he was one of a kind. His strong presence will be missed. However, the relationship you were graced with will always be in your heart. Keith and I are praying for all of the Hogan's during this difficult time. The beautiful blessing is you will see him again. Love, Keith and Renee'
- Keith and Renee' Grotheer, Thompson Station , Tennessee
We are very sorry for the loss of such a great man. Praying for his family now and in the days ahead with our deepest sympathy. James and Connie Deal
- Deal Family , Savannah, GA
I wish to express my Deepest's condolences to the Entire Hogan Family. I first met Jerry in the Fall of 1966 as a 5th grader at Nativity. Jerry was our new Football Coach. I quickly learned this man was serious about discipline, order, togetherness, being prompt, but most of all, competitiveness and never give up. Over the years I saw Jerry many times and was very proud of his Grand Marshall election for the Saint Patrick's Day Parade. Jerry would tell you, as he told me, the plain truth as he saw it with no sugar. He was a realist in the true sense of the word. I loved him as I said because he was just so genuine. Rest in peace my friend.
- Bobby Sauers, Richmond Hill, Ga.

A candle has been lit!
- Chris A. Davenport, HAZLEHURST, GA
We are all sorry for your loss. Jerry shared many amusing stories with me when I was young. He was a good neighbor and friend of my family. I was away and couldn't make it for the funeral. Many good remembrances.
- Tim Gallagher, Brandon, FL
Our heartfelt condolences are extended to the entire Hogan family on the passing of Mr. Jerry Hogan. Mr. Hogan was a very kind and wonderful soul who was there for our family during the passing of our father in 2014. Mr. Hogan leaves behind a beautiful legacy that will forever be cherished by his loving family and friends. May the God of peace lift and sustain you all during this most difficult time.
- The John H. Mackey Family , Savannah , Ga.
My heart is broken to hear of the passing of Mr. Jerry Hogan. I had the opportunity and pleasure of meeting him 30 years ago through a mutual friend Mr. Danny Powers. Jerry was a Powerful Personality well respected by his peers and everyone that crossed his path. The City Of Savanah and The State Of Georgia will miss A True Son .
- CLINTON YOUNG , Savanah , GA
Mary Kathryn, I am so very sorry to learn of your father's passing. He was a wonderful man that loved his family, faith, and community - in that order. A trusted friend and a force to be reckoned with if you were on opposite sides of a 'discussion'!! He will be missed and remebered with smiles, fond memories and respect. You and your family are in my prayers! Steve Green
- Steve Green, Savannah, Ga
Services under the direction of:
Fox & Weeks Funeral Directors, Hodgson Chapel
912-352-7200