We have been made aware that families being served by Fox & Weeks are being contacted by individuals requesting payment over the phone. Fox & Weeks will not contact a family requesting payment over the phone. Please contact the Savannah Police Department immediately if you are contacted and asked to make payment over the phone. Please contact Fox & Weeks if you have any questions.
Diane Dew Krstolic 81, a resident of Skidaway Island, for the last 17 years, passed away peacefully on April 11, 2023, at her home. Diane was born on August 2, 1941 in Detroit Michigan. She was the daughter of the late Roy and Helen Dew, and Jane Dew. In addition to her parents, Diane was preceded in death by her brother, James Dew, her son, David Farrell Neaman, and son-in-law, Paul Hayes Gilgo. She grew up in Cincinnati, OH, attending Wyoming High School, then receiving a degree from Marjorie Webster in Washington, DC. After college, she went back to Wyoming, OH, to establish her roots, and raise her children in a community they loved. Diane sold real estate for 20 years, where she found great success in a career she started late in life. It was no surprise that Diane was successful in a career where she constantly made new friends. Diane was a loving wife, mother, grandmother, sister, and friend. She will be greatly missed by all those who knew and loved her.
In 1989, when Diane met Ray, a new adventure began to unfold. Diane discovered a love for travel, golf, skiing, scuba diving, and, of course, THE OHIO STATE BUCKEYES! Diane and Ray retired to Skidaway Island, never dreaming what a fairytale place this would become. She found so many ways to volunteer her time, and raise money for charities she was passionate about. Diane volunteered for Safe Shelter in Savannah for more than 10 years, helping to raise tens of thousands of dollars to help with every aspect of the shelter's needs. She was a kind and fun spirited person, who always gave it her all, and made such an impact on so many lives. Diane's favorite pastime was spending time with family and friends. She loved entertaining and opening her home to all of her many friends.
Diane is survived by her husband, Ray Krstolic; children, Kelly Glick (Michael) of Burlington, NC, Kori McClellan (MarKus) of Charlotte, NC, Craig Krstolic (Lana) of San Jose, CA, Matt Krstolic (Christine) of Longwood, FL; grandchildren, Drew Gilgo, Evan Gilgo of Charlotte, NC, Grace Gilgo of New York, NY, Tai, Mai and Ayden of San Jose, CA, Ashton, Sofia and Lilliana of Longwood, FL; sister, Candy Hicks; brother, Dan Dew; nephew, Jim Dew. Diane will be missed more than words can describe by her loving husband, children, grandchildren, family and friends and furry friend Bogie.
A Celebration of life will be held at 11:00, Saturday, April 15, 2023, at Skidaway Island Community Church with Rev. Jon Hauerwas and Rev. John Wall officiating.
In lieu of flowers, memorial contributions can be made to: Neurofibromatosis Foundation (The Children's Tumor Foundation) Mail Code: 6895, PO Box 7247 Philadelphia, PA 19170-0001
GUEST BOOK
We are saddened to learn of Diane's passing . She was our wonderful neighbor for many years on Larchmont Dr in Wyoming…we were young together, raising our children and sharing so much over coffee or a glass of wine. Our love and prayers to all of you…Ray, Kelly and Kori. Phil and Ellie Linscott
- Ellie & Phil Linscott, Hilton Head , SC
The Salyers family was blessed to know Diane's family while growing up in Wyoming. We send our love & prayers to her entire family.
- Salyers Family, Wyoming, Oh
Diane was the epitome of life. She lived it to the fullest. She will be greatly missed. I feel totally blessed to have known her. I will make a donation in her honor.
- Renee Garcia, Sebring , FL
We miss her so much!!
- George and Sandra Timson , Savannah , Ga
Dearest Ray, Kelly, Kori & Family: Like you, our hearts are breaking for the shocking loss of our sweet Diane. Words cannot describe how sorry we are for your loss, but we know Diane was a woman of deep faith and we have been praying for the repose of her dear soul. Our hearts hurt for you, and we grieve with you. But we have been reminiscing about some of the wonderful times we shared with Diane, and it brings some comfort to us: Diane was the first person other than Marlene's family that we knew when Joe retired from the Air force - - she became much like a big sister to us and sold us our home in her beloved hometown, Wyoming. Marlene sold real estate in two other states before moving back to Cincinnati, and Diane insisted she become an agent in her Sibcy Cline office. Diane absolutely loved Chick-fil-A chicken salad; so when she was a little under the weather, Joe would drop some by her mailbox on the way home from his store. We celebrated many New Years Eves at our house, ringing in the New Year and eating and drinking a little too much. With Beth and Mark Hiltz and the Krstolics, we would take our motorhome to Belterra for two nights to play golf, eat at Jeff Ruby's and play blackjack. Diane and Ray were always very generous with us, sharing tickets to the Reds, Bengals and their beloved OSU Buckeyes.
- Marlene & Joe Nasello, Wyoming, OH
We wish we knew the perfect thing to say to make it all better, but those words don't exist. So instead, we just want you to know we love you. Rest assured, we will continue to pray for you and your loved ones as you struggle with this immense loss.
- Marlene & Joe Nasello, Wyoming, OH
Our prayers go out to you Ray and your entire family. Diane was beautiful inside and out, she was the mom (grandma) we all wanted and the friend we all needed, and the neighbor we were grateful to have. She took us under her wing when we first moved here. My kids called her Bubby. If we needed anything she was right here to jump in and help. This photo of Diane is my favorite. Her smile lights up the world. Diane is beloved by not just us but hundreds of friends and family who were blessed to have her in our lives. Our heart breaks for this loss. We hope you and your family may find solace in remembering Diane's light, beauty and laughter.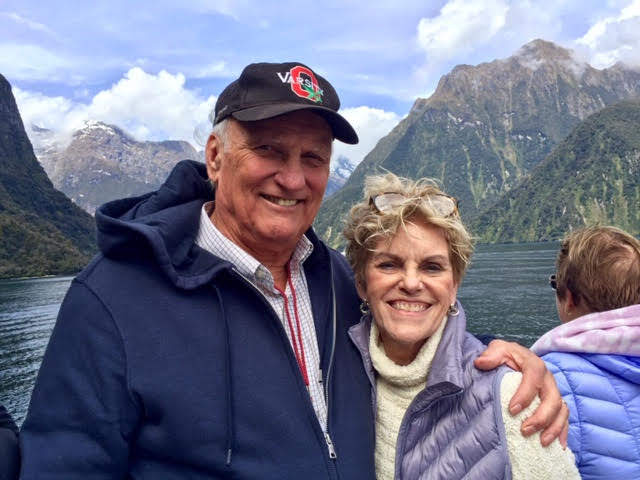 - The Wholey Family , Savannah , GA
I'm heartbroken for all of her family. Kelly, Kori and dear Ray. Diane was there for me through many difficult times and many good ones as well. Don't remember not knowing her through my life. Loved the time I spent with her and you girls. What a blessing in my life. We will miss her dearly but know I will see her again. You are all in my prayers. Kathy Iliff Waddell
- Kathy Iliff Waddell, Wyoming/Cincinnati , Oh.
Dearest Kelly and Kori. So many years have passed since we lived in Wyoming, Ohio. I was a young mom and both of you babysat our kids. I loved spending time with your mom. She made me feel important. Such sweet memories. She lived a very full life. So sorry for the loss of your mom. Love Bob and Nancy Swartzel
- Nancy and Bob Swartzel, Villa Hills , Kentucky
I am so very sad that I will not be able to ask my aunt Diane the many questions I have to which only she knows the answers. Reflecting on brevity between her passing and the funeral service, I believe that's what exactly what she would have wanted. Diane experienced more tragedy and trauma during her life than do most folks. Still, she persevered and was more than able to put on a positive, outlooking demeanor to an amazing degree. It seems natural that she would want the tragedy of her own death over quickly so we can move onto other, more fun things. It's up to us to keep her in our hearts and to think of how she has affected each of us and is reflected within us, forever. Diane leaves us with a grand legacy, reflected in her children and grandchildren. She made her family a priority as shown in her childrens' eulogies. Here is the video of her memorial service from Saturday, April 15, 2023. (To see this, remove the space between : and //) https: //youtu.be/uJPHfiqZzGg
- James Dew, Madison, Wisconsin
Services under the direction of:
Fox & Weeks Funeral Directors, Hodgson Chapel
912-352-7200