We have been made aware that families being served by Fox & Weeks are being contacted by individuals requesting payment over the phone. Fox & Weeks will not contact a family requesting payment over the phone. Please contact the Savannah Police Department immediately if you are contacted and asked to make payment over the phone. Please contact Fox & Weeks if you have any questions.
Kenneth H. Ura, 76, died suddenly at home in Savannah on Sunday, March 5th, 2023.
Ken was born in Detroit, Michigan, the second of three sons born to Stephen and Estelle. He was educated at the University of Detroit for high school, and proudly attended the University of Michigan for both his undergraduate (zoology) and Masters of Business Administration degrees.
In 1973, he married his beloved wife Debi, recently celebrating their 50th wedding anniversary. He retired from IBM in 2011 after spending much of his early career in sales there. Ken was very active in the Radrick Farms golf community, and treasured the years he spent faithfully golfing and sharing his wry sense of humor with his U of M bums family every weekend. Upon moving to Savannah in 2011, he became very active in the golf community there, and recently ended his tenure on the board at the Landings Golf and Athletic Club. Ken cared deeply about the people he encountered in this role and made an impact on many.
In addition to his wife Debi, Ken leaves behind a daughter, Erin Ura of Detroit; brother Robert Ura (Trish) of Palm Beach, FL; brother Stephen (Suzanne) of Nashua, NH; and six nieces and nephews.
In lieu of flowers, his family suggests a donation to the Landings Club Scholarship Foundation:
Landings Club Scholarship Foundation
In Memory of Ken Ura
71 Green Island Rd.
Savannah, GA 31411
or to the
CCA (Coastal Conservation Association) Skidaway Island Chapter, c/o Frank Wood
9 Flowing Wells Lane, Savannah, GA 31411
In memory of Ken Ura
GUEST BOOK
Ken and I worked together extensively on the Club Board. Moreover, we frequently collaborated as Chairmen of the Club's Green and Golf Committees. I am shocked at his death and will miss him terribly.
- Gerry Stoltz, Savannah , Ga
I am shocked and saddened to learn of Ken's passing. I played many rounds of golf with him over the years and he was a member of the Thursday group I ran. He had many friends here at The Landings and will be missed by each and every one of them. My condolences to his family.
- Robert A. Smith, Savannah, GA
So sad to hear the news. As members of the "BUMS", Ken and I drove together for years to Radrick Farms Golf Club before he moved to Georgia. One of nicest friends I know. Also a great wit and sense of humor. Will be sorely missed by all that knew him. So many memorable times. One from our BUM group sent us this picture of one of our parties.
- Ken "Mac" McDonald, West Bloomfield , Michigan
I'm shocked and so very sorry to learn of Ken's sudden passing. Ken and I joined our club's BOG together, and frequently found ourselves on the same side of so many important issues. Given our demeanors, it was somewhat surprising that he and I were kindred spirits, yet we had our own way of silently communicating each other's opinions so that we knew where we each stood. I'll surely miss him, especially that knowing smile of his when he found something particularly humorous. May God watch over him always. Go Blue!
- Mike Stephens, Savannah, GA
My condolences to his family as this is so sad about Ken. He was a great guy and his dry sense of humor was famous Most of my interactions with Ken were on the Club Board where he was a key part of the team. He was not afraid of stating his opinion, and was always a voice of reason on complicated issues. He was easy to work with and not afraid to take on big projects, but I especially liked him because he was also a big Michigan fan! He will be truly missed.
- Bob Lindenschmidt, Savannah, GA
My condolences to Debi and family. I am shocked and saddened by the news. My service on our Club board overlapped with Ken for the past two years. We should be very thankful for Ken's services as a Board member. I always admired his commitment to our club and the enormous time commitment he made. Our Club is better off today because of Ken's participation.
- Jack Welch, Savannah, Ga
I first met Ken when a group of new members formed the Landings Men's Golf association in 2013. Ken was instrumental in getting the association started and served as the original Oakridge Team Captain. I have had the honor of serving with Ken in our Club board the past three years. We were classmates on the board. Ken was selfless and dedicated to moving our Club forward. He was a big project guy leading the Green Committee and Magnolia and Palmetto renovation projects. Ken also chaired the Membership and Marketing Committee. Just an all around nice guy. I will miss his wit and humor and sage advice. Debi, thanks for sharing him with us. I am so sorry for your loss. Mike Barber
- Mike Barber, Skidaway Island, GA
Was stunned to hear this news this morning. As next door neighbor to Ken and Debi for 7 years, I felt like we had a lot of history together and we also overlapped on the The Landings Club Board for 2 years. Ken was not the most vocal Board member, but when he made a comment or voiced an opinion, people listened and truly valued what he had to say. We also had lots of fun/laughter playing bocce. Great for him to go out undefeated this year. Ken will be sorely missed by so many. RIP, my friend.
- Mary BethMcGirr, Savannah, Ga
So very sorry to learn of the passing of our very good friend Ken. I have played golf with Ken over the past 10 years and enjoyed every minute of my time spent with him. Ken was on the Standards committee with me. A great memory of Ken was not too long ago he was at the grocery store with a Michigan logo in and my with gave him a "GO BLUE" and as always a great smile and Thank you. Best of everything to you and your family. GO BLUE!
- Gary & Judy Lautzenhiser, Savannah, GA
Not the news that any of us would want to hear, especially as I was about to tee off today. Ken and I played golf together over the years, and enjoyed each other's company in the member/member. Last year I bought his battery assisted walking cart, so I guess this means that each time I use it, I will be going for "a walk with Ken". Such a kind and wonderful man. My condolences to his family
- Tim Lindgren, Savannah, Ga
We lost one of the best, with Ken. He was a member of a special group of guys at Radrick Farms for many years, his golf, honesty and wit will be miss by all. My condolences to Debi and the entire family.
- Ace Milne, Petoskey, MI
Ken was a helluva guy and a stalwart in our community. You could always count on Ken for taking on a hard task and getting it done. His sage advice and sense of humor were his hallmarks. Rest in Peace my friend.
- Rich Marr, Savannah, GA
I am so saddened by Ken's unexpected passing. Ken and I played many rounds of golf together over the years and served on the Golf Standards committee for Marshwood with Ken. I genuinely appreciated his insight and dedication to the task. He often made me laugh or rethink subject matter of emails shared by a group of us about current events. Ken will be missed.
- Charles Ryan, Savannah, GA
A suprising and sad loss. Ken was one of the earliest supporters of the LMGA -- in the first membership wave for sure. Always there, always helping, and always helpful. Somewhat quiet, but when he offered an opinion we inevitably listened ... carefully, especially during early LMGA board meetings when we were working to get the thing off the ground. We will miss him.
- Mike Staman , Savannah , Georgia
We are deeply saddened by the news of Ken's passing. He was an incredible man and have fond memories working with him during the Golf Championships at The Landings. He always seemed to be smiling that week. Our prayers go out to the entire family.
- Scott and Kathy Warden, Savannah, GA
We are saddened by the loss of a good friend. As with many others, I always enjoyed getting paired up with Ken for golf on Thursdays over the past more than 10 years. His sense of humor and self deprecation were magnetic. I also enjoyed sharing our successes and failures with the daily WSJ crossword - one of his favorite endeavors.
- Beau Anders, Savannah, GA
I met Ken many years ago when we part of a large weekend golf group in Ann Arbor, MI. He loved playing in this group so much that he drove an hour each way from his home to get to the course. As we always had a 7:00am tee-time he had to leave quite early; and on the weekends no less. We both ended up moving to the Landings upon retirement and continued to play golf here. I am sure Ken thought that golf at the Landings, where you could drive your golf cart for 10 minutes to 6 courses, was a dream come true. I will always remember his wit and humor. If there was an email on some topic, any topic, being passed around, Ken would always have the most thoughtful and often quite humorous comment. Rest in Peace Ken. I will miss you.
- Gordon Ulrey, Savannah, GA

A candle has been lit!
We will miss Ken. One of the first persons we met when we moved here. We worked together on several Club commitees. We could always count on Ken to be a well prepared and pleasant leader. Wonderful dry sense of humor! Rest in peace. Bob and Connie Kulp
- ROBERT W KULP, SAVANNAH GA, GA
Betty and I have been next-door neighbors to Ken and Debi for over 10 years . We have moved 17 different times and never had neighbors as nice and caring as they have been. I can't remember any time when Ken wasn't happy and upbeat. During the years that we live by them, we've never had a disagreement or an unhappy situation with them. Ken will be missed. God bless him and help Debi through these very trying times.
- Ken and Betty Mitchell , Savannah, Ga
I worked with Ken on the Membership Committee and on the Landings Club Board of Governors. As an unknown candidate for the bord, Ken encouraged me to run for the position but not to be disappointed if not elected and stay involved in the Club. Once elected, I found him to be measured in his comments and always the voice of reason. I will miss him and send my condolences to his family.
- RICHARD Oswald, Savannah, Georgia
Very sorry to hear of Ken's passing. He was a good friend for many years and we will miss him. Our condolences to the family.
- Jim and Vicky Kimball, Savannah, Ga
So saddened to hear this news. I worked with Ken when he was the captain of the LMGA - Hilton Head interclub program. He was so generous with his help as he turned the job over to me. His common sense and wit were a breath of fresh air. My condolences to his family.
- Gary Poleynard, Savannah, GA
I am stunned and saddened to hear of the untimely passing of Ken. A finer gentleman and Landings Club member you could not find. I was on the Landings BOG with Ken and he served and chaired his committees with reason and members interest always being served. A great friend and a great contributor to the Club and LMGA.Michigan Blue will sadly be missing one of their biggest supporters. He will be truly missed by all. God bless and Rest in Peace Kenny.
- John Palermo, Savannah, GA
What can I say? Kenny and I developed a special bond playing as BUMS at Radrick Farms. We drove together for many years and it was always a blast to drive to and from Radrick with Kenny. We always joked around and made sure to keep everyone laughing. I was the commissioner of the group and would make up all teams and games. I always discussed the games with Kenny and found his extreme intelligence to be great as a sounding board and "devil's advocate" to opinions I had. We did things outside of golf as well, playing cards and attending concerts (we both thought Carter Buford from the Dave Matthews band was the best drummer we ever saw!). My last two times I saw Kenny was in Savanah. Of course, we stayed at his place with 100% hospitality from Ken and Debi. My condolences to Debi and family and "Zero" I will see you in heaven one day!!! God Rest his Soul! By the way, the picture is Kenny, Myself, Gordo and my good buddy Mike visiting and playing the Landings courses.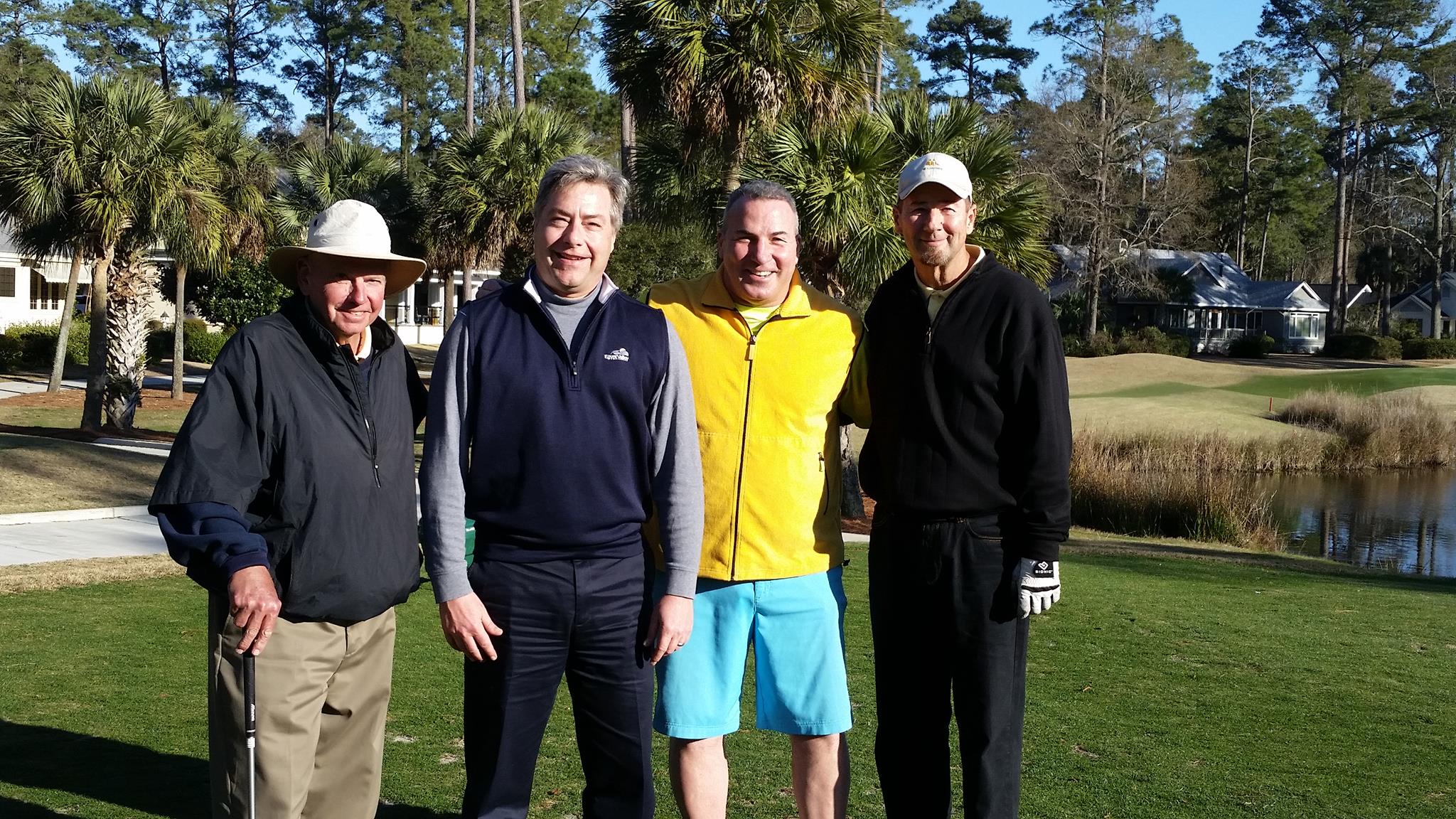 - tony gioutsos, LIVONIA, MI
I volunteered with Ken on the club's membership, marketing and communications committee, which he chaired. Ken was evenhanded, courteous and committed to doing a good job. A thoughtful leader, it's shocking that he has passed. My sincerest condolences for the family, he'll be deeply missed.
- Joe LeBlanc, Savannah, Ga
Whether we were playing golf, driving to golf or relaxing after golf Ken was always a joy to be with except when we had a frost delay!! I was able to come to the Landings a few times and Ken was always excited to have a Michigan bum come to visit. I'll miss him. Go Blue!
- Steve Cote, Brighton, MI
Our prayers and deepest sympathy to Debi and family. Jack and Karen Duggan
- john joseph duggan, Savannah, GA
I was deeply saddened yesterday to learn of Ken's sudden and unexpected passing. Ken was a important member of our golf group at Radrick Farms in Ann Arbor. He was a great guy with subtle humor and a wry smile. He livened every party or group dinner and was always reasoned (unlike some of us) in any discussion on topics of the day. My deepest sympathies to Debbie and the family. He will be missed.
- Bill McPherson, Saline, MI
Like all of us I was shocked this morning to learn of Ken's sudden passing. I had the privilege of playing in two golf groups with Ken and he was always fun to be with. His dry wit and sly smile were only a moment away at any time. We were both from Michigan and my wife Joyce was a Michigan grad, so I was glad to rally with Ken to cheer on "The Champions of the West". Go Blue!
- Ed Conant, Savannah, GA
My sincere condolences for the loss of Kenny, also known as Yoda / Zero ( nicknames from his years with the Bums at Radrick Farms). It was always a pleasure to play golf with him and to commiserate afterwards as he was the banker distributing winnings and putting money in the beer fund. I was sad to see him leave Radrick but I knew that him and Debbie would create a new life in Georgia and they did! Rest in peace dear friend. Jimmy
- Jimmy Schulz, Ann Arbor, Michigan
We've lost one of the really good guys who has meant so much to our community and to so many of us who have had the pleasure of knowing Ken here at The Landings. Susan and I met Ken and Debi as New Neighbors over ten years ago and knew immediately they were people with whom we wanted to be friends. Ken has made many noteworthy contributions to our community over the years through the many committees on which he has served and he will be greatly missed by all who knew him. Our deepest condolences to Debi at this time.
- Dean and Susan Helms, Savannah, GA
Nancy Early and I had the privelege of being teammates with Ken and Debi in the Bocce League. As our capo the past two seasons, Ken was always upbeat, encouraging and very well organized. Although I never played golf or served on a committee with him, his quiet, thoughtful, encouraging leadership style clearly made him a highly valued partner in all that he did. Our hearts go out to Debi, his family and loved ones. We will miss you Ken.
- David Brooks, Savannah, Georgia
Sad to hear of Ken's passing. He was a kind and fine gentleman. When I first moved to The Landings in 2014, he was very kind and gracious to me @LMGA .
- Monahan, Savannah, Georgia
Ken was a classmate and casual friend at UD High. Good student and good guy. Ken reconnected in December over a WSJ article about a classmate, and was joining monthly zoom meetings. Sorry to lose so suddenly. Condolences to his family and good friends.
- Mike Boylan, Royal oak , Mi
Very sorry to hear about Kenny. We worked together at HP and IBM. We also played golf several times including winning some best ball tournaments. He was one of the smartest and funniest people I ever met. Condolences to Debbie and Erin.
- Don Milner , Traverse City , Mi
Services under the direction of:
Fox & Weeks Funeral Directors, Hodgson Chapel
912-352-7200
A Private Service Will Be Held