We have been made aware that families being served by Fox & Weeks are being contacted by individuals requesting payment over the phone. Fox & Weeks will not contact a family requesting payment over the phone. Please contact the Savannah Police Department immediately if you are contacted and asked to make payment over the phone. Please contact Fox & Weeks if you have any questions.
Celebrating the life of
Lynda Smith Werntz
November 24, 1940 - February 27, 2023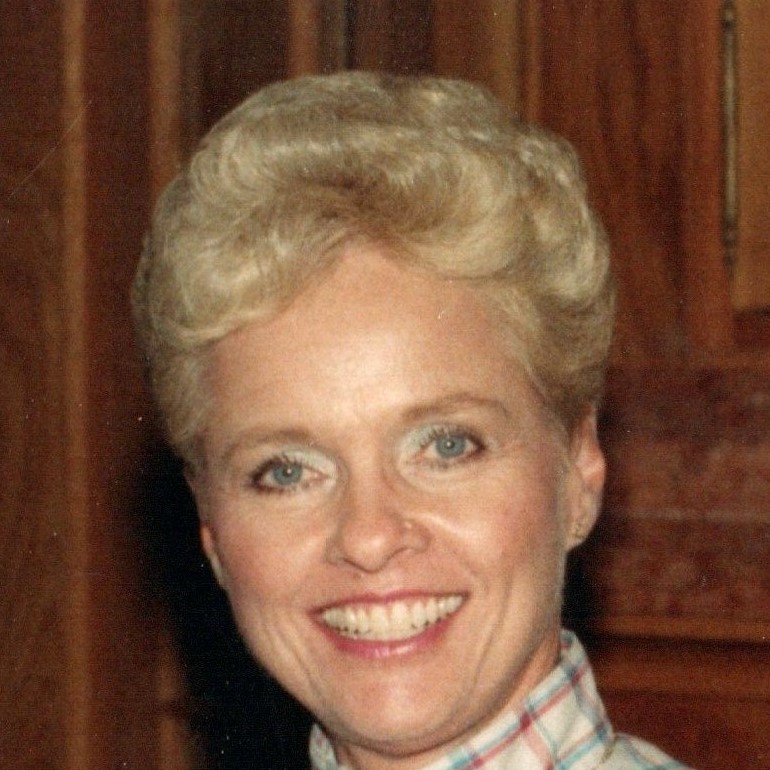 On February 27, 2023, a beautiful spring day with the dogwoods and azaleas blooming, Lynda Smith Werntz completed her long struggle with Parkinson's Disease, surrounded by family and holding her Gilly's hand. Lynda was born in Savannah, GA. on November 24, 1940, to Frederick "Buster" and Inez Bentley Smith. She was the middle child of 7 siblings, 2 brothers and 4 sisters, at least 3 of whom claimed to have been the one who slept in the crack of a pair of pushed together beds the sisters shared.
Lynda was a lifelong resident of Savannah and a 1958 graduate of Savannah High School. She started her career at C&S bank after high school. A true southern beauty with a dazzling smile, Lynda began entering and winning beauty pageants. She won the Miss Savannah pageant, was first runner up in the Miss Georgia pageant, and won many other smaller pageants. Along the way, she met a handsome young sailor. When he came home from the navy in 1961, the beauty queen married her sailor boy. Then a few weeks later the Russians built the Berlin Wall, President Kennedy activated the Savannah Naval Reserve Unit, and her sailor boy spent the next 7 months on a destroyer in the North Atlantic. After he returned, the couple were never apart for more than a few days for the next 62 years. By 1966, they had a noisy household full of love with 3 little boys, and Lynda settled down to be the best mom there ever was. In the early 1970's she went back to work as a kindergarten teacher at Wilmington Island Presbyterian Church because 3 kids just weren't enough! Later she became a realtor, one of Savannah's best, and eventually founded her own successful brokerage, Lynda Werntz Realty / ReMax Professionals in 1990. Lynda retired as a successful business owner in 2010.
Throughout her life, Lynda was active and involved in her community. Of course, she was a frequent volunteer at the boys' school. She was an Islands Jaycette and ran the Miss Thunderbolt pageant a few times during the Annual Blessing of the Fleet. Lynda was a long-time member of the Savannah Board of Realtors and the Savannah Multilist Corporation and served as an officer for both organizations. For more than 50 years, Lynda was a communicant of Nativity and later St Peter the Apostle Church, and an active volunteer in the Parish. But more important than all of that, Lynda was an awesome Nana to Drew, Ian, Mitchell, Gil IV, and Clay; an incredible mom to Gil, Steve, and Kevin; and most important of all, she was the finest bride Gilly could have ever been blessed with.
In addition to her parents, Lynda was predeceased by her brothers Fred and John Smith; sisters Anita Smith Davis and Carolyn Smith Duncan; brothers in law Sonny Smith, Kenney Davis, Chuck Duncan, and Richard Yarbrough; sisters in law Candy Werntz and Nancy Yarbrough; nephew Mike Werntz, Jr., and nieces Melissa Davis and Megan Nelms. She is survived by her loving husband of 62 years, Gilly Werntz; three proud sons, Gil III (Alice), Steve (Elana), and Kevin (Sally) Werntz; grandsons Drew, Ian, Mitchell, Gil IV, and Clay Werntz; sisters Jane Smith and Barbara Mordecai; brothers in law Mike Werntz and Billy Mordecai; sisters in law Jeannie Werntz, Helen Werntz Mathis, Connie Smith, and Martha Smith; and a host of nieces, nephews, cousins, and friends.
While we are sad, we are sustained by a faith that assures us Lynda is free of affliction and at peace in heaven. There will be a visitation at St. Peter the Apostle Catholic Church on Wilmington Island on Friday, March 10 from 7:00 to 8:30PM immediately following the conclusion of The Stations of the Cross. A Mass of Christian Burial will be celebrated Saturday,
March 11 at 10:00AM at the church with a private burial at Bonaventure Cemetery immediately afterwards. The family will welcome visitors at the home of Gil & Alice Werntz, at 109 Wigmore Court, Savannah, following the burial. In lieu of flowers, the family requests that remembrances honoring Lynda be made to Saint Peter the Apostle Church, 7020 Concord Road. Savannah, GA 31410.
GUEST BOOK
Linda was such a great person. She was one of my mother's and my favorite people. I am so sorry to hear of her passing but I know she is finally at peace. Love to all the family especially Gilley.
- Louise Armstrong Grotheer, Savannah, GA
God Bless ! Our family at Pumping Systems is thinking of Gil and the Werntz Family!!!
- Pumping Systeme DXP, Savannah , Georgia
My wife and I offer our condolences to Gil and the Werntz family. We will pray for peace and comfort for you all.
- Rick and Heather Holmes, Rincon, Georgia
You and Lynda have fought a long hard battle to the end. Ann Marie and I are so sorry she passed but you know she is happy now. We'll all miss her my friend but great memories will be with us forever. We love you and will be here for you when you need us. Johnny and Ann Marie
- John T Collins, Savannah, GA
Just heard about Lynda, please know our Thoughts and Prayers are with you
- Paul & Judy Ganem , Savannah , Ga.
Gilly, Jane, Barbara and all the family. Kathryn & I are so sorry to hear of Lynda's passing. Our thoughts and prayers are with all of you. May God comfort each of you.
- Frank & Kathryn Murray, Pembroke, GA
My condolences are with the family! Friend of Gil & Alice & family!
- Brenda ONeal , Savannah, Georgia

A candle has been lit!
Thank you for sharing some special highlights of Linda's life! She loved and was so loved by so many people. Keeping you and yours in our prayers.
- Kelly Kilpatrick Hunt, Savannah, Georgia
Gilly, Glenda joins me in extending condolences upon the death of Lynda. May she rest in peace after her prolonged illness. Know that she is remembered in our thoughts and prayers. Frank
- Dr. and Mrs. Francis P. Rossiter, Jr, Savannah, GA
When we were 4 or 5 your beautiful Mom taught a Sunday School class at Old Nativity called"Wee Wisdom". I was in her class and I thought she was the nicest teacher in the world. She gave us a little brass Miraculous medal at the end of the year. I still have ghat medal today! May your memories sustain you for years to come. Many prayers…❤️
- Anne Marie and Breck Whiddon, Savannah , Ga
So sorry to see this Gilly. I think of you often.
- Charlie Brewton, Claxton, GA
Gilly, sorry to see that Lynda has passed away. Prayers to you and family. May she Rest in Peace!
- Bob White, Greensboro , Ga
Gilly old friend, sorry to see that Lynda has passed away. Prayers to you and family.
- Bob White, Greensboro , Ga
Deepest Condolences to the family.
- Anne and Barry Cobb, Guyton, Ga.
Sending my condolences to the family. Frank Grimm SHS 1958
- Frank Grimm, Richmond Hill, GA - Georgia
Sorry to hear about linda. She lived down the street from me in Bona Bella in the 40"s. I knew them all, including the goat.
- John A Hahn, Smyrna, tn
Gilly and Family, so sorry for the loss of your beautiful wife. Our thoughts & prayers are with you. LeRoyce Brown, Chet & Kellie Jernigan, Dependable Plumbing
- LeRoyce Brown, Savannah, Ga
To Gilly & Family, I send my deepest sympathy & condolences for the loss of Lynda. She was such a beautiful, kind lady. May you be surrounded with God's peace & comfort now, & in the time ahead.
- Carolyn Sheehan, Tybee Island, GA
We have lost a beautiful and gracious lady. It was a pleasure knowing Lynda and working with her in the real estate industry. She always had a smile on her face and was the consummate professional at all times and a lovely person
- Reba Laramy, Savannah, GA
I am so saddened to learn of Lynda's passing! What a beautiful lady over all of these years....I have known Lynda for all of my many years as a realtor...and if our paths ever crossed, church or work, it was always such a happy time! Lynda was one very special lady and I know she will be greatly missed by all! I know the pearly gates were swung wide open! May Lynda rest in eternal peace and may her memory be eternal!
- Maureen Simmons, Savannah, GA
Prayers for the family
- Carole Wesse , Pooler, Ga
Kevin, Sally and the Wertz family, We are prayerful for your family during this time. I know the sweet memories of your Mother will always sustain you all. Joellen and Victor
- Joellen and Victor Deen, Savannah, GA
Our prayers and thoughts are with you guys ..
- Larry and Linda Brown , Savannah, Georgia
Gilly and family.So sorry to hear of Lynda's passing.I will always remember the great times we all had in the Jaycees.Peace be with you and yours
- Pat Reed, Savannah, GA
Services under the direction of:
Fox & Weeks Funeral Directors, Hodgson Chapel
912-352-7200
Mass of Christian Burial

10:00 a.m. on Sat, March 11, 2023

St. Peter the Apostle Catholic Church
7020 Concord Road (map)


SAVANNAH GA 31410

912-897-5156
Visitation

7:00 - 8:30 on Fri, March 10, 2023

St. Peter the Apostle Catholic Church
7020 Concord Road (map)


SAVANNAH GA 31410

912-897-5156