We have been made aware that families being served by Fox & Weeks are being contacted by individuals requesting payment over the phone. Fox & Weeks will not contact a family requesting payment over the phone. Please contact the Savannah Police Department immediately if you are contacted and asked to make payment over the phone. Please contact Fox & Weeks if you have any questions.
. THE ISLE OF HOPE- Scott Talbot Richards passed away peacefully Thursday, February 2, 2023, at his home in Isle of Hope, Georgia. He was a beloved father, husband, brother, and member of the community. We hope that sharing his story will pay proper tribute to his time on Earth with those who knew him and perhaps amuse those who weren't so lucky.
Scott was born September 28, 1952, in Elizabeth, New Jersey. He is the second son of Elizabeth Mae Reynolds and Russel Talbot Richards, younger brother to Steven Richards. His early life was spent moving around the Northeast. First to Baldwin, Long Island, then later to Branford, Connecticut, and Wilbraham, Massachusetts. He eventually landed in Pasadena, California, during the Summer of Love, where he graduated from high school in 1970.
Scott displayed an aptitude for adventure at an early age. He loved to recall stealing away on his tricycle to explore the unknowns of his Long Island neighborhood. A motif that would continue throughout his life. A love for the outdoors and self-reliance was developed during his years in the Boy Scouts, an organization which he would continue to have a relationship with, eventually taking the role of assistant scout master for troop 56 in Isle of Hope, Georgia, where he raised his family.
Being young in the early 1970's, Scott was active in the political movements of his time. He would help organize marches protesting the Vietnam war and devote time to helping returning soldiers adapt to life at home. A year was spent studying political science at Cornell College in Mount Vernon, Iowa, before he abandoned academia for a life on the road, traveling North America in a VW bus named "Van-GO".
The road took Scott North to Alaska, where he ran a pizza shop, and lived among a local tribe of Native Americans, the Tlingit-eventually becoming an honorary member of the tribe. He would fondly reminisce about his time spent there bonding with the locals, drinking beer, and doing donuts on frozen lakes in "Van-GO". There was a brief stint in Boulder, Colorado, where he lived in a communal home, learning carpentry and exercising his proclivity for hard partying. A near fatal accident involving "Van-GO" tumbling down the side of a mountain road inspired Scott to paint a mural of the incident on the side of the now battered vehicle. He would eventually retire his trusty set of wheels to a barn in Massachusetts in favor of hitchhiking through Europe.
Scott landed in Rome where he befriended a local photographer who was preparing to make the overland journey to India via "the hippie road" traveling across Greece, Turkey, Iran, Afghanistan, and Pakistan. The duo made it as far as Kandahar where the Italian got a case of cold feet at the Khyber Pass, leaving Scott to continue the journey on his own. He walked, hitched rides on donkey carts, slept on the side of the road, and relied on the kindness of strangers to feed him until he reached his destination.
Once in India, Scott found himself in the company of the son of a wealthy Brahmin hotel owner who gave him a job running a nightclub. He was assigned the task of reinventing the spot as a hip place to stay for an increasing number of young Western travelers who were now flowing into the area. They gave him a motorcycle for transportation, and he enjoyed his time immensely, mingling with an ever-changing cast of expats.
Fortune would inevitably change for Scott and a mysterious stomach virus of third world proportions struck him down. Rendered feeble and having little access to traditional medicine, Scott turned to his own brand of homespun therapy. Downing a fifth of whiskey, he passed out, and in the style of all true American legends he awoke, cured!
Despite this narrow escape from death, Scott's status as an illegal nightclub manager and a reluctance to pay a bribe to local authorities put an end to his time in India. Undaunted by this change in karmic circumstance, he acted boldly and called his mother. As fast as you could say Western Union, our hero was on his way back to Europe.
It was in Munich where Scott met his first wife and mother of his two sons, Claudia Von Bassewitz. She remembers him free spirited, wearing a silk tunic, feather earrings, and a sense of adventure in his eyes. Scott had found jobs washing dishes on an American military base and as a carpenter working for a Swiss architect. The two traveled the continent together, eventually falling in love, and soon turned their attention to the other side of the Atlantic where they would continue the adventure.
Now state side, Scott's first order of business was to resurrect "Van-GO", his split window VW bus. Sitting dormant in a remote barn somewhere in Massachusetts, his old friend was given new life by way of a retrofitted Porsche engine. The road battered freak-machine now announced itself with giant guttural blasts of diesel smoke, ripping through the sleepy back roads of rural New England, visiting family along the way.
It wasn't long before Scott and Claudia set a new course, the laws of the road being what they are. They headed South toward the jungles of Costa Rica. Weaving their way through Appalachia, the icy maw of winter snapping at their bell bottoms. It was decided a detour was necessary. They considered the sunny curvature of Florida's coastline and wondered if they should go. All. The. Way.
At the bottom of the map there is a string of loosely connected islands that cast an arc Westward over the Southern tip of Florida. Hundreds of miles from Disney World, the Florida Keys extend themselves like the lost scraps of a civilization before disappearing into the emerald swell of the Caribbean. It was the perfect place to hide. A few nights spent camping on the rusted skeleton of a blown-out bridge led Scott and Claudia to a place they had no intention of finding. A home. Key West.
Seven years later, Scott was the married father of two boys, Nicolas, and Alexander Richards. He cobbled together an existence picking up odd carpentry jobs before earning his contractor's license, making his mark contributing to the completion of beloved local favorites, The Hukilau and The Pier House. The intrepid traveler had settled down. "Van-GO" was quiet now. Out of commission and sheltering a family of stray cats.
An illness in the family would shake things up and uproot Scott from his life in the Keys. His parents had retired to Savannah, Georgia where his father was fighting cancer. Now in his early 30's, Scott chose to relocate his family to care for his parents and pursue his ambitions as a remodeling contractor. In 1988 he opened One-Stop Remodeling, the business he would own and operate for the next 30 plus years.
The first decades in Savannah brought much change and growth for Scott. He built a home, raised two children, divorced, remarried, divorced again, found love, built another home, lost both, replaced two hips and both knees. He was a Hockey coach, president of the home builders association, took mission trips to Appalachia, volunteered with Habitat for Humanity, served as treasurer of the Savannah Book Festival, trained as a volunteer fire fighter, took boat rides, hosted musicians, smoked innumerable cigars, remodeled innumerable homes and according to recent historical record, drove people crazy from time to time.
Scott spent many happy years with his partner Marlyn, traveling, building a home, and having a blast while doing so. He even tried golf.
Retirement presented a new set of adventures for Scott. A respected member of the couch surfing community, he opened his home to travelers, returning the hospitality experienced as a young man traveling the world. He bought another VW. Actually, he bought 3. Reincarnating that legendary titan of the tarmac, "Van-GO". Always one to stay busy, Scott's efforts were turned towards helping revitalize the Wimberly Yacht Club. His last days were spent doing what he loved most, hosting a gracious guest and working on one of many projects with friends.
Scott was a superhuman to his sons Nicolas and Alex Richards. A rock that they could always depend on for love, guidance, and advice. His passion for life influenced so many people. The Strangers he met traveling the world, business associates, employees, neighbors, couch surfers, lovers and friends made along the way. His family and friends will be honoring his life Sunday February, 19 from 4pm-8pm at the Isle of Hope marina 50 W Bluff Drive, Savannah, Ga. 31406. Come as you are and share your love and memories. Details can be found at www.Foxandweeks.com. In lieu of flowers please make donations to the Habitat for Humanity www.Habitat.org
GUEST BOOK
I have many fond memories of my time with Scott. We could talk for hours – he was knowledgeable on so many topics. And Scott was always up for outings and learning new things: Cooking Class – sure! Art Shows – any time! 3D printing classes – you bet! Scott appreciated good food and fine red wine. Sharing a bottle of Brunello was a special treat. He was a good cook also. I remember him saving my Thanksgiving dinner one year by jumping into the chaotic kitchen and salvaging the turkey gravy. But probably the fondest memories revolve around his back deck, the fire and cigars. Godspeed Scott. Kathy Kadish
- Kathy Kadish, Savannah, GA
I have such fond memories of my times with Scott, as he was such an amazing human being. I first met Scott almost 25 years ago at homebuilders continuing education course and we connected immediately. We both had a passion for the lives that we touched through our work, and a commitment to our families and friends. Life moves so quickly, and we could not always connect as often as we would have liked . . But whenever we did, it was as if we had just been together yesterday. We would sit on my porch (or his) with a cigar and a bourbon contemplating life. The conversations always included Nic and Alex, as well as questions about how my kids were doing. We were fortunate to have Scott at our daughter Kristen's wedding earlier last year, and again in December just to hang-out. Our next gathering was to be a boating trip to Daufuskie Island sometime this spring. Attached is a photo of Scott and I riding dirt bikes through the Arizona desert between continuing education classes back in 1990. It was so hot (105+ degrees in full gear), but so much fun. I will miss you, my friend. May we meet again in the afterlife to continue our conversations.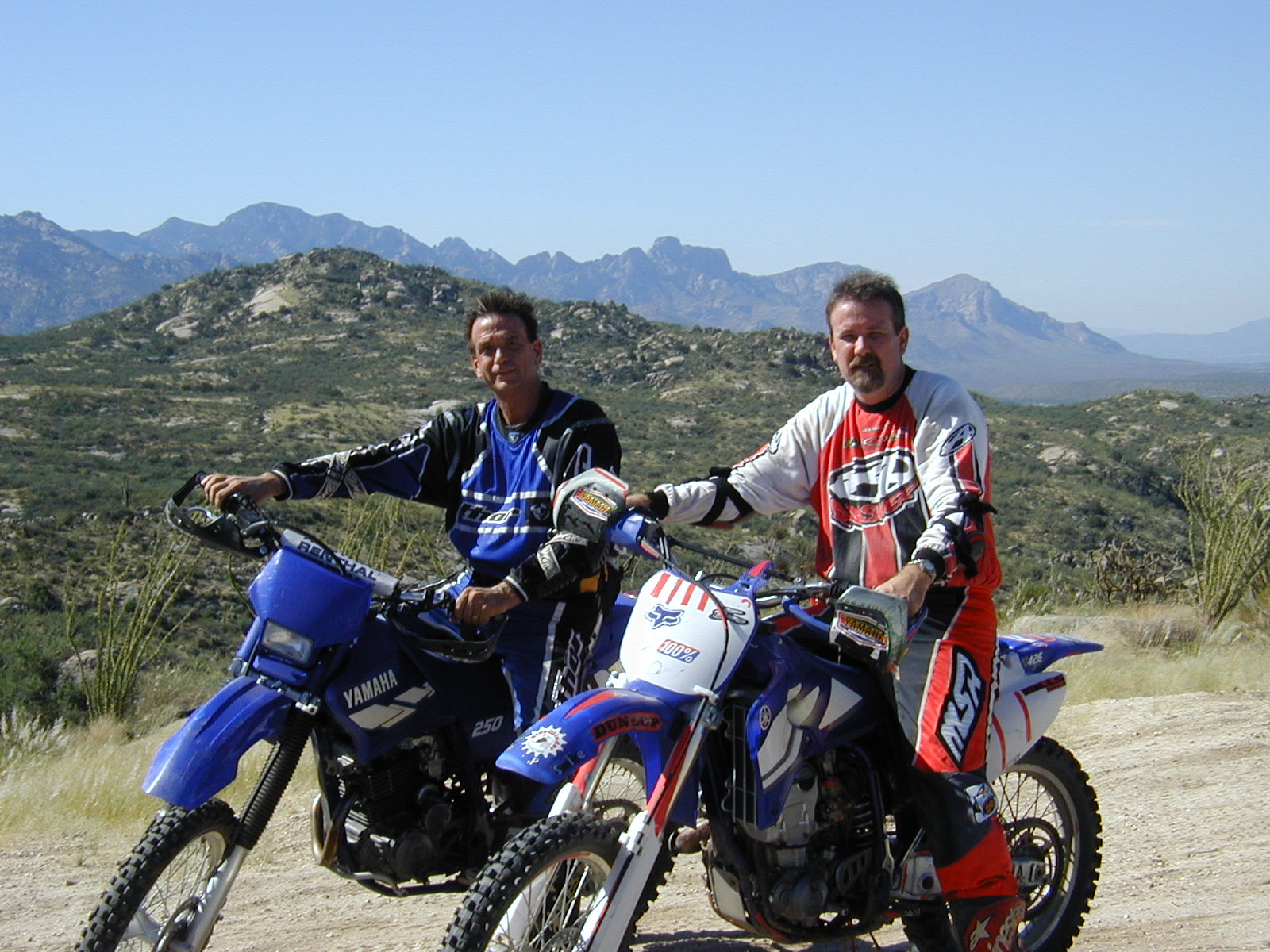 - Bob Fleming, Johns Island, SC
I have awesome memories of working with Scott. After only a little over four years I got to know him very well. While under different circumstances, we crossed common ground overseas until we settled on the Isle of Hope. Scott was an awesome person and a great asset to our community. He will be missed.
- William C Burrell, Savannah, GA
I met Scott and developed a friendship with him while we were redoing the Wymberly dock in 2022. I'm grateful for the friendship that I shared with him, I will remember him as a man of great Character/Integrity and he was a loyal and true friend. We will keep his Spirit and his family wrapped in our prayers and thoughts.
- Richard, Ann Lutz and our family , Savannah , GA
You're be miss by your Home depot family Abercorn ST.
- Alfredia Chalmers, Hardeeville, SC - South Carolina
Services under the direction of:
Fox & Weeks Funeral Directors, Hodgson Chapel
912-352-7200