Celebrating the life of
Harold Russell Minchew
March 03, 1932 - January 17, 2023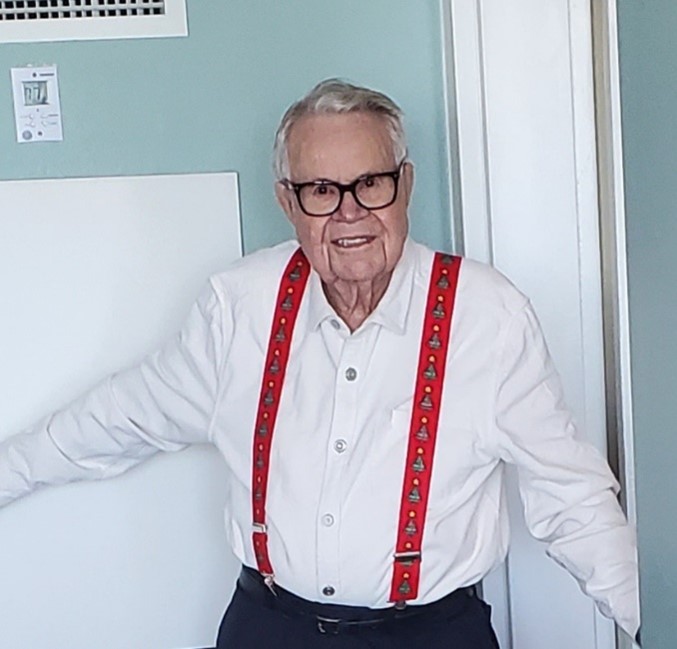 Our beloved Father, Grandfather, Partner, Uncle, Cousin, and Brother-In-Law, Harold Russell Minchew passed away peacefully with his daughters by his side on January 17th, 2023. Just shy of his 91st birthday, Hal was born on March 3rd, 1932, in Dixie Union, GA. He was the youngest of five children. Hal grew up at Mossy, the family farm ten miles north of Waycross Georgia where he was raised by his mother and paternal grandmother. Hal enjoyed retelling the stories of the hardships and joys of farm life in South Georgia. He spent afternoons on the front porch with Grandmother Minchew, who would tell him of life during the Civil War. Hal often recounted the story of his grandmother braced against the hall door with a shotgun as a pair of travelling vagrants attempted to enter the house one night. She was braced so hard, that the resulting crack in the door remains.

Upon graduation from Wacona High School (class of 1949), where he played varsity basketball and football, Hal attended South Georgia College in Douglas Georgia. In 1951 he entered the College of Business Administration at the University of Georgia, becoming a proud graduate in 1953 with a BBA in Accounting. Summers were divided between working the farm and stints at the Atlantic Coast Line Railroad, hitching rides back and forth from Athens to Mossy. In 1954, he entered the Navy where he served as a Navigation Officer on a warship out of Key West, FL until 1957. It was there that he met his dear wife Nina with whom he shared many passions, especially fishing. Married in September of 1957, they spent 52 wonderful years together, raising their three children, traveling the world and making friends wherever they went. Following his time in the Navy, Hal received his MBA from Syracuse University in 1960.
After having lived in Syracuse, NY, Atlanta, GA, Jacksonville, FL, Valdosta, GA, Mexico City, MX and Toledo, OH (on three occasions), Nina and Hal settled in The Landings on Skidaway Island Georgia. In every city in which he lived; Hal nurtured lifelong friendships. Hal never met a stranger, was kind, generous and affable and so gregarious that he was popularly known as "The Mayor" wherever he might find himself.
Hal had a long corporate career with Owens Illinois from 1962-1987, where in his final years, he brokered with pride, several large international finance transactions. His reputation as the "get her done" closer was something in which he took great pride. At the age of 55, Hal retired from his position of Assistant Treasurer to try his hand as an entrepreneur. His venture proved to be very successful, and he sold his business seven years later, allowing him to enjoy a well-earned retirement with Nina. Hal used his success to help many people and he did so selflessly. Additionally, Nina and Hal were founding members of St Peter's Episcopal Church on Skidaway Island.
In March of 2022, we were privileged to celebrate Hal's 90th birthday. He was joined by family and friends from all over the United States for a wonderful celebration of his life, with many participants offering their special memories of our wonderful Pops.

Following the passing of his beloved Nina, Hal was fortunate to find his "Lady Love", Cindy Glazar - his partner in life for the last 13 years. Hal often said he was very fortunate to have found two great loves in his life.

Hal was predeceased by his wife, Nina Mary Minchew (Boumansour), sisters and brothers Lucille Comish, Helen Childs, Verlon Minchew, John Minchew and Jeffey Minchew. Survivors include his life partner, Cindy Glazar of Savannah, son Scott Minchew of Miami, daughter Michele Minchew of Marietta, daughter and son-in-law Lindy and Norman Radow of Atlanta, and his cherished grandchildren Walker and Nina Rice, Brothers and Sisters-in-laws, Sara Minchew, Mike Boumansour, Robert Meadows, and Suzanne Coughlin and many cousins, nieces, and nephews.
We are especially grateful for our dear cousins Freddie Smith, Greg Minchew, and Craig Comish who gave so much love and attention to Hal and his family in the last weeks of his life.
We are also grateful for the strong foundation, support love and care that we were fortunate to have had for these many years. Hal is well loved and will be greatly missed.

Funeral Services will be held at 2 pm, Saturday January 28th at St. Peter's Episcopal Church 3 W Ridge Road Savannah, GA 31411, reception at Hal's home to follow.
In lieu of flowers, donations can be made to:St. Peter's Episcopal Church Discretionary Fund https://www.saintpeterssav.org/pledging-giving Kennesaw State University – Hal Minchew Scholarship Endowment Fund https://bit.ly/HalMinchew Hospice of Savannah https://www.hospicesavannah.org/Give/
GUEST BOOK
My thoughts and prayers for my dear brother-in-law, Hal. Condolences to Lindy, Michele, and Scott. I will always treasure the memories of Hal, who was a kindred spirit and partner of my dear sister, Nina.
- Michael Boumansour, Sr., Reno, Nevada
As a former colleague of Lindy, she often shared beautiful stories of her family including her father, Hal. I send heartfelt condolences to Lindy and the Minchew family. May the memories continue to be shared for all to appreciate. Much love and best wishes. Denise Turner
- Denise Turner, Peachtree Corners , GA
May his memory be a blessing❤️
- Mark Siegel, NY, NY
It's was our honor to get to know Hal over the years. He will surely be missed by so many. We pray for all who knew and loved him. He was one in a million.
- Kim Rigsby, Savannah, Ga
Our thoughts and prayers are with Scott and his family. Wishing you peace throughout these difficult times, Willy and Rosario Barragán
- Willy and Rosario Barragán, Gabrielle's parents, Miami, Florida

A candle has been lit!
With deepest sympathy, Hal leaves behind a beautiful bouquet of memories. My prayers with you all!
- MARIA E PENA TEJERA, Miami Beach, FL
Scott, our deepest condolences. May the love of your family and Gabrielle help you through the days ahead
- Gabrielle's siblings, Carlos, Paola and Guillermo, Miami, Lima and Medellin, US, Peru and Colombia
Michele, thinking of you and your beautiful family and sending you so much strength and love in honor of your dear father's passing.
- adrienne white, Hilton Head Island, SC
Not enough space to express my friendship with Hal over the past 5 years. He was an inspiration, a friend and had a remarkable life. He spoke to me about so many memories , family and of course Cindy. I will miss him him and he will be a remembered milestone in my Landings Life. Tom Rosen
- Tom & Ronnie Rosen, Savannah, Ga
Not enough space to express my friendship with Hal over the past 5 years. He was an inspiration, a friend and had a remarkable life. He spoke to me about so many memories , family and of course Cindy. I will miss him him and he will be a remembered milestone in my Landings Life. Tom Rosen
- Tom & Ronnie Rosen, Savannah, Ga
My heart felt condolences to Scott and his family … many blessings.
- Scott Kranz, Jupiter , Florida
Your father lived a long prosperous life, many never reach such a milestone. It is a life to be celebrated and memories to cherish. I hope these memories are a blessings to you. My deepest condolences.
- Jaime Feldman, Aventura , Florida
My deepest condolences Scott and the Minchew family. He lived a full life filled with so many blessings. May he rest in peace.
- Howard Gerson, Aventura , Florida
Services under the direction of:
Fox & Weeks Funeral Directors, Hodgson Chapel
912-352-7200
Memorial Service

2:00 p.m. on Sat, January 28, 2023

St. Peter's Episcopal Church
3 W. Ridge Road (map)


Savannah GA 31411