Celebrating the life of
James Edward Crowder III
September 09, 1942 - January 19, 2023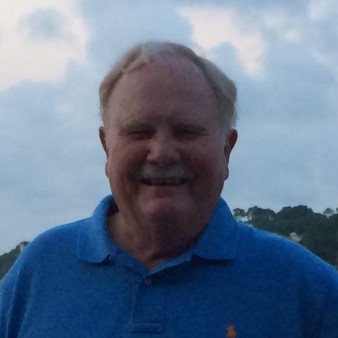 James Edward "Bo" Crowder III, 80, of Savannah, GA, passed away on January 19, 2023, after an extended illness.
Bo was born on September 9, 1942 to James Edward Crowder Jr. and Alice Ligon Crowder in Winnsboro, SC. He attended school in Winnsboro and, after wasting an entire year shooting pool and going to the movies at the University of South Carolina, attended Clemson University, receiving his bachelor's degree in Forestry after finally suffering through The Red Badge of Courage enough times to get his English credits. He was an enthusiastic scholar of nature and especially loved anything to do with horticulture, a hobby that he indulged his entire life. He spent his career with the Corps of Engineers, largely in planning and control and real estate appraisal.
During high school, he met his one and only love, Ann Bass, and they dated throughout college, cementing a devotion which would last both of their lives. They were married on July 17, 1965, and Ann survives him along with their two children, Alice Ann Crowder (married to Andrew Thomas White), and James Edward Crowder IV (married to Melissa McKenzie Crowder).
He is also survived by four grandsons whom he nicknamed and loved with all of his heart – James Edward "Quint" Crowder, Joshua McKenzie "Jo" Crowder, Gryffin Andrew "CW" Crowder-White and Noah James "J-Bo" Crowder-White, as well as a step-brother, Dr. David Beckham (married to Mitzi Stoudemire). He was predeceased by his step-sister, Anne Beckham Cathcart.
Services will be held at the church at which Bo spent many youthful Sundays assiduously avoiding the sermon, Greenbrier United Methodist Church in Winnsboro, SC. The family welcomes all to attend the service on Sunday, January 22, 2023, at 2:30 p.m., and will receive guests after the service. He was a unique and beautiful man who will be truly missed.
GUEST BOOK
Bo Crowder was one of a kind.
- Brenda Mead, Staunton, VA
I'm so sorry to hear of Bo's passing. What an amazing life he lived and a beautiful legacy he leaves behind. My thoughts and prayers are with your family.
- Tama Looney, Simpsonville, SC
My thoughts and prayers are with you as you celebrate and remember beautiful memories.
- Jim Norberg, Atlanta, GA
You and your precious family are in my thoughts and prayers. Bo was one of a kind and will be greatly missed by all who knew and loved him.
- Gail Brown, Savannah, Georgia.
Ann, Alice, and Ed, Your family is in my prayers. May you cherish the memories that you shared.
- Griffin Thomas, Boston, MA
Ann, I am so very sorry to learn of the loss of your dear Bo. Prayers up for comfort for you and your family.
- Lisa Dean, Savannah, GA
A wonderful and intelligent man who had a PHD in playing devils advocate. A nickname for everyone! I respected and thought so much of him. I'm so sorry Tiger for your loss. Thoughts and prayers for you and the family.
- Claudette Tucker, Port Wentworth , Georgia
Ann, I'm sorry for your loss! Bo was one of a kind and the perfect mate! Always enjoyed the two of you together, fun!
- Mike Viers , Savannah, Georgia
Ann, My deepest sympathy and prayers for you and your family. Hugs
- Elaine Braver, Savannah , GA
Services under the direction of:
Fox & Weeks Funeral Directors, Hodgson Chapel
912-352-7200