Celebrating the life of
Joseph C. Carroll
April 16, 1926 - January 15, 2023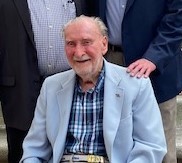 Joseph Czeboter Carroll of Savannah GA passed away on January 15 at age 96. He was preceded in death by his parents Joseph and Gladys, his wife Lois, wife Mary, sister Marilyn, and son Jeffrey. He is survived by sister Aileen (Jack), sons Joseph (Jeanne) and Robert (Libby), stepchildren Brooke and Gary, grandchildren Lacey (Matt) and Joseph (Crystal) and four great-grandchildren.
Joe was born on April 16, 1926 in Jacksonville FL. After attending school in Ridge NY he joined the Navy where he served two years during World War II. After the war he taught at a radio school in Japan, and was recalled by the Navy Reserves during the Korean War.
He had a long career in electronics and retired from IBM in 1988, when he moved to Savannah. In retirement he worked as a tour guide for 30 years at Savannah landmarks including Telfair Academy, the Jepson Center, the Owens-Thomas house, and 25 years at the Juliette Gordon Low house. His tours of the squares of Savannah were always entertaining since he was expert in Savannah history. He was a private pilot since he was 16 and loved everything about flying. He had many flight certifications including an instrument rating and commercial pilot's license. He performed aerobatics at air shows when he lived in Huntsville AL, and once flew air mail during the 50th year air mail anniversary. He was very active in the Civil Air Patrol in Savannah.
Joe was outgoing and liked by all who knew him. He had many entertaining stories about his life experiences and he loved to tell them. He was an accomplished carpenter, machinist, mason and electrician. His hobbies included ham radio, bridge, gardening, and stamp and coin collecting. He was an avid reader and continued learning his entire life, attending various colleges and listening to books on tape in his later years.
Visitation will be at Fox & Weeks on Hodgson Memorial in Savannah at 9:30 am on Saturday, January 21 at 9:30 am, with a service at Hillcrest Cemetery at 11:00 am. In lieu of flowers please consider a donation to the Jeff Carroll Memorial Endowed Scholarship at the Northern Virginia Community College.
GUEST BOOK
What a guy! He's flying with the angels now. Sorry for your loss.
- Diane Newton, Onancock, Virginia
What an amazing man. A life well lived. He will be missed
- Katherine Keena, Savannah , GA
I am so sorry for your loss. I had the pleasure of "growing up"at the Juliette Gordon Low birthplace as a program aid and then a fellow museum educator. I learned and laughed so much during those times. He was an amazing and special person. May your family be comforted at this time and may his memories be for a blessing.
- Raemia Anderson Luchins, New York , NY
I remember him at the Juliette Gordon Low Birthplace!! He had so much wisdom, history and stories to share with everyone! His presence will surely be missed!! My sincere prayers and condolences to his family and loved ones.
- Natalee L. Johnson , Savannah , Georgia
So very sorry for your loss. A kinder gentleman never existed.
- Linda LeFurgy (JGL), Savannah , GA
Dear Joe and Bob, I loved your Dad like my own. He was a wonderful father to me, husband to my mother and a friend to many. He was the kindest person I have ever known, and a huge part of my life. I will miss him so much and know his passing leaves a hole in many hearts. My love and thoughts to you and your family as we celebrate a life we'll lived. Love, Brooke
- BROOKE M BASS, Savannah, GA
Services under the direction of:
Fox & Weeks Funeral Directors, Hodgson Chapel
912-352-7200
Graveside Service

11:00 a.m. on Sat, January 21, 2023

Hillcrest Abbey Memorial Park
1600 Wheaton Street (map)


Savannah GA 31404

912-234-3458