Celebrating the life of
Gregory Shaun Herndon
May 13, 1967 - January 10, 2023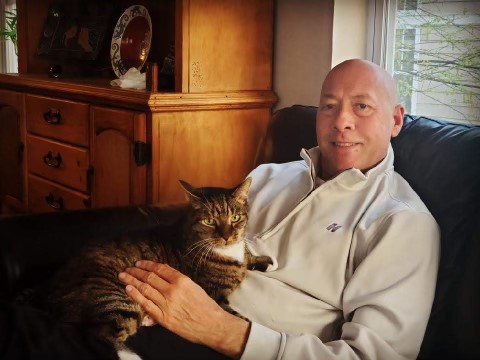 Gregory Shaun Herndon, passed away in Peekskill, NY on Tuesday, January 10, 2023 after a long illness.
Shaun was born in Savannah on May 13, 1967. For many years, Shaun worked as a golf caddy in St. Simons and South Florida before moving to New York where he worked for Hudson National Golf Club. While in New York, Shaun met and married his wife, Phyllis Carr.
Shaun was preceded in death by his father, William C. Herndon.
In addition to his wife, he leaves behind his mother, Kathy Bragg Herndon of Savannah; two stepchildren, Dillon and Allison; step granddaughter, Madison; beloved pets, Ninja, Tink, and Georgia; and several aunts, uncles and cousins that will dearly miss him.
Visitation will be held from 2:00 p.m. until 4:00 p.m. on Sunday January 15, 2023 at Fox & Weeks Funeral Directors, Hodgson Chapel. Graveside service will be held at 11:00 a.m. on Monday, January 16, 2023 in Greenwich Cemetery.
In lieu of flowers, the family suggest donations be considered in Shaun's memory to Humane Society of Greater Savannah, 7215 Sallie Mood Drive, Savannah, GA 31406.
GUEST BOOK
My deepest condolences to your family God bless your soul my friend
- Oneil Dennis , Mount Vernon , New York
Condolences, we lost a great one. We have so many memories… gone way too soon. Miss you my friend. Go dawgs!!!
- DJ Anderson and Kim , Croton, Ny
So sorry for your loss. Rest assured he touched so so many hearts throughout his life.
- Joseph McGovern (JoJo Dancer), Peekskill, NY
Condolences, my brother is in a better place and his soul will live on forever. Prayers for Ms. Kathy and Ms. Phyllis. Miss you bro! How bout them Dawgs!
- Justin Brown "Big Country", St. Simons Island , Georgia
I am one of the many lucky enough to have shared time on Earth with Shaun. It will forever live fondly in my memories.
- Rhino, Tampa, FL
So many great times and awesome memories with Shaun! We shared some great stories and talked about life often. And we ALWAYS talked about "Them Dawgs" ! Shaun was a great friend that loved his family dearly. We'll miss you my friend.
- Dusty DeVore, Atlanta, GA
They didn't come much nicer than Shaun, I will always remember our last conversation when he told me "I will never stop fighting or ever give up" his strength will always inspire me
- tom chiusano, New York, NY
My condolences. I will always cherish our times. You're pain free brother. Glad you got to see the Dogs do it again.
- Tim Reeves, Atlantic City , NJ
Shaun and I shared many great times on and off the golf course over the years. My wife and I will both miss him dearly, and will always admire his fight, and positivity. For many of my friends, Shaun and HNGC were synonymous - a place he loved so much, and where everyone wanted to share his company. We also know how much Shaun cared, and would do anything for his family, and our thoughts and prayers are with them. I'll never watch another Georgia football game without remembering the times we shared.
- Alex Schwartz, Greenwich, CT
I knew Shaun from when we all lived at Oglethorpe Place and then skated together for years. He was a kind and warm soul. My condolences to all of his family and friends. May his memory be a blessing.
- Becky Portman, Dceatur, GA
Although we have only known the Herndon family for a short while, Shaun made it feel like a lifetime. He loved life, the Bull Dawgs, Oyster roast and boiled peanuts. We are proud to call Shaun our friend and he will certainly be missed. Our love and prayers to his Mother Kathy and his wife Phyllis. Joe and Judy Rivais
- Joe and Judy Rivais, Savannah, GA
Shawn was a special person we all will miss. He always made you smile. Our thoughts and prayers to his wife Phillis, his mother Kathy, and the rest of his family.
- Tom Broderick, Savannah, GA
Sincere condolences to Shaun's entire family. As you know best of all, Shaun had a heart of gold. This world was blessed to have him and is less without him. Thankfully memories are timeless.
- Howard Belk, Scarsdale, NY
God bless your family he was a great friend many years ago with us at Britannia pub,gone to soon
- Paul Gardner , Savannah , Georgia

A candle has been lit!
- Erin Joy Erin Wainwright, Savannah, Georgia
Sorry to hear of ur passing buddy,we had some good times back in the day on Isle of Hope playing football swimming in the creek and just having fun,you will be missed but not forgotten! Rest in Peace bro!
- Shawn Sancomb, Savannah, GA
So sorry for your loss . Praying for all the family & lifes Shaun touched
- Phyllis Cliatt, Pooler, GA
Services under the direction of:
Fox & Weeks Funeral Directors, Hodgson Chapel
912-352-7200
Visitation

2:00 p.m. until 4:00 p.m. on Sun, January 15, 2023

Fox & Weeks Funeral Directors, Hodgson Chapel
7200 Hodgson Memorial Drive (map)


Savannah GA 31406

912-352-7200
Graveside Service

11:00 a.m. on Mon, January 16, 2023

Greenwich Cemetery
330 Greenwich Road (map)


Savannah GA 31404

912-651-6843