Celebrating the life of
Louis G. Ambos, II
July 31, 1939 - January 07, 2023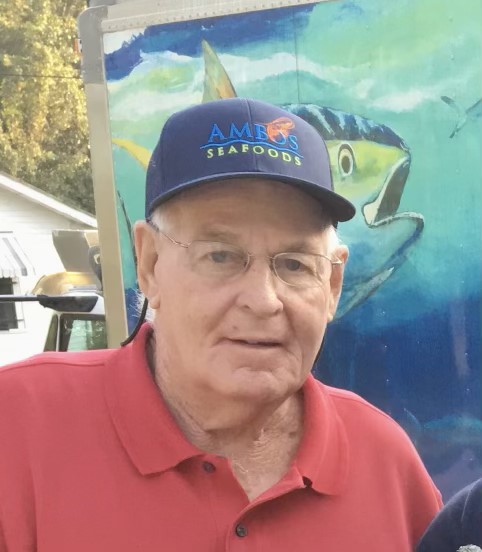 Louis Getz Ambos II, 83, ( Papa Lou) died Saturday January 7, 2023 after a short battle with pancreatic cancer. He was surrounded by his loving wife, family and Labrador retrievers.
He was preceded in death by his parents, Henry F. Ambos, Sr., and Lena Semken Ambos; brother, Henry F. Ambos, Jr.; sister, Lillie Ambos Johnson, son, Louis G. Ambos III ( Dewey); step-mother, Mildred C. Ambos.
Born July 31,1939 in Savannah, Georgia he graduated from Savannah High School and attended Georgia Southwestern College. He served in the Georgia Air National Guard.
A leader in the seafood industry for over 60 years, Louis began his career working with his father at Trade Winds. He enjoyed developing new trends and business ideas as an integral part of the management team. This would lead Louis and his twin brother, Henry, to open Ambos Seafoods. They continued to own and operate a fleet of shrimp boats and commercial loading docks, marketing their catch nationwide into foodservice and retail accounts. They expanded their operations throughout the southeast and eventually to Key West, FL. They were also pioneers in the machinery development of peeling and deveining rock shrimp and royal red shrimp. The relationships formed with fellow co-workers and customers would be treasured throughout his life.
A great story teller, Louis had many interests and hobbies. First and foremost, his love for his Labrador retrievers. He forever kept one by his side (or 2,3 or 4!) Other family pets, included
" Wacky and Quacky", his mallards, who unfortunately had to be escorted off of Skidaway Island after interfering in too many golf games!
He had a deep love of the water, and spent many a day off-shore fishing aboard the "SuLu". Louis was an excellent shot, and his passion for hunting waterfowl and game birds was passed on to his sons. Annual hunting trips were the highlight of his life. Hunting marsh hen was also a favorite of his. Rule following and keeping to the bag limits, was not his strong suit, as discovered by many a game warden!
Louis was also an avid Georgia Bulldog fan, taking his family to many games to see Hershel run. Go Dawgs!
Louis is survived by his wife of 62 years, Suzanne Carter Ambos: sons: Hal Ambos (Nichole), Drew Ambos (Liz); sister, Lena A. Meeks (Freddy); brother, Andy Ambos; step-sister, Janet H. Blackstone (Mike). Grandchildren: Caroline Ambos, Ashley Ambos, Wynn Ambos; Dogs, Sam and Bos. Many nieces, nephews and cousins. Louis was a member of First Baptist Church in Savannah.
Visitation will be held on Wednesday, January 11, 2023 from 11:00 a.m. until 12:00 p.m. at Fox & Weeks Hodgson Chapel. A private graveside will be held in Greenwich Cemetery.
In lieu of flowers, please send remembrances to Hospice Savannah, Inc. 1352 Eisenhower Drive Savannah, GA 31406
GUEST BOOK
I knew Louis all of my life having grown up with him and his brother Henry and sisters Sissy and Fritsy. We shared many exciting adventures around Thunderbolt, "Down the Hill", overnight on family owned shrimp boats, going out on grandfather Louis I oyster boat the "Mary R" and exploring many of the outlying islands and riding our bikes to Barbee's and downtown just to prove we could do it. My father and Henry Sr. we're childhood friends with Thunderbolt connections going way back through their parents with businesses on the Bluff and joint property ownership. Louis loved his Suzanne so very much and his children likewise. He is now in Heaven with son Louis III, called Dewey after his G-Grandfather Louis I. His dynamic personality brought him many friends and his excellence as a businessman brought him wide success, acclaim and respect in the seafood industry and as a community leader.
- Bobby Thomas, Indian Springs Village, AL

A candle has been lit!
- Stanley devegter , Savannah , Georgia
Louis brought us many a smile!! He was a great man and a bigger friend. Rachel and I loved Louis and are missing him dearly.
- Eric and Rachel Traub, Savannah , Georgia
Lena, I'm so sorry to read of your brother's passing. May God's peace be with you and your family during this sad time.
- Carol and Billy Ray, Savannah, GA
Such fun and precious memories in our young years together with all of our family! I will cherish them still and always.
- Janet and Michael Blackstone , Jacksonville , Fl. 32204
The last time I saw Louis was about a month ago at The Landings Marina as he slowed down to say hello. He had his two Labs with him in his truck on his daily round of the island so his dogs could stick their heads out his truck window and smell the world around them. The last words he said to me was "Go Dawgs". Louis was a great friend and Father and a very funny story teller. He was unique in his ways acquired from a lifetime involvement with the seafood industry in Thunderbolt and beyond….in other words, he could be a real lovable character. And let us dare not forget to mention that he was a crack wing shot, one of the best. He leaves behind his wife and two sons Hal and Drew and many other family and friends. So fortunate I knew him. So very sorry to see him go. Rest In Peace, my friend.
- Mike deVegter, Savannah, Ga

A candle has been lit!
MAY HE RIP MELL FAMILY
- JOHN MELL, Savannah, Georgia
We are so sorry for your families loss. Ceasar & I, had so much love & respect for his friend PopaLou. We're so happy we got the chance to visit with him, before he was taken by God. You were a good man & will be missed & never forgotten. Rest peacefully our friend, until we all meet again.
- Ceasar & Freda Davis, Savannah , GA
Deepest sympathy to The Ambos family for the loss of beloved Papa Lou. He was loved by everyone, but he is in a better place.
- Marvin Young and family , Pooler , Georgia
Me, Jerry Dixon and Louis were great friends in the 7th grade. Jerry had the fastest bike and I was second and Lewis was always last, but always manage go come in first. Just saw him several weeks before he passed. Pulling off in his red golf cart hollering "Go Dawgs" Gonna miss the old dawg!
- Wayne Disher, Savannah, GA
Louis had an infectious personality. Grew up with him in Thunderbolt in another shrimping family and he was always the witty guy in the group back in the day. Keeping his family in thoughts and prayers. He was such a dynamic guy.
- Sonja Canas Held, Savannah, Georgia
Wonderful Man , incredible Family. We should all be so blessed. Never knew Mr. Ambos not to smile and not to speak. Rest in Gods arms Mr. Louis. Steve Fuller
- Steve & JoBeth Fuller, Savannah , Ga
Our hearts and prayers go to the entire family. What a legend your dad is!! We were honored to be among his friends. ALWAYS so cheerful and funny, Mr. AMBOS ALWAYS made everyone smile!! We miss him sorely! Ping and Diana Chu
- Ping and Diana Chu, Savannah, GA
my two brothers and i grew up on the waterfront when we were young and my older brother johnny was 82 when he died and my brother richard died dec. a year ago but i'm still kicking we use to crab off the ambos dock where the boats were tied up and louis i believe would go aboard the boat and get fish for us to put in the crab traps since back then they had people living on the boats and he was the only one who could get in the cooler and get our bait.those were some good times back then.wish i could come up and just ride around miss those old days.thanks for letting me ramble on but those were the days.we left there in 1957 and came to jax.been here ever since.
- Robert Shinall, Jacksonville, Florida
Mr. Louis will sure be missed! Our prayers are with the family. I just found out about his passing. He was a good friend to myself , family and my business over the years. They don't make them any better. Go Dawgs! We would say all the time. I'll miss his chats when he would come by to get my order. Rip my buddy.Roy, The Butchers Block.
- Roy White, Guyton , Ga.
Services under the direction of:
Fox & Weeks Funeral Directors, Hodgson Chapel
912-352-7200
Visitation

11:00 a.m. until 12:00 p.m. on Wed, January 11, 2023

Fox & Weeks Funeral Directors, Hodgson Chapel
7200 Hodgson Memorial Drive (map)


Savannah GA 31406

912-352-7200
A private burial will be held