Celebrating the life of
Marilyn Frances Mazzanti Wheeler
April 29, 1944 - January 02, 2023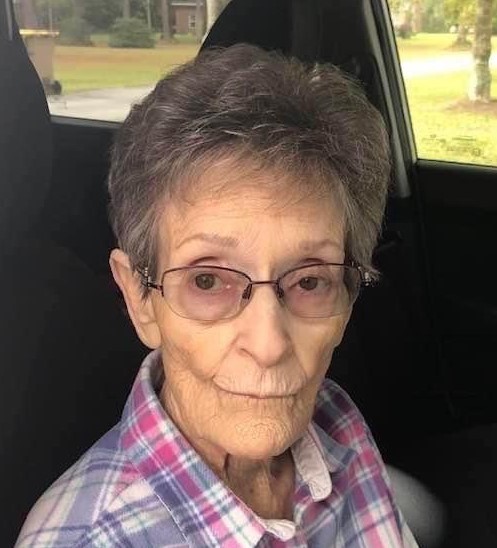 Marilyn Frances Mazzanti Wheeler age 78 of Springfield, Ga left this world with grace and dignity to be with her Heavenly Father on January 1, 2023 after a very brief Illness.
Mrs. Wheeler was born in Harnett County, N.C. on April 29, 1944 to the late Rudolph Francis Mazzanti and Myrtle Alma Brown Mazzanti.
Mrs. Wheeler was a homemaker, avid gardener, animal lover, cook and baker. Her love for birds, blooms and bugs was what she enjoyed but her family was her prized possession.
The leaves behind her devoted caretaker and beloved daughter Ann Marie Bell of Springfield, Ga and her very special and deeply loved sister Schirey Diane Nelson ( John Glasgow) of Brandon Fla , one brother Marcum Mazzanti of Summerville, Sc as well as her special kitty Poppy and her sweet dog Drew . She leaves behind four nephews Troy Nelson (Terri), Todd Nelson ( Astrid), Ty Nelson ( Lyssa) and Erik Nelson ( Melissa), one niece Sara Nelson as well as several great nephews and nieces.
Funeral arrangements are incomplete at this time and will be announced at a later date.
The family would like to extend their gratitude to the entire staff at Fox and Weeks for their kindness during this difficult time as well as their appreciation to the entire staff at Effingham EMS, Effingham Fire, Springfield Police Department, Effingham Hospital and Candler Hospital for all they did for Mrs. Wheeler. A special Thank you to Dr. Lorenz for his care of Mrs. Wheeler during her short stay at Candler Hospital.
GUEST BOOK
Oh momma how I miss you so much. It has been a great honor being your daughter. I washed your feet so you when you ran to Jesus, your feet would be clean on those streets of gold. You lightly squeezed my hand and I witnessed the most amazing gift a daughter could ever be given and that was the very moment you took your last breath as I was right there by your side. Save a place for me. I'll see you soon when the Lord calls me home. 2 Corinthians 5-8 says To be absent from the body and to be present with the Lord. What a homecoming that was! I love you forever my very best friend!
- Ann Marie Bell, Springfield , Ga
Services under the direction of:
Fox & Weeks Funeral Directors, Hodgson Chapel
912-352-7200