Celebrating the life of
James Egleston Hungerpiller
Passed away on January 03, 2023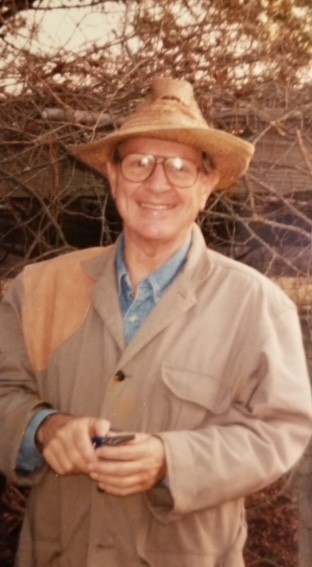 James Egleston Hungerpiller said goodbye to this world on January 3, 2023, and in his words, "slipped out the back and began his journey home."
The following obituary was mostly put together by Jim years ago.
Jim was born 3/14/1924, 4th child of the late Leland Segars Hungerpiller and John C Hungerpiller, in Kelleytown School district of Darlington County, S.C.
He attended Hartsville, S.C. public schools, Clemson College from 1941 until 1943, and volunteered for flying school in the Army Air Corps just after Pearl Harbor, in December 1941.
After training, Jim was assigned to the 348th Fighter Group, 5th Air Force in New Guinea in July 1944 where he participated in the Philippine Campaign, the occupation of Okinawa, and the occupation of Japan. Jim was in the air the day of and witnessed the explosion of the 2nd atomic bomb (on Nagasaki) on August 9, 1945; an event which formed one of his most humbled memories. He returned home on Christmas Day 1945, having flown some 110 combat missions mostly in P-51 aircraft.
He returned to college at Clemson in February, 1946 and transferred to Georgia Tech in September 1946, graduating in Mechanical Engineering in March 1948. Jim joined Union Bag and Paper Corp. in Savannah in April, 1948.
Having joined the Georgia Air National Guard so as to keep flying, Jim was called to active duty during the Korean War in October 1950 with the 158th Fighter Squadron of the Georgia Air National Guard flying F-80 Jet Fighters and later F-84 Jet Fighters. Of note, Union Bag applied for a deferment for the then Lt., but the Commanding General of the National Guard responded: "Lt Hungerpiller is like a fireman sitting in the station, and the whistle just blew." So it was no deferment and back to Japan for air defense and staging-missions in Korea.
Finally, mustering out in July 1952, Jim returned to Savannah and Union Bag. This chain of events was lucky for him, because it gave Page Anderson, whom he had met as a teenager, time to grow up and the otherwise possible traps he might have fallen into had all gotten married in this almost two years absence. Page and Jim were married on April 25, 1953. They were truly the love of each other's lives.
Jim stayed with Union Camp for 32 ½ years and in the summer of 1980, Jim took advantage of the opportunity to join Carson Products Company. So he said goodbye to the paper business and joined Carson where he stayed for eleven years, retiring in 1991 as Chairman and CEO.
Jim served his community in many capacities among them the Savannah Rotary Club, United Way, and Savannah Chamber of Commerce. Of note, he organized the Savannah Symphony Society Fund Drive in the 1960's, chaired the United Negro College Fund Drive in the 1980's, and was an Advisory Board Member of Clemson University's Mechanical Engineering College. Lastly, Jim was Vestryman Emeritus of St. John's Episcopal Church on Madison Square in Savannah.
Jim is predeceased by his parents and siblings, his wife of 63 years, Page, and his son John C. Hungerpiller, MD. Jim is survived by his daughter Susan Hungerpiller (George Oelschig), son Jimmy Hungerpiller (spouse Angie Hungerpiller), and daughter-in-law Jeanne Hungerpiller, MD (Michael Baumann); also granddaughters Page O. Ryan and husband Conner Ryan, MD, (children Callie, James, William and Carter), Kate O. Spartin and husband Steve Spartin (daughter Anna), Auddie Hungerpiller, PhD, and Carrie Hungerpiller (fiancé Tyler Cox)…all of whom, in his words, always try to do the right thing. Jim was also proud of his niece and nephews, Bess Gore (Donny), Kent (deceased) (Jean), Colin Hungerpiller (Elaine), David Hungerpiller (Stephanie) and all of their children.
On a personal note, the family wishes to acknowledge his dedicated and primary long time caregivers: Jenene Lawrence, Deandre David, Ashley Moran and Marilyn Allen, whom he loved and who loved him.
Funeral will be held at Bonaventure Cemetery on Friday, January 6, 2023 at 11:00 a.m.
Finally, in Jim's words, if you want to send a donation, send it where you think it might do the most good.
GUEST BOOK
This is a passing of a lion of the 20th century and a fearless member of the greatest generation. We all should aspire to the kind of impact Mr. Hungerpiller had on the world in his lifetime. My condolences and best wishes to Jimmy and Angie, Susan and George, Jeanne, and all of the Hungerpillers. It was my honor to know him in the twilight of his life..
- Michael Baumann, Chesapeake , VA
Jim and my father, Bill Sprague, were good friends over the years. Thus I was privileged to spend some time with him over the years. I remember he mentioned that one issue with flying the long distance fighter missions in the Pacific was that by the end of an eight-hour mission his beard had grown enough to cause itching from his oxygen mask. Jim was a groomsman in my parent's wedding which took place Memphis, Tennessee in October 1953. The Air Guard had recently transitioned to jets and he flew from Savannah to Memphis in about one and a half hours. This was novel enough that the Memphis paper had an item in the paper about his trip. The last story was when he and Billy Hutchenson collided after takeoff one morning. As he recounted, they entered some clouds in close formation and the planes made contact with each other. Both pilots ejected, but because they were in a cloud bank, they did not know if the other pilot had made it out until they had both landed back on the ground. The ground personnel rushed to the scene, only to witness both men hugging each other dancing around in circles.
- Larry Sprague, Savannah, Georgia
I'm going to miss you so much Mr.Hungerpiller (Mr.H
- Jenene Lawrence, Rincon, Georgia
Thomas "Tony" Gibbons flew with Jim in the 348th Fighter Group. They were good buddies in the war. He said that he was "proud to have known him" when he read the obituary.
- Thomas "Tony" Gibbons, St. Louis, MO
Services under the direction of:
Fox & Weeks Funeral Directors, Hodgson Chapel
912-352-7200
Graveside Service

11:00 a.m. on Fri, January 06, 2023

Bonaventure Cemetery
330 Bonaventure Road (map)


Savannah GA 31404

912-651-6843