Celebrating the life of
Jack Steven Sandberg
Passed away on December 22, 2022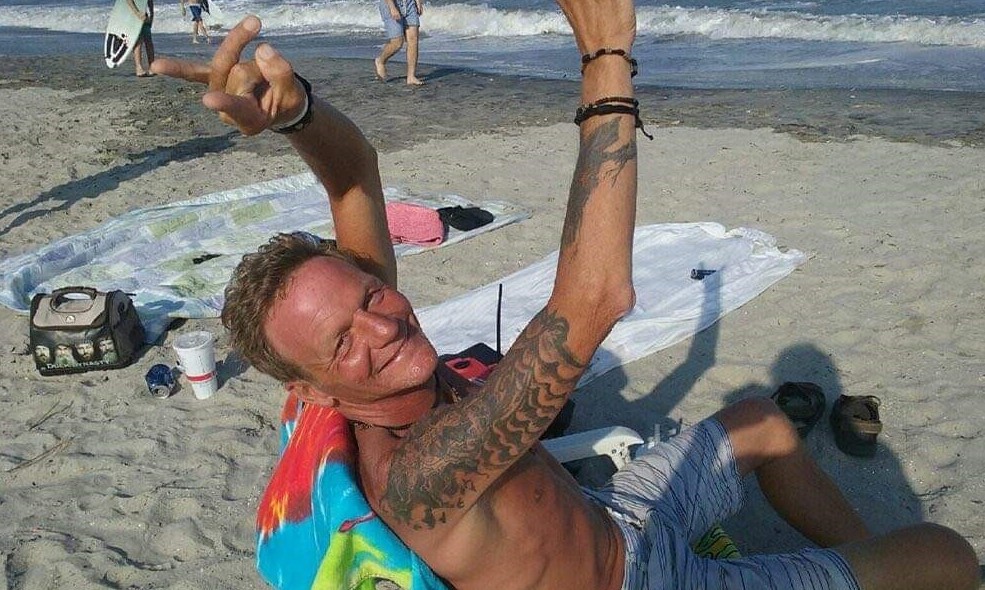 Jack Steven Sandberg, 62, passed away Thursday, December 22, 2022. He was born May 28, 1960 in Atlanta, GA to the late Leroy and Edna Sandberg. Jack was employed by Stingray's and Arby's.
Jack had a love for Rock n Roll music and you would often find him singing and playing his guitar. His happy place was sitting in the sunshine on the beach on Tybee Island. He also loved watching his local sports teams, the Atlanta Falcons and Georgia Bulldogs. Most importantly, Jack loved the Lord and he always knew where home was. His favorite verse was Isaiah 40:31, "But they that wait upon the Lord shall renew their strength; they shall mount up with wings like eagles; they shall run, and not be wary; and they shall walk, and not faint."
In addition to his parents, he is preceded in death by his sister, Mary Goodman, and brothers, John Sandberg and Robert Sandberg.
Surviving Jack are his daughter and son-in-law, Paige and John Shoemaker of Zebulon, GA, his ex-wives, Patty Miller, and Joyce Brook Ryan, nephews and niece, Chuck and Emma Wurtsbaugh, and Jason Wurtsbaugh, and Sabra Wurtsbaugh. Also surviving are numerous other nieces, nephews, and his many friends at Arby's, Stingray's, and Tybee.
Jack touched many lives in his lifetime and will be missed by many.
A Celebration of his life will be announced at a later date.
GUEST BOOK

A candle has been lit!
He is going to be missed by so many. He wasn't just my uncle but he was like a dad to me. I love you jack and I will never forget you
- Emma Wurtsbaugh, Savannah, GA

A candle has been lit!
So sorry for your loss
- Amy phillips, Fishertown , Pa

A candle has been lit!
Words cannot express how much I'm going to miss you and how much I love you I still feel like I'm living in a dream fly high with the angels Jack and take care of Mom
- Charles Wurtsbaugh, Savannah, GA
Jack Sandberg I will never understand why you are gone so soon! Cuz thank you for being so kind and sweet to me! Thank you for being such a kind hearted man of Christ! Your laugh was contagious and so blessed I was able to know you! I know you are home now with our Father and I are seeing all the things we always talked and dream of! We send our love today to all the family
- Parker Family , McDonough , Ga
Dad, I'm truly speechless. You were the life of the party everywhere you went. You loved big and most importantly you loved the Lord. I will miss you. I will miss talking about the beach, talking about them Bulldogs and the hope we both had for the Dirty Birds! I know you are just a singing and playing that guitar in heaven looking down on us. Can't wait to hear the songs you've come up with when we meet again. Love you big, your daughter! <3
- Paige Sandberg, Zebulon, GA

A candle has been lit!
We love you uncle Jack. I know the boys enjoyed the last few days with you. Enjoy spending time with Grandma. Save us a seat because we will see you again.
- Taylor family , Pooler, Ga

A candle has been lit!
Hey uncle Jack I'm going to miss you. Jamming out and enjoying the sun. I love you.
- Destiny Reintzell , Mcdonaugh , GA

A candle has been lit!
Jack I will always love you and always remember you you are never be forgotten save me a seat up there next to you because when I get there I want to hear you sing and play again
- Charlotte Singleton , Valley , Al
I will miss you
- Tami baxter , Savannah , Ga.
I am going to miss you and I hope to get to see you again soon love you
- John Dixon , Savannah , Georgia
I will miss you
- Tami baxter , Savannah , Ga.

A candle has been lit!
Jack, thank you for the memories that have been created throughout the years. I'll forever remember the days of "hey Mike, how bout them dirty birds son?" To the days of watching you jam out on the guitar singing "MUDDDDDDYYYY WATER!!!". I'm glad that after many years of not speaking, because neither of us had each other's numbers. We were finally able to reconnect for the past 2. You'll always be in my heart and mind. Miss you sir and tell Bobbie I said hello.
- Michael Oliver , Covington , Georgia
So sorry for your lost.praying for you all.
- Paul Lafferty, Ebabell , Ga

A candle has been lit!
Rest in peace I will see you again when I get home I love you uncle Jack forever
- Jerry & Gail, Savannah , Ga

A candle has been lit!
Sry for ur lose
- James Hewitt , Fisher town , Pennsylvania

A candle has been lit!
Jack your one of the awesomeness man I ever met in my life. Love you brother and I know you rocking out in heaven. I promise to tell my son about you, when he gets older, like you ask! Love you ❤️ Fly High My Favorite Rock Star
- Courtney Berksteiner , Savannah , Georgia
I loved my uncle jack and the times that I did get to have with him. I will forever cherish the moments of in time that we had while you were here in the physical world. When I was a kid I remember throwing the football with you and watching NASCAR and how you loved the Lord so much you had sermons on TV every Sunday worshipping the Lord. I remember how you played guitar at the church. You will be missed
- Aaron Wurtsbaugh , Charlotte , NC
Fly High Uncle Jack. You'll be missed. We love you. Take care of grandma up there❤️
- Angel and Royalty , Brunswick , Ga
Rest in peace Uncle Jack. You will be missed.
- Tara Sandberg, Jonesboro, GA

A candle has been lit!
I remember that day I took that picture what a wonderful day that was We had such a great time I never ever seen you get mad or mean to anyone you loved us and we loved you It hurts us so much that we didn't know of your passing. you were one of our first dear friends when we came here to tybee 8 years ago. you were one of the hardest working people I knew you always wear your heart on your sleeve We were always on your side. and who could forget the Jaguar our heart goes out to your daughter who you loved dearly. also to let you know that we have a lot of pictures if you'd like me to forward them please feel free to contact me in my email or phone number is still the same if you have Jack's phone it's under rose and Dwayne.
- dwayne & rose, Tybee Island , Georgia
Services under the direction of:
Fox & Weeks Funeral Directors, Hodgson Chapel
912-352-7200
A Celebration of Life Will Be held at a later date