Celebrating the life of
Harriet A. Kilbourne
July 21, 1928 - December 11, 2022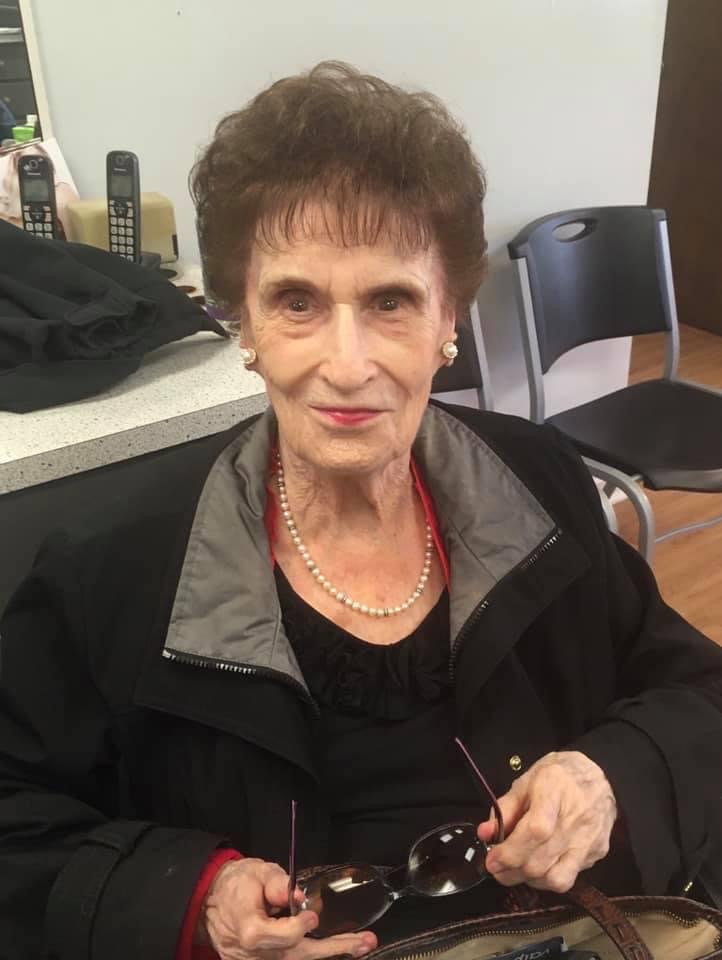 Harriet A. Kilbourne has gone to join the love of her life, Edward E. Kilbourne (Eddie), her husband of 57 years. Mrs. Kilbourne passed away under palliative care Sunday morning, December 11, 2022.
Born July 21, 1928, the third child of immigrants Max and Geraldine Shainin, Harriet grew up in Bayside, New York, the daughter of a union plasterer and union clothing worker. From the age of 3, she studied classical piano and cared for her beloved dog, Tippy. In the recession of 1939, the family lost the spacious property where she'd grown up and serendipitously moved into an apartment next to Harriet's future husband, Eddie.
As a teenager, in bobby socks and victory rolled hair, she and her pals went into the city to see Frank Sinatra and other performers She worked part time for a hat maker, graduated from Bayside High School in 1946, and worked for Metropolitan Life until she married Eddie in 1948. They had four children, five grandsons, and five great grandchildren.
As a military wife for 28 years, Harriet lived in various places in the United States and in Paris, France, and Karamursel, Turkey. She traveled extensively in Europe, the Middle East, and North Africa, as well as Mexico, Canada, and islands off the North American continent. Eddie's next to last assignment was in Savannah, Georgia, where they settled.
Along with her husband, Harriet was a gourmet cook and voracious reader. She and Eddie shared a love of Italian opera and big band music. Over the course of their marriage, Harriet adopted 8 dogs, five of which were dachshunds. Mrs. Kilbourne volunteered at the Humane Society and contributed to it for many years. At various points she was a member of the Catholic Sodality Society and the American Field Service. She also volunteered at her children's parochial schools, was a patron of the Savannah Symphony when it existed, and was a longtime contributor to Savannah's Telfair Museum and to Wounded Warriors.
Preceding Harriet in death are her husband, Edward E. Kilbourne; parents, Max and Geraldine Shainin; step-father George LeGay; sister, Renee Stewart and brother-in-law Jules Stewart; brother Arthur Shainin (Jennifer); and grandson, Edward W. Kilbourne.
Harriet is survived by her children, Scott, Bruce (Elizabeth), Eileen Michelle, and Patricia Veale (Carl); grandsons. Crawford McDonald (Mack) Vickery IV, Aaron Blake Vickery, Richard Veale (Michelle), and Nicolas Kilbourne; as well as extended family member, Don Vickery, and great grandchildren Austin Vickery, Ethan and Carmella Kilbourne, and Calix and Caisynn Vickery. She is also survived by her first cousin Clif Heady (Lorraine); nieces, Valerie Shainin Magee (John), Barbara Sharkey, and Michele Toland; nephews, Greg Toland (Cathy),Brian Toland, and Michael Kilbourne; and longtime friends, Pepi Monas and Nancy Matson.
Visitation will be Thursday, December 15, 2022 from 10:00 a.m. until 11:00 a.m. with a short service beginning at 11:00 a.m. in the chapel of Fox & Weeks Funeral Directors, Hodgson Chapel. Graveside service will immediately follow at 1:00 pm in Forest Lawn Memory Gardens.
GUEST BOOK
Trish so sorry to hear about you mother passing may the lord comfort you and your family during this difficult time
- Roy New, Pembroke, ga

A candle has been lit!
SORRY FOR YOUR MOTHER PASSING,PRAYING FOR THE FAMILY MAY SHE RIP THE MELL FAMILY
- JOHN MELL, Savannah, Georgia
My thoughts and prayers are with your family . May God give you strength , comfort and peace during this difficult time . I still remember you moms big smile and the way she loved to talk about the old days . She was always such a sweet woman .
- Sue Cannady, Savannah, Ga
I am so very sorry to learn this news. There is no one left for me to revisit & speak to about the good ole days in Bayside. I am thinking of my mother at this time and all the stories she used to share with me about her younger days with her best friend, my Aunt Harriett. They are all together now. I will keep you all in my thoughts & prayers.
- Michele Toland, West Islip , New York
I'm saddened to hear of Harriet's passing. And I send all my love to her children and extended families. I was very fortunate to know her for many years. I remember visiting her home many years ago when I was young and had just started my friendship with Michelle her daughter. She was always kind, warm, and welcoming. Always had interesting things to say about traveling, life abroad. Later when Michelle and I were at UGA (Harriet and Ed would sometimes bring us up to Athens) we would end up playing card games that ended up being so serious and funny at the same time! Any time I was around her she was full hugs. I will always remember her that way.
- Susan Bunbury, Bourne, MA
When my family moved to Savannah from Cuba, Harriet's son Scott and I became very close friends. He introduced me to his mother Harriett and over time she became my American mom. Since we did not celebrate Thanksgiving, Harriett would invite me every year to her home for Thanksgiving dinner and over time I grew real close to the family. She showed me and my wife the love she showed her own family. She also lectured me when I stepped out of line, something I deserved. I'm glad that over the past years I would call her and we would talk for long periods at a time. I will forever miss you, Harriet. Scott, Eileen and Pat please accept my deepest condolences. You were blessed to have such a loving mother. And I thank God for the love she showed me. May God give you all the strength you need to go through this phase of your life. Roan and Cheryl Garcia-Quintana
- Roan & Cheryl Garcia-Quintana, Mauldin, South Carolina (SC)
Services under the direction of:
Fox & Weeks Funeral Directors, Hodgson Chapel
912-352-7200
Visitation

10:00 a.m. until 11:00 a.m. on Thu, December 15, 2022

Fox & Weeks Funeral Directors, Hodgson Chapel
7200 Hodgson Memorial Drive (map)


Savannah GA 31406

912-352-7200