Celebrating the life of
Ella Thelma Stevens
August 02, 1925 - December 02, 2022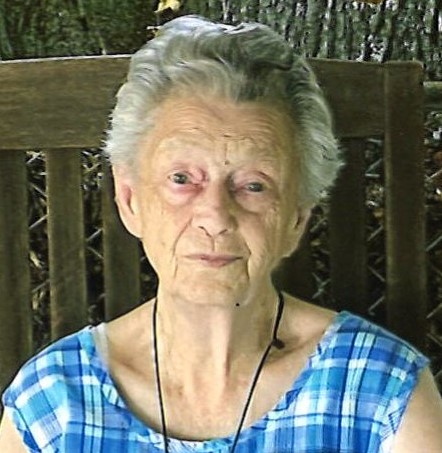 Ella Thelma Jenkins Stevens, 97, passed away on December 2, 2022. She was born August 2, 1925, to the late James Jenkins and Gertrude Zipper Jenkins. She was a member of Trinity United Methodist Church.
In addition to her parents, she was preceded in death by her husband, Roy Stevens Sr. Her children, Linda Stevens, Calvin Roy Stevens Jr. and Patricia (Brian) Dufour; brothers, Howard Jenkins, Raymond Jenkins, George Jenkins, Sidney Jenkins, and LeRoy Jenkins; sisters, Viola Sibilio and Mary Gallovitch.
Ella is survived by a daughter-in-law, Joyce Stevens, three grandchildren; Melissa Byrd (Lonnie), Kimberly Scott and Jessica Smith; four great-grandchildren, Noah Scott, Brianna Scott, Logan Byrd and Allison Smith; and several nieces and nephews. She is also survived by her adopted family, Gary and Carla Cantrell, Spencer Kachor, Andy Kachor, and Calvin Kachor, Elliott Peavy and Nick Peavy, Scott Farrell, Glenn Ferrell, Lillie Ferrell, and Frank Ferrell.
The service for Ella Thelma Jenkins Stevens will be held at 11:00, Thursday, December 8, 2022, at Fox and Weeks Hodgson Chapel with Father Gavin Dunbar officiating. Interment will be at Forest Lawn Memory Gardens. The family will receive friends at the funeral home from 10:00 until 11:00 before the service.
GUEST BOOK
Ella was a wonderful person. We became friends when my Aunt Gwen Simmons and Ella became roommates at Riverview Nursing home in Savannah. Ella gave my Aunt encouragement as they shared stories which brighten their days in a place no one likes to visit. Ella had a heart full of joy for her family and the many children she nurtured during her lifetime. You could tell by the many photos on her wall. Ella as I told you many times it was a joy to know you and thank you again for being a shining Light in your roommates life.
- Maxine Blackburn, Savannah, Ga
Jay and I send our condolences. We used to take her to Trinity Church. She was quite a character! God rest her sweet soul.
- Helen Bradley , Savannah , Ga
I am so sorry for y'all loss
- Joseph carr, Ellabell , Ga
I am so sorry for y'all loss
- Joseph carr, Ellabell , Ga
Joey and his girlfriend is so sorry for the loss she a very good women and she will be miss
- Joseph carr, Ellabell , Ga
Services under the direction of:
Fox & Weeks Funeral Directors, Hodgson Chapel
912-352-7200